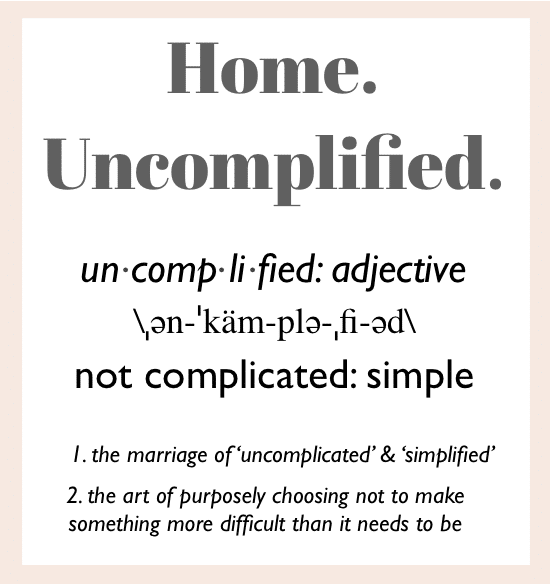 Scroll Down to read Day One.
Day 2: Too Prepared Can Be Ugly & Clunky
Day 3: Take Joy in Little Wins :: White House, No Shutters
Day 4: Fall Beauties :: Uncomplified
Day 5: Pumpkins :: Uncomplified
Day 7: Let's Build A Room Together!
Because I'm a Hermit, I Shop Online
Leather Bunting Banner Pennant Thing
How to Throw a Stress Free Party
Day 1:
Uncomplified?
What does that even mean?
Did she make up a word?
It means exactly what you think it means, and yes, well, actually my sister made it up for me because she knows of my love of made up words. I'm still hoping to get the word yesternow in the dictionary. Rachel Ray did it with EVOO, so maybe there's hope?
If you are a little bit country you can hillbilly uncomplicated up with an 'm' to make it uncomplimicated which is even better because suddenly the word itself is the opposite of what it means. Kind of like how my husband home edjumakted our boys last year. But I digress, severely.
Why?
For the next 30 days I want to explore what it means to create a home that is blessing to my family, not to view my home as place I need to serve, protect and slave over or worry and fret about. At times I've made creating home to be a hard, complicated thing. I've totally complified home making! Instead of enjoying the process, I've cursed it, wishing for everything to look great now so I could finally sit back, relax and enjoy it.
I'll share some mistakes I've made, I've got a fun guest post scheduled, some posts will be serious, some will be funny some will be published 3 minutes after I woke up because I don't always plan ahead. Most of all, I hope this series encourages both of us. Because we all live someplace and so far, I've never met anyone who thinks their home is perfect.
And this is right where I live right now because we bought a house in August and it's such a dream to get to do some renovations. But we are currently living in the midst of them. So as pretty as that tightly cropped photo up there might be, here's my reality:
I desperately need to live uncomplified right now. I hope you'll join me!