One fall pumpkin on the table instantly fall-i-tizes a space. Via Flowerpatch Farmgirl
Simplicity at it's finest. Maria from Dreamy Whites bought one of those jugs of apple cider and hid the label with a linen cloth, twin and a few leaves.
unsourced
I'm done with rubbermaid bins full of fake, plastic fall.
It's not because I'm morally opposed or think it's wrong, it's mostly because of selective laziness–I don't want to have to store them and move them and find them and pack and unpack them. And fall is about what's going on outside. Why did I spend money on pretend things when the real thing is right in my backyard? I still want to be able to walk into my home and know what season that is, but I don't need to rely on a bunch of items made in China.
fall at our house last year

I'm learning to bring the outside in, take advantage of layering pillows and throws, enjoy making some handmade decor and giving myself permission to spend a little money and buy a few interesting pumpkins and gourds every year.
This thinking has leaked into all of my seasonal decorating.
Have you seen the new issue of Better Homes & Garden's Christmas Ideas?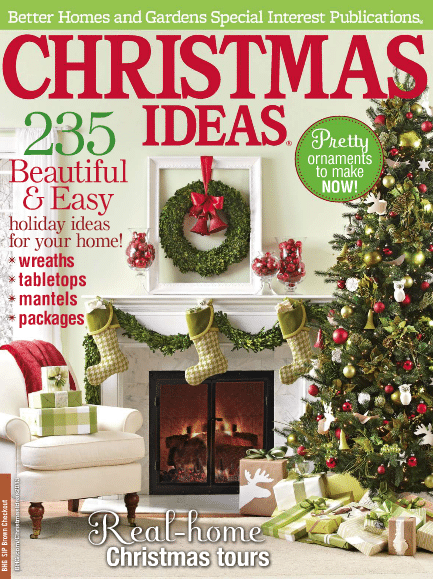 Our last home has a six room feature–the rental house we just moved out of last month! As soon as you and I can deal with reading about Christmas decorations, I'll tell you all about the worlds least expensive decor (all featured in the BHG Christmas Ideas available now) and how I'm done storing excess amounts of Christmas stuff.
Holidays. Uncomplified. But still beautiful.