I spent a few hours in Nairobi last year. I peed in a hole in the ground in the ladies' room at the airport. That's probably the closest I'll ever be to some of the largest slums in the world outside of Nairobi. But I want to build a room there with you.
What?
Creating a home doesn't have to be difficult. It's simple.

We all need a safe place. A place to heal. A place to make mistakes. A place to grow. A place to learn. A place to connect. A place to go out from. A place of grace. Pretty things are the cherry on top. But everyone deserves a home. It should be simple…
Let's build a room that will help change lives in Kenya. And we don't even have to lift a hammer or get that pesky passport photo to make it happen.
Because what defines an uncomplified home more than merely having a home?
Try to imagine in a house with 12 teenage moms and 12 babies and local staff that help support and run the house. That's Mercy House. Only these girls became pregnant because of rape or forced prostitution. This house is so much more than four walls. This house is a safe place where girls who once lived on the streets. The vision for Mercy House is to equip these girls with life skills and business skills. They deserve an eduction and they deserve a classroom. That's the room we are building.
Would you click one of two places right now?
Click here to read my post at (in)courage today and a little more about Mercy House
or
Click here to watch a video about how Mercy House began (highly recommended–it's a great story!) and to consider a one time generous gift to help build a school room for these girls. Consider giving in multiples of twelve? Representing each mother and child currently living at Mercy House? Give out of your abundance. Give sacrificially. Give because someone once gave to you.
Thank you. The Nesting Place community doesn't cease to amaze me.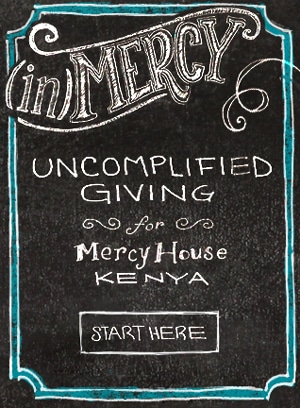 This is day 7 of 31 Days of Home. Uncomplified.