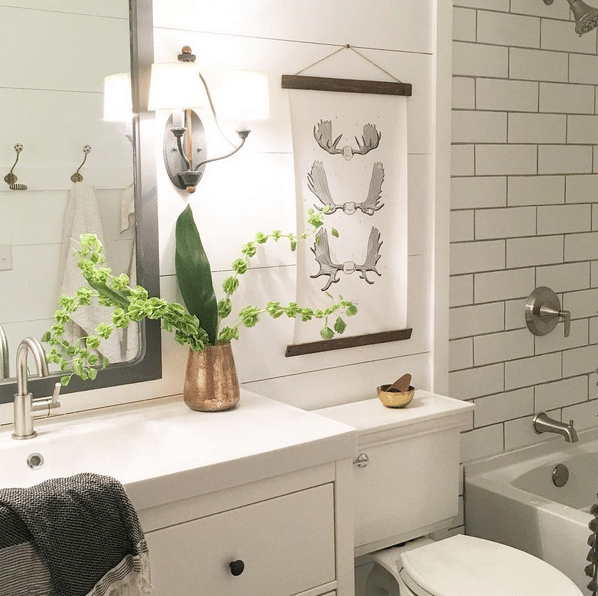 At Christmas Chad suddenly announced that he was sick of our bathroom and that he was going to renovate it for me.
We've been holding out for a major renovation that won't happen for years. Meanwhile, his suggestion was to cobble together extra tiles someone gave him and the least expensive everything in order to just have a finished room. I wanted marble counters and a skylight.
We compromised….
Here's what we've been living with for the past 3.5 years…
For realz. We've been using this bathroom just like this. Only with more junk on the counter.
The walls were badly messed up from the old wall paper, and the ceilings were still popcorn.
When we first moved in there was crazy wallpaper on the walls and it made me feel like I was going to have a seizure so I pulled it off, and then did nothing else in this room because we were focused on everything else on this property.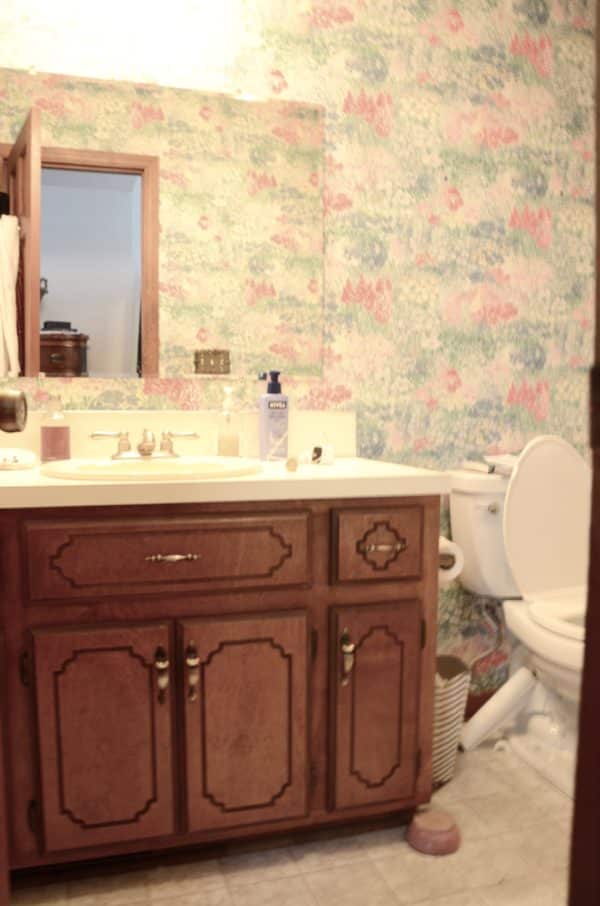 when we moved in
One of the things that bothers me about this bathroom is that it is tiny and has no window and is dark, so from the beginning we've had a long-term plan of totally gutting it and switching it with our closet which is on the outside wall of the house so we could have a window and make the space bigger.
Since moving a bathroom is a huge undertaking, and we had more important rooms on our list: kitchen, barn, upstairs bath, my office  (and again) (and I'll be sharing more updates next week) and all the ceilings and trim, we knew this bathroom move would be waaaay down on our list. We have two other huge renovation projects already scheduled for this year that we can't put off any longer (pool and basement!) so once again, our big bathroom makeover was going to have to wait.
Meanwhile we were living with this and apparently it was driving Chad crazy so he decided to do the most inexpensive "temporary" bathroom renovation ever.
But once we thought about it, we figured that if he was going to do the work, we should at least like the materials he used. So we didn't use the free tile someone gave him, but we did use leftover tile from the boys bathroom and added to that. Our one splurge–a new toilet with some pretty details–but even this was only $100 more than a builder grade toilet. My marble counters got vetoed, instead we bought the bigger version of the Ikea sink and counters we used in the upstairs bath. Plain and simple, but pretty enough that we could live with it for a long, long while.
Chad got advice from Sean who stopped by once or twice a week for moral support, but he did the entire renovation himself. Learning as he went, it was a complete gut job. He started January 2nd and finished January 31st. This bathroom was his full-time job during January.
Here are my disclaimers:
remember, there is no window in here so these photos are horrible, but in real life, with all the white walls and ceilings make this room SHOCKINGLY bright! Like, we might not need to move this room after all, bright! In these photos I don't even have the overhead light on, it's just impossible to get photos in here!
if I were a better blogger I'd remove that weird, low, second shower rod before I took photos. Here's the thing, I LOVE tall shower curtains–meaning, I always use drapes for shower curtains because real shower curtains are too short (please someone change this!) so I always end up with two rods, one for my "shower curtain" and one for the inner liner–and that one has to be lower because liners are only 73 inches high. If this photo were going in a magazine, I'd take out that lower rod for the photos. But this is real life. (UPDATE: you all are the best and found me some LONG shower liners!!)
I can't decide if I want to paint the wood door or not, so for now he's staying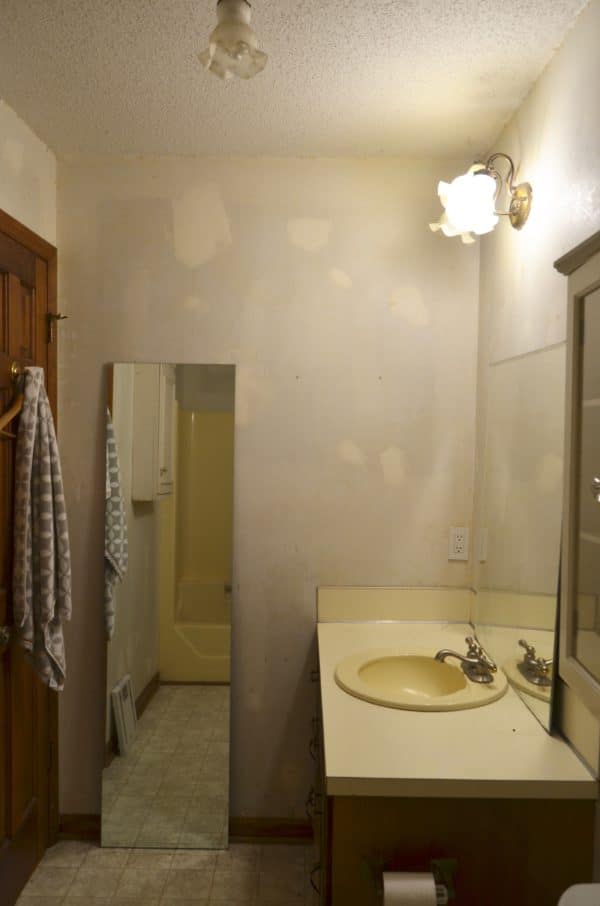 suddenly, I can't believe we lived like this for so long
This was a hugely disruptive project–everything was a mess and dusty –the front porch, back porch, side yard where Chad threw all the junk out our window, our bedroom, hall–EVERY room was affected. DIYing is not pretty until it's over, it's mostly learning to live with a bunch of mess, and being patient.
I am SO happy with these changes. Now this bathroom looks like it came with the house. And it was VERY much worth the few hundred dollars extra to use materials that we liked. They weren't my first, top choice, but I also didn't hate them. Now this room is SO lovely, just a simple blank slate that's finished and pretty and I can live with it for a long, long time if we need to.
I think we spend about $2000 on materials–nothing was special ordered, everything was right off the rack:
Sink & Cabinet: Ikea
Tub: Lowe's Clearance sale
Floors: Lowe's
Walls & Ceiling: Luan (same method we did in the rest of the house)
Lighting: Lowe's
Hardware: Lowe's
Tile: Lowe's
Toilet: Lowe's
Paint: Ace Hardware/Clark & Kensington Designer White (same color in our entire house)
Mirror: Goodwill years ago
Grout: Shower (silver) floor (charcoal)
Towel hooks, hand towel & mini shades: Hobby Lobby
Towels: World Market
Wall art: Vol 25
Shower Curtain (Drapes from HomeGoods)
My only regret–that we didn't do this three years ago.
I am a big believer in the temporary fix. I know a lot of people warn you to never do something in your house "for now" because you will never change it. But it can be so worth the sanity to invest a little to upgrade your quality of life. I feel like a real person now who actually has a place to put my hair dryer!
And because we spent a few hundred dollars above the bare minimum, if I ended up keeping this bathroom forever, I'd be okay with that.
Save
Save
Save
Save
Save
Save
Save
Save
Save
Save
Save