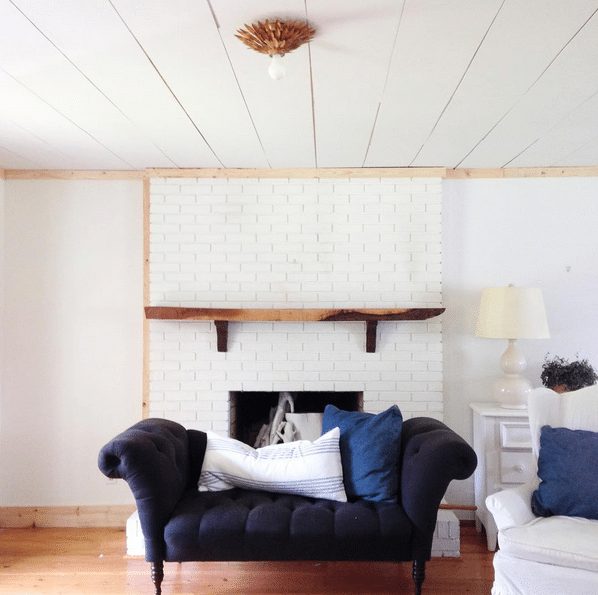 light fixture found here and I promise I have a great lightbulb in it now!
We started on a three-part project three weeks ago, for different reasons we couldn't have it worked on every day, we took a little break before we started the master bedroom ceilings, just to catch our breath and have normal for a few days and it's still not done because the worst part is, now I'm responsible for painting all of it.
So in this, the longest post ever, I'll do my best to explain the how and why we removed the popcorn ceiling of our home (built in 1987) adding fake planks to the ceiling and adding simple, fresh trim everywhere.
We focused on the first floor of our house–not including our mudroom/backporch/laundry area or the master bath or closet (these two rooms need gut jobs one day so we'll be patient). The area we've been working on (family room, dining area, kitchen, hall, stairwell and master bedroom) is right at about 1000 square feet.
Here's our story…
Home projects can literally take over your home for a long time. It's the ugly part that no one talks about on HGTV.
But I'd still choose it again 1000 times because the result is going to be so worth it. I've been saving up for this project and wanting it done since we first entered this house–it's money well spent. I'll tell you how much we spent at the end of this post, once I share all that we did/are doing.
So, we had a house full of popcorn ceilings…
…except for in the kitchen that we remodeled two years ago. We tore out the original ceilings in there since we were moving walls and forever it's been drywall with a thin coat of primer on that ceiling.
I am what my friend Kendra calls a Lazy Genius. I consider that a high compliment.
So one of the ways I try to be smart is to know when I need help. The ceiling was one of these times. I'm not technical, detail oriented or a perfectionist. These traits are simultaneously good and bad. So we hired help.
First, a little backstory:
We bought this house two years ago. Long enough for it to talk to me and long enough for me to listen.
My favorite room in the house as far as looks, is the little back porch/mudroom/weird room. Why? All the crazy paneling–which is mostly the same 12 inch pine that's on our floors inside the house–we had to remove some of it from the walls in the porch to replace the wood floor in the kitchen, but once we added in more wood and painted it all white, it had such a nice feel and felt like it was the most true room of the entire house. Insert lots of emojis with heart eyes.
So when it came time to do the boy's bathroom, I knew I wanted that same feeling. We hired out for both the bathroom and ceiling projects (Emily explains perfectly why here). And I love how the bathroom turned out.
Sean, our brilliant contractor-type friend (the same genius who helped us remake over our barn) had the idea to simply use luan to fake the plank look. Luan is a thin, pinkish, wood-like product and is lightweight. It's also SO much less expensive than real tongue and grove planks–which in a perfect world, I'd prefer.
I did some research and saw other people have used luan (and even read their disclaimers about how it can look warped) and we dove in. First we practiced on the upstairs bathroom.
In the bathroom we (every time I say 'we' I mean Sean) had the luan cut into 8 inch strips (it comes in 4 x 8′ sheets) Sean used those strips on the ceiling and the walls of the bathroom.
For the downstairs ceiling, I wanted it to look like our ceiling was planked with the same wood as our floors–so we went with 12 inch strips. Sean used loctite construction adhesive and lots of nails to keep the boards up.
Sean also has connections and was able to have our local store pre-cut all the millions of sheets of luan to our desired width for free or a super minimal cost. That's a TON of cuts when you think about planking a ceiling of our entire downstairs.
This process has worked great for us so far. But beware, it's not for the faint of heart or perfectionists. First, gluing something to your ceiling is pretty permanent, it can be removed but there will be damage to the ceiling. Second, you are at the mercy of both how perfectly level your ceilings are, and how perfectly straight the people who make 1 million of your 12 inch wide cuts are willing to cut your boards.
Things will be out of your control and you will have to handle it.
There are places where our ceiling looks wavy, but if you put a level against it, it's perfectly level. Here's the thing, if your boards are cut just slightly off perfection, it gives the illusion that your ceiling is slightly wavy. After the first day I didn't really notice but if you are super picky, you'll either want to use actual tongue and grove planks, or cut all of your boards yourself to perfection. (costs time or money you pick)
Also, because of the imperfection of our walls and boards we ended up with some gaps. Which of course is my favorite part! Hashtag Imperfectionist Diva.
I love the look mostly because it mimics our wood floors and adds to the rustic farmhouse feel. It literally looks like our backporch/laundry room ceiling–where our floors line most of the walls and ceiling but are painted white–my dream come true.
Just a note about style–as a Cozy Minimalist who values opposites, adding all this rustic charm allows me to move in a little more modern arena  for a few pieces in my house because it will be balanced out. Fun!
our 12″ pine floors–milled here at the old sawmill on our property 28 years ago
We have all sorts of big gaps that don't match up and cracks in our floors which are a pain when I sweep, but they give our floor that 100-year-old house look. The floors were the SINGLE redeeming quality in this house when we bought it. Easily my favorite part.
And now, our ceilings look exactly the same as the floors–just painted. I absolutely love it. But I'm high on perfection and quirks and low on uniformity. If you need to not see weird gaps this project might not be for you.
I have noticed in the boys bathroom with the smaller 8 inch width boards the weird gap issue is hardly noticeable, so it might have to do with the fact that our boards are a full 12 inches wide, but that plays so nicely with our 12 inch floors that it was 100% worth it to me.
Above: one night we got crazy and primed all the luan that was on the ceiling thus far–the next day, Sean came and finished the kitchen, which is why half of it has a coat of primer and half still sits untouched. Even today two weeks later.
Removing the popcorn ceiling: I am writing this post out-of-order, so sorry!
First of all let it be said that I BEGGED Sean to do this project without removing that popcorn. I had all sorts of arguments why the planks could be just glued and nailed right over the existing ceiling.
But Sean wouldn't go for it. He wasn't comfortable gluing something onto the popcorn, even if he was using nails too. Plus, I think he wanted to double-check what kind of shape our ceilings were truly in. And, because the boards are SO thin, he was worried it could be uneven. I still think it could probably be done successfully if you test an area first, but it's nice to do things the better way too.
Sean put plastic EVERYWHERE, even down the walls (1 or 2 mil thick for the floors/ .3 mil (thinner) for the walls & to cover the furniture), and sprayed a section of ceiling with warm water, waited a few minutes, and with a long scraper, scraped off the popcorn. It came off all globby and since it was wet, it was messy on the plastic on the floor, but didn't create all the dust I expected. Invest in plastic and you'll not have to clean up as much.
We had furniture on the porch and the rest we moved into whatever room he wasn't currently working on and covered it in plastic.
This is SUCH an intrusive project. But worth it to me. Since we are also redoing all of our trim around the floorboard, windows and doors and painting everything, we know our home will be in chaos for a while.
"simply white" paint on the left above the window//designer white on the right
My boys took turns every day helping Sean put the planks up.
And they helped prime and paint (Ace Hardware's Clark & Kensington's Designer White paint plus primer if you are wondering–I'm using it EVERYWHERE because I'm obsessed with the brightest white I can have, I'm using it for the trim, walls & ceiling–ceiling paint & eggshell finish).
But then school started and now our painting has slowed waaay down.
I just realized there's a random toe in this photo. My apologies. That's so gross.
What can you do?
This is our life for the next little while. So I'm focusing on creating one sane space at a time. And I already love the changes so much, it's worth all the trouble.
As far as cost–because I ALWAYS wonder about these things…
Sean has been here on and off for 3 weeks:
He removed about 1000 square feet of popcorn ceiling (plus our stairwell) and cleaned it all up (glory!) fake planked all of that same ceiling, removed all of our old baseboards and installed 6 inch baseboards around the entire downstairs, removed all the window and door casings on the first floor and installed 4 inch boards around everything, installed "crown molding" just a simple 3 inch board around the top of all the walls (including the stairwell and framing it out) plus he framed the end of our kitchen cabinets (he's doing that today!) and he also repaired two overhead lighting electrical issues, plus an outlet or two.
The cost for his labor and material (I think he's finishing today so I'm just guestimating this weeks work) looks like it's going to be about $3,500 give or take. We do have some supplies he'll return, and we also paid our boys some to work with him on days when he had to lift up those 8 foot long boards to the ceiling.
Plus, we save money by painting everything our selves. Which I have to remind myself we can take our time. EVERYTHING needs to be painted, walls, ceilings, trims. So add the cost of paint in there too.
This is a project that you could do completely on your own. But we've learned over the past two years, that Chad & I and our marriage are all happier when he gets to go out and do the kind of work he'd prefer and is better at, when I get to do the kind of work I prefer and am better at, and we hire someone to do the work we'd prefer not to do and they are better at.
This was a huge investment for us, one we've hoped to do since we purchased this house two years ago, and even without being painted it changed the entire personality of our home–she just grew into what she always hoped to be. Everything feels cleaner and fresh and like a wonderful blank slate.
I've waited 20 years and 14 houses for this. It was worth it, I promise.
Finished, glamour shots forthcoming.
Related
How we paid off $150,000 of debt in 5 years
Because sharing the imperfect is worth the risk