When we bought this house there was a little glimmer of hope for an office. But it was so small that I didn't even mention it here for almost six months. This cold, dirtly little back room attached to the World's Worst Barn felt entirely hopeless especially knowing that our house and land all desperately needed attention. Who can spend time or money on an office when they just gutted their kitchen?
It didn't take me long to realize that blogging full time from my unmade bed everyday was a pain for me and everyone in our house. I really needed a separate space so we moved the office up on our priority list. This thrilled and also terrified me. The office? Was a beast to tackle. It was just so oppressive with its dirty, warped wood and cold concrete floor and discarded snake skin in the corner.
Today, it's only about halfway done, but it is SO MUCH BETTER. I see the light at the end of the cute pink and blue tunnel! Not to worry, I'll have a post about the details, but first let's talk about attacking a room that seems impossible. Because this was the worst room I've ever attempted to beautify.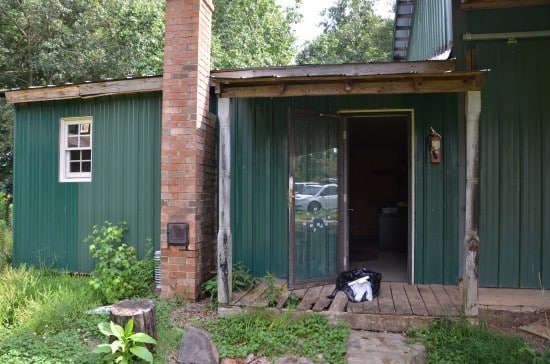 Here are some tips on how to attack an overwhelming space…
1. Create a vision.
This is a must because as soon as you step foot into that dreaded hated, hopeless room you will want to give up and eat all of the Cadbury Eggs (I just found out these are available on Amazon, you're welcome, and also, I'm so sorry). You MUST create a little vision board, it's so helpful to regain a little control and hope and to have a plan. Here's more about my vision board up there.
Roseate Spoonbill Canvas: the new thing I bought
2. Purchase one thing for the new space.
This is a trick I use often to help me get motivated to change a space. I'm a cheapskate so by nature, the fact that I spent actual money usually makes me want to get working on something so I don't waste it. Also, it's fun to have a fresh new thing for a room and I get excited to see how it's going to look so that also motivates me to want to get to use it. It doesn't have to be expensive or new, just something to help you commit to start making that change.
3. Paint
Fresh paint is the least expensive and makes the biggest difference (use it!) Put your paint pants on and in a day and less than $100 you'll make all the difference in your space. My family actually surprised me with the coat of paint on the walls, I painted the floors with porch and floor paint and ta-da, a new room!
4. Shop the house
Always be on the prowl for things you can use in a new way. I have zero budget for office furniture. No problem, we just moved from a bigger house so I have lots of leftovers to choose from. So what if none of it is officially office furniture? Office furniture is usually ugly and brown anyway.
5. Rely on rugs
I used to HATE to buy rugs. I thought they were a waste. Until I bought a rug and realized it was some of the best design money I could spend. I used to think rugs were a last addition luxury. Now I count on rugs to go in first so I can see the direction the room wants to go. Rugs help a room feel finished and cozy and can set the mood. This rug used to be in our bedroom. I'll end up layering it with a few other rugs to fill up the big space, add interest, keep the concrete floor warm, and to stop me from purchasing carpet for the room.
6. Take Control of the Lighting
Lighting isn't the boss of you. You are the boss of the lighting. You aren't at the mercy of whatever the builder or previous owner left in your space. This dark room started out with only two tiny windows for natural light. We found a $30 used glass & wood door from Habitat ReStore to replace the light blocking metal door, brought in lamps, and I'm on the hunt for pretty overhead lighting to replace the boob lights that were there. Plus, white paint instantly brightens a room.
7. Use arrows to take the focus away from the bad.
This wall is BAD, BAD NEWS. It almost makes me want to burn down this room and forget it ever existed. Yes, we could have totally replaced this but remember, this is my office that we are throwing together in the midst of a million other projects. This wall is begging for me to gallery wall it so all the pretty things will distract you from all of the ugly. Arrows in decorating are your friend.
8. Focus on progress
Constantly remind yourself of how far you have come. Instead of comparing your space to what you want it to be, compare it it to how it started. That top photo with the leaning pink mirror doesn't look too encouraging until you see the photo below it right here with all the wood and the hot water heater and gross sink and ceiling. Suddenly I'm all "Wow! We've actually made a lot of progress!"
Is there a space in your life that scares you with its dreadfulness? You can do this. Start today. There truly is hope for every weary home.