The truth is none of us start creating a home out of perfect circumstances or a completely blank slate.
We have limitations. We have home "baggage".
And for the most part I try to remind myself to be thankful for the tight budget, country living, long-range fixer-upper, un-done-ness and a house that's always open for shopping in.
Since we moved here in August of 2014 we've slowly been attacking our kitchen. Here's phase one-ish:
After knocking down walls (see the crazy CRAZY before when you scroll down on this post here) our first goal was creating a 10 foot long island with a sink and getting all the lighting and appliances in. We also had to put down the kitchen floors that go with the floors in the rest of the house (every link you'll need about our kitchen is at the bottom of this post). Once the kitchen had some cabinets, running water and working appliances and no threat of electrocuting us, we took about a year break from kitchen work and worked on the barn and the pool and painting bedrooms and such.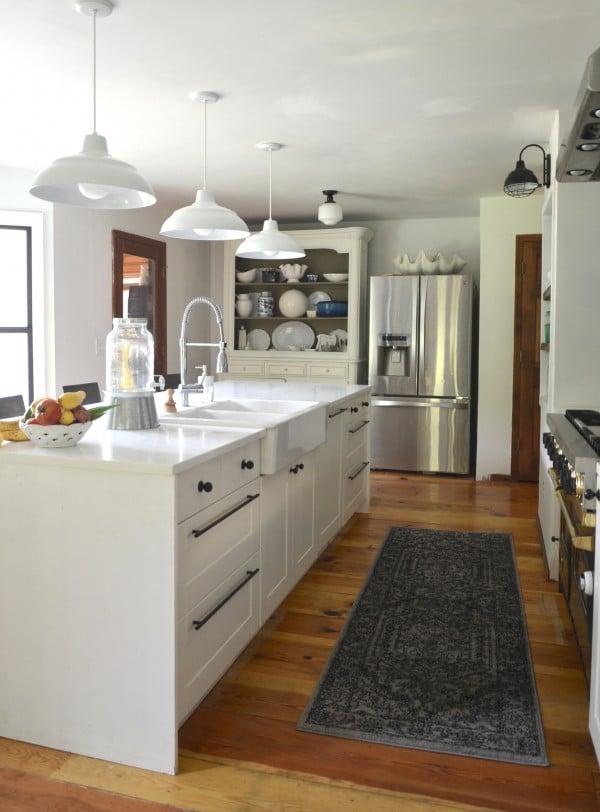 Back there to the left of the refrigerator, we used the hutch as a pantry. We don't have any upper cabinets and really just have the cabinets you see in this photo along with one 15 inch wide cabinet on either side of the stove–and one of those hides our HVAC return-thing so it's not fully useable. #limitations
Storage is an issue for us, especially our pantry situation. Have I mentioned we have three teenage boys? Cereal alone could take up its own cabinet if I allowed it.
Finally 18 months after we moved in, we put in enough cabinets that would become our pantry. It gave us over twice the storage as the hutch. We used Ikea cabinets–just like we did for the island, but I didn't really want to commit to uppers yet.
It was fun to make the counter super cute for Christmas. But I always end up parking random stuff all over the counter.
Have I ever told you that I'm messy?
I liked getting to play with that wall for a while but I really wanted a hanging wood glass cabinet or something that didn't feel like store-bought kitchen cabinets for above the counter. plus, once again, I'd like to have some more storage or shelf space–but not just wood shelves since we have those 8 feet away in the niche next to the range. So for two months I looked on craigslist and at the local antique mall for a solution.
Meanwhile…
…the hutch formerly of kitchen-dom was sitting five feet away all forlorn and intrusive on our sloping/foundation-needs-to-be-fixed back porch.
I wanted it to sit against the wall on the left, but it was too tall and hit a light fixture that was on the wall.
Here's the side view, see how it sticks out, kind of in the way? But that back wall would be perfect, but that aluminum light is too low for the hutch to fit! DRAT!
Until….
…until I remembered that the hutch comes in TWO PIECES!!!
Listen, I'm under no illusion that this is a magazine worthy solution. This is an every-mom solution. One of those, "it's better than it was and that makes me happy and I didn't spend any money" fantastic realizations. This is pretty much how I run my entire life. Good enough. For now. It works surprisingly well. I still need to address the feet but now I feel like I know the direction I'm headed.
After having the cabinets and counter for a few months, I realized that I didn't use the counter to bake exotic cakes, pies and cookies like I had envisioned. When I did make pizza dough, I still used the island counter. The butcher block counter was usually filled with mail, cat food bags, iced coffee, glue guns and stuff I needed to put away but didn't because SO MUCH COUNTER SPACE!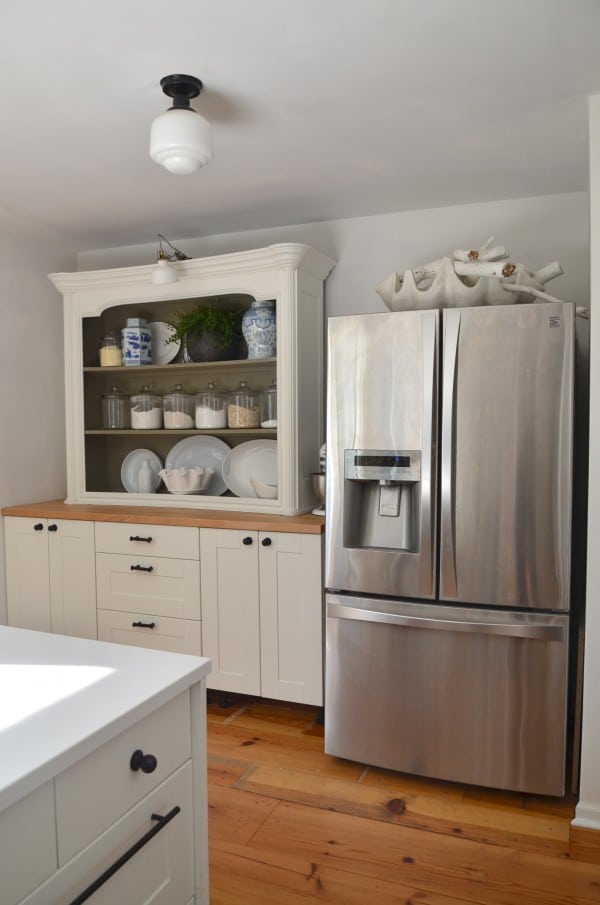 For the record, there are some things that I take photos of and they look better in pictures: my white slipcovers–even when they are dirty, the 12 acres we live on, our wood floors. And there are some things that look better in person than in the photos–this hutch/cabinet combo is one of those things that looks awkward in the photos, but in real life it actually looks better.
Although the small on top/bigger on the bottom situation of the hutch on top of the wide cabinets does make me think of these dresses from the 1800's:
or to be more with the times, it looks like one of these:
I can live with that.
Does this clutch make my hutch look big?
***
Related posts: Rustic Modern Kitchen (more about the mood board and lighting options)
The Kitchen :: Before
Hudson Counter Stools: World Market (currently unavailable but these are similar)
Cabinets: Ikea (really happy with them!)
Sink: Ikea (LOVE it)
Faucet: Dyconn (Chad hates it, I like it)
Counter: White Quartz (I LOVE it!)
Viking Range & Thermador Hood (Craigslist: great story! and I LOVE IT)
How I thought through our kitchen remodel
My Kitchen Inspiration Pinboard