Whenever we move (which has been often) I look forward to hearing from the house on what it wants to be. I'm usually surprised.
I don't really hear voices. But each house speaks…
They speak with their floors and walls and ceilings and natural walkways, they speak with the  direction the sun shines in, and the placement of the porches and doors and how the rooms relate to each other.
And then your furniture and the house get together and together they speak to you and will help guide you on the next step. Where are the empty spaces? Does this work for our family? What needs to be cozied up?
This house begs for natural elements that are imperfect and rustic and I know just enough about design to know those things are much happier if I had just the slightest touch of modern straight lines to draw attention to the rustic-ness. This house also did not like it when I put anything aqua in it. Trust me. The floors and an aqua coffee table didn't get a long. No worries. 10 minutes and a half an inch of left over black paint and everyone was friends again.
The Art of Opposites
Quirky combinations and opposites are my some of my favorite design tricks. I have a tendency to be too matte finish (worth the click, this is one of my favorite posts) so sometimes I have to remind myself the value of something shiny and sparkly.
I felt like our dining area lacked something. I knew the importance of a cleared off table especially since this is now our only table (we miss you homework table!) so I didn't want to add something else in the room that I'd just have to move twice a day. So I wondered what I could embellish.
Then I remembered my little stash of crystals. A few years ago I found a really ugly and outdated chandelier at a yard sale. It was $5. And full of beautiful crystals. I was shocked that no one saw the worth of those faceted crystals.
Sometimes the ugliness of something can seem so powerful that it blinds us to the gorgeousness that is in plain sight waiting to be appreciated.
So, just like I added bling last year to a chandelier I traded for years ago,  I pulled out my drawer of unwanted crystals and looped them onto the wood beads of my rusticy chandelier.
I originally purchased this little beaded chandelier for the kitchen. But once I had my white pendants up over the island I felt like another thing hanging down in close proximity in the kitchen might make it feel like stalactites. So I decided to use it over our table. Here's a little reminder of the direction I was going for with my kitchen lighting:
I had my eye on the large beaded chandelier for years and this house was the perfect mate for it, but when I thought I was going to use it in the kitchen I knew the large one would be too big for our bay window and I wanted to keep my budget lower. Sources and all the lighting info you want about the above lights are here. So I purchased the smaller beaded chandelier (from the more affordable team) and broke off all of those wires that went around the edges.
The sparkles are from my disco ball that is sitting in front of the window.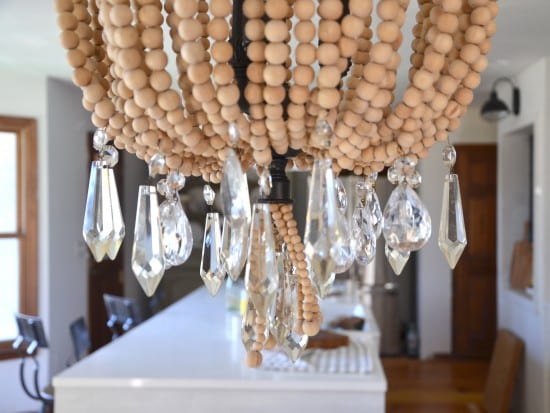 If I ever get tired of them or want to use the crystals someplace else I can just unhook them. And it girlifies our somewhat masculine leather and wood first floor without adding pink flowered wallpaper.