After living in 13 different homes as an adult I've experienced everything from a gourmet kitchen to a two burner stove. We've had electric stoves with those hurricane eyes, smooth cooktops, 30 year-old gas stoves. My favorite stoves always had gas burners an my husband and I decided years ago that once we bought our next house, we'd get a gas stove.
At our last house we owned we had electric stove but a gas line served our hot water heater, I had a quote for putting in a gas line connecting to a new gas stove: $1000 seemed steep for a line that just connected to our house so we bought a scratch and dent electric KitchenAid stove.
I was sad to learn that our new house didn't have a gas line. But when you find a property that works for you, there are some small sacrifices you are willing to make. I was willing to pass on gas (get it?) in order to live in that house.
Then my husband suggested liquid propane. What? people do that? I remembered having a gas tank in the yard of some of our houses, apparently, that's liquid propane and you can heat your house, use for a water heater and stove. I think it's just like the tank for your gas grill, but bigger.
As we started stove shopping we made sure that any stove we were interested in was liquid propane compatible (all of them were, some of them included a converter kit that seemed really simple).
We did our homework, I purchased the Consumer Reports kitchen guide, I read up online and decided on the Kenmore Pro duel fuel oven. Naturally I did the obvious and before we ordered our stove I did the obligatory search on checked on ebay and craigslist for "Wolf" "Viking Range" "Viking Stove" and such to to make sure there wasn't some amazing high end deal I was missing out on. But no such luck and the Kenmore was on sale so we ordered it. Since we live far in the country it would be 10 days for delivery, we weren't in a rush anyway so that was great.

For the record, I'm not a girl who splurges. I don't do manicures, will NEVER get a pedicure (people have to touch your feet!–and you pay them?) For the past 10 years I've cut my own hair for the most part and I buy my shoes from Target. I have my share of thrifted clothing (but you wouldn't guess by looking at it). But there are a few things I'm willing to dish out the big bucks for like mattresses and beds, sheets, sofas, a good rug every now and then, and appliances. I've been dreaming about a beautiful gas range for years.
So I bought the best I could afford. We paid cash for the Kenmore Pro, it was about $3400 after taxes and delivery (extra fee of course since we live out in the country). It was a huge amount for me to pay but I knew I wanted the range to be the queen of the kitchen. It's not like I was simply buying a riding mower, which can also cost thousands and is only used once a week–and you still need it, I was buying a stove that I would use every day–on my best days it would be multiple times a day! And at the end of an online day, I almost always look forward to cooking. I don't like baking but I love to feed people a good meal.
So a few Saturdays ago I ordered the Kenmore. It would be 10 days before it was scheduled to be delivered.
Then, a week later on Saturday night Angela emailed me. Her cottage is my muse, and she's going through her own kitchen remodel at her home. She's pretty much my favorite designer, although she doesn't call herself one. But when she talks about design I listen.  She commented on my instagram post about using an Ikea kitchen and then told me that she found a new Viking range on craigslist for 60% off retail. WHAT?!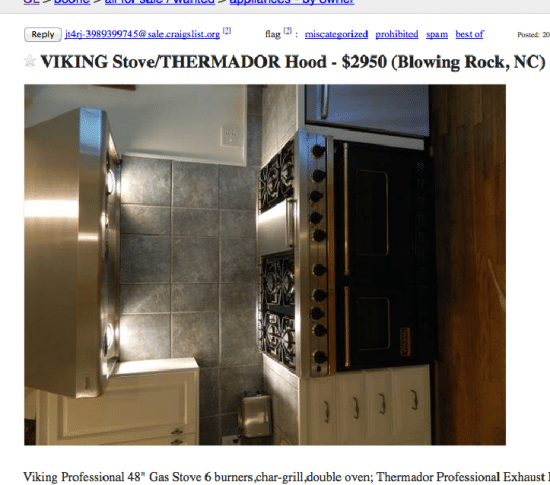 My first response was to immediately search "viking" on craiglist to see if i could see a picture of her range because I was so excited for her. Immediately a 48 inch black Viking popped up and I figured that's what she bought. How WONDERFUL! It was glorious with brass accents, six burners and a grill, I was thrilled for Angela!  I realized that the range was in Blowing Rock, almost two hours from me, but I knew Angela has the cottage in the mountains so it didn't surprise me if she searched her state of Georgia and our state of NC for her range since she's in both states so often.
So I replied to her email all happy for Angela and asked if that was the range she bought and told her how lovely it was. As I was writing I realized that this range was 6 years old, she said her's was new. Hmmm.
Sure enough she found her range in Atlanta. This black one was still listed for sale.
The next morning I told my husband the whole story with a laugh. And then he said, 'you did email the guy to see if  that range was still available didn't you?'.  I hadn't. It didn't even occur to me to check on this range. Even though it was less than the one I had just bought, even though it was pretty much my dream, fairy-tale range,  even though it even came with a huge, beautiful hood, I felt like I had already crossed that bridge and moved on.
But as soon as my husband said that something changed and I suddenly had permission to take a risk and email the Viking owner. Sure enough it was still available. But someone was coming from TN to see it the next morning. We were second in line. By that evening, we found out that the TN people couldn't come and we were next in line. Meanwhile I googled all I could about the range and I even found their old ebay listing:
The owners of the Viking were absolutely charming. They are an older couple who bought the house from a retired chef and are redoing their kitchen and are done with the Viking and Sub-zero fridge and are going all KitchenAid. The stove was still installed when we arrived so we got to see it work and received all the paper work. I guess they could have been actors and totally fooled us but sometimes you just have to take a risk.
My husband, without a glance of complaint borrowed a trailer from our church, drove it up the mountains in the poring rain moved an eight million pound 6 burner, grill, two oven range for me with the help of two men.
Lastly, not only did we get a range, it came with a 48 inch Thermador hood. I got a six year old Viking range  and Thermador hood for $2950. And the owners sent us back with bottled water, diet cokes and granola bars. Craiglist isn't always full of killers.
When I called Sears to cancel my order and tell them why they were amazed and practically congratulated me. I admit, it's kind of sad to not get a brand new, shiny stove, but I have a special place in my heart for loved on items and this Viking will serve our family and friends so well. AND I LOVE IT.
In a perfect blog world this last photo would be of me wearing a super cute, perfectly ironed and spotless apron cooking a delicious meal in front of this range all happily installed in our new kitchen. But that photo won't come for months. And none of my aprons have ever been ironed. Do I even have an iron? Lucky for us, Wes Priddy our contractor from was willing to take the time to help move this 3 million pound hunk of metal to our porch. (Looking for a contractor? Email me & I'm happy to share our experience). Notice the cast-off appliances in the back of the porch giving the Viking the stink eye? We even have another refrigerator on the other side of the porch! Four appliances on our porch, people. Four. It's like the island of misfit appliances out here. And I have none in my house.
Viking Ranges that might be Available Currently just for fun:
if you see or know of any listings in your area, feel free to leave a link in the comments!