We bought this fixer upper in August of 2013, six years ago!
I thought I'd share some images of what we've done over the years. We still have a lot to do, but it feels good to look back at how far we've come.
I've got a bunch of links for you at the end of the post.
Finally, this summer we added a new skirt around the house, made the steps wider, our friend Jessie built us new front doors, we've half way installed the walkway, and started adding plants. The first month after we moved in we immediately removed the shutters, screen door and tore out the rose bushes.
Sometimes when you know you have to wait to get to a project, it can help if you simply edit out things you don't love.
I don't have any photos from that far away (like the before) but see how the island edge stands where the old wall used to be?
We took two walls down in the kitchen to change it from a U shaped kitchen to an open kitchen. Our island is 10 feet long and the ends stand where the old walls used to be. See that grey door back there? Scroll up and you can see our dog standing in front of that same door in the before photo.
I realized I never take a photo from this angle so I snapped one real quick with my phone this morning. See the niche/shelf area on the wall on the left? You can see it in both photos, on the other side of it is the stairwell to our basement so that became a lovely limitation that we had to work around. We added the niche to add some beauty and function.
Even though my entire job involves taking photos of my house I somehow only have one of this view when my house is crazy town. But see where we removed the wall?
We put our stove where the sink used to be. And only left enough wall on the right side to accommodate the cabinet.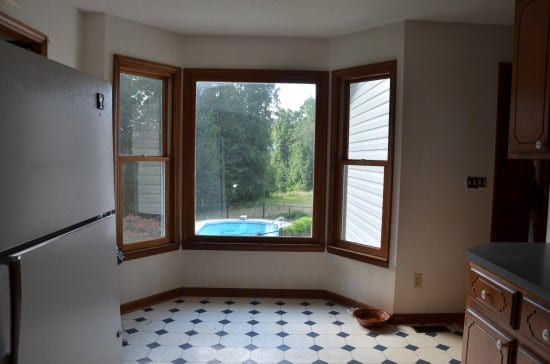 This room was kind of amazing with it's pine walls–the same exact wood used in most of the first floor. Since the original kitchen had linoleum when we updated it, we pulled the pine off the walls in this back porch area and used it as floors to finish the kitchen. A few years later, we added cedar shingles to bring back some wood.
The house had a 30 year old vinyl pool in the back yard. Two summers ago, my husband Chad and his business partner (they build custom residential pools) and his other friends and all my boys and their friends and my dad and anyone else who happened by, built us this pool.
Need a pool built near Charlotte NC? Let me know and I can hook you up.
Main floor view vs. top floor view that I took this morning on a dreary day with my phone. But you get the idea.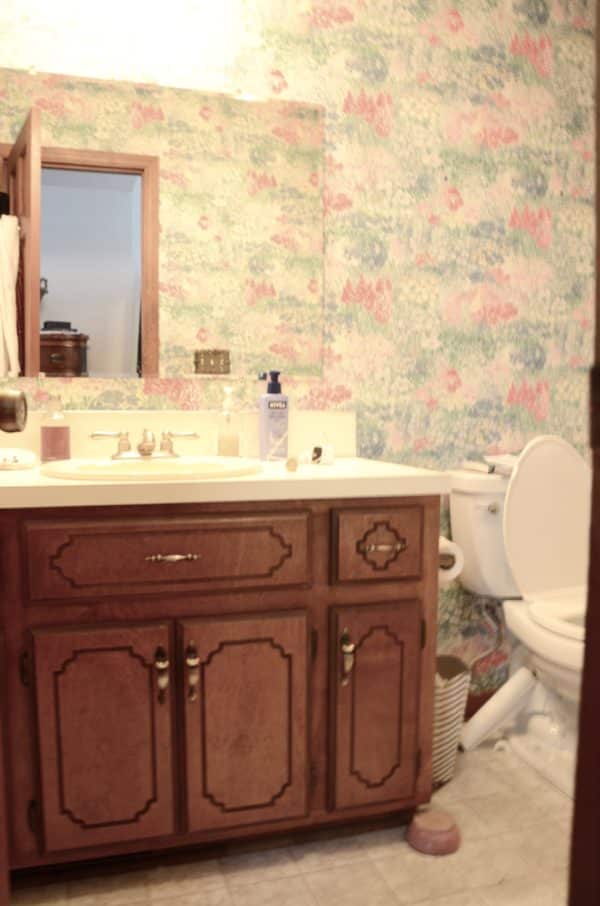 Our bathroom mini-makeover. If you are in the Cozy Community, don't forget, this week's theme is bathrooms!
The boy's bathroom.
The basement was a full of random of materials (where it was finished). When we bought the house we had to do some structural work, so we tore up extra parts and they all sat until last January when Sean finished the basement. We added can lighting, and luan walls and ceilings (just like how we did our first floor ceilings–link at the end of the post). It added so much square footage to our home and now it's a hang out space for our boys and their friends, and it walks out to the pool area.
I still haven't painted those doors yet or found the right wall sconce, this room gets the least amount of attention in our entire house. But look how bright a basement can be with only one window which is technically a glass door!
We also fixed up an old tractor barn on our property. Now we use it like a big family room to host gatherings.
A few years ago we updated the office/apartment room off the back of the barn. Our oldest son currently stays there in the summer when he's home from college so it would take a team of people all week to get it looking this good again, but it still counts, right?!
With the help of Toby and the rest of our friends, we built a Tiny Barn last year. We took it on the road for the Cozy Minimalist Home Book tour, but have some ideas for it for the future that we're considering. This year, it will be my booth at The Nest Fest.
our next projects:
We've done the main projects on the main floor, now, we are heading upstairs. We're putting in new floors (when I saw 'we' I mean legit floor people that we are hiring) and painting. From this photo, our stairs don't look all that bad.
I assure you they are wretched. We took the carpet off shortly after we moved it and they have looked like this ever since.
We removed all the carpet on the top floor and painted the subfloor years ago. Time for new floors! We've got 7 inch pine floors being installed mid September.
There are two bedrooms and a bathroom upstairs. Now that our boys are moving out (our youngest is a high school senior) we only have one bedroom in use upstairs. This one above will be my office in a few months.
See that blue tape? We're (again, people that do this as a job, not us) are knocking through the wall and taking it to the roofline making a little alcove big enough for my desk, and adding a HUGE skylight (see the inner blue tape?) Because the pitch of our roof is so steep, it will almost act as a wall. It's hard to explain. I'll show you in a few months. The main purpose is tot get some much needed natural light in here. Also that tape is crooked and I know it.
This empty bedroom will become Gavin's room. We finally added HVAC up here (again, after 6 years of window units and space heaters) and Sean redid all the trim and planked the ceilings. We'll have it all painted soon and with the new floors it's gonna look so good and like it's finally related to the rest of the house.
Some links if you want to know more:
Our basement process (highlighted on Instagram stories) blog post (if you want)
Our backyard pool here and here
Jesse Hoover's Instagram (our door builder for our house and the tiny barn)
PS, our floors are 12 inch wide Heart of Pine milled by the man who built the house. They are gorgeous and one of a kind. For our second floor we found a company that can get us 7 inch heart of pine floors and I can't wait to show you how they turn out.