Remember the World's Worst Barn?
It was one of the reasons we bought this property…because of the dream.
It's starting to look much better. Ish. And I wanted to show you what's been done so far, grab your coffee, I've got a ton of photos.
And if you are like me and spoiled by beautiful finished reveals that sparkle and shine and scream "TA DA!!!", then today will be a rude awakening.
It's not pretty. But it's progress.
This is how most projects happen. It would be so nice if we could all have a bunch of HGTV moments with dramatic sheet lifting to reveal a perfectly staged finished product. But that's not normal life. This barn is a metaphor for my life. Maybe yours too.
Three steps forward. Two steps back where I trip over myself on that last step and then look around to see if anyone is looking.
Can you handle the truth?
august 2013
june 2014
august 2014
We hope this barn will be a place for you to come and hang out with us. For craft days, swap meets, imperfection camp, & beauty hunting classes. My sister already has a writing gathering planned for the end of September (it sold out in 48 hours)(please let this barn be finished enough) and Chad is planning a Men's (thing?) as our test event before that ( to make sure we don't burn down the place while people are here. We're planning a hope*ologie event for November and other things to come after that. This barn isn't for looks (thankfully). It's for all of us to use in whatever way we want. It's imperfection at it's finest, a study in Lovely Limitations.
So it's been a year and in some ways it looks worse!! I should be so embarrassed to show you what we've done a year. But truly, this is a huge improvement. Stay with me now…
Hammersky Vineyard
For the record, here's my dream barn. Ugh. It's so beautiful. And mine will never have a vineyard or those expensive sofas. But mine can be white…
last year
yesterday
I'm considering a sweet shade of pink for my office door. My office is attached to the back of the barn. And today it's a complete wreck holding things that can't sit outside while the inside of the barn is being worked on. Can you see it? Do you see the pretty barely showing through?
Sometimes I see it. Sometimes I want to eat a chocolate cake and flush my computer down the toilet.
Here's the barn pre-windows back in the pre-spring. It's just a humble, beat up, metal tractor barn that sits next to our house. It's only 20′ x 40′ so it's not a big place. Just big enough.
The view from my front yard in the spring. See the blue tape on the barn? That's how we decided on what size windows to order. We just ordered windows from Lowe's.
Chad (my husband) and Sean (our friend/hired hard-working/can build anything-man who we highly recommend– but I'm not giving out his info until we are done with our projects because he is that good) built frames for six windows. Four windows went on one side, two on the other because of the heating thing we need to use, and the side barn door that opens up.
They took all the metal off to install the frames and windows.
Inside the barn you can look out to our house. See how close they are?
Then summer came.
The barn had four lightweight metal doors that were super high and sort of weird.  We wanted wood doors so we lowered the door hardware to accommodate their weight.
Then it was time to paint. Chad and his dad and the boys put plastic on the windows. This is the view as you pull up our driveway. Sadly, the driveway spits everyone out at the ugliest part of the property. Lovely Limitation.
Sean loaned us his paint sprayer. Painting a metal barn was one of those things we didn't want to mess up. The thought of it peeling in a year made me cringe. So we asked the paint fellas at Sherwin-Williams to tell us exactly what we needed to use to do it right. It took 6 gallons of multi-purpose latex primer and 10 gallons of Emerald paint–which is the top of the line fancy, blow your mind because this stuff is gonna last. Honestly, I wouldn't buy the top of the line paint for every single paint project in my life. But for the exterior of the barn, absolutely. If they sold paint that used holy water infused with feathers from heaven I'd probably get that.
Chad said it sprayed on like a dream and the actually spraying of the paint went really fast.
The paint color is "Pure White". Which is slightly off white if you ask me. But I'm still happy with it.
It took a few weeks to get it all finished just because we kept leaving town and playing in the yard and needing to get more paint.
But finally I had a pure white barn with wood doors. No time to enjoy it because we had to move everything out of the barn so we could start work on the inside. Cue Sanford & Son music!
That seam in the metal above the door drives me so close to insanity I can't even tell you. Dear Lord please help me to be blind to that because of how beautiful this will be one day. It would be so easy to cry myself to sleep every night for the mess that this all is. At times it's completely overwhelming. What have we done?! We bought the most expensive home we've ever purchased and it's a holy mess along with 12 acres of land that needs major attention not to mention dumpsters.
Anyway…
Sean had to brace up the rafters so they could hold all the lighting and fans. They pulled out all the old wiring and then put in miles of new wiring. I had big ideas for all sorts of different lighting. I can't wait to show you when it's all done. Notice that crazy heater on the left? Lovely. At least we'll be warm? I hope.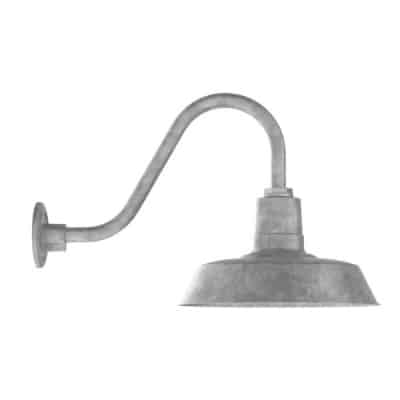 Here's the pretty outdoor light I just ordered from Barnlight Electric. For some reason this was the most difficult decision for me to make, worse than the paint color, window sizes or anything.
The ceiling is getting the white paint treatment. So far it has a coat of primer and I'm already feeling this was one of the best design decisions I've ever made. The first day Chad sprayed the primer on the ceiling he didn't wear a beard net and he pulled paint out of his beard for hours. This is love after a 20 year marriage people. The next day he wore a full body suit in 150 degree heat with the windows taped up standing 15 feet up on scaffolding spraying primer on the ceiling of the barn. He's my dream man.
I needed the extra push to choose white for the ceiling since I knew it'd be such a pain to paint, Caroline came to the rescue and wrote a little ode to the white ceiling-ed barn and why she believed the white would make a huge difference. Chad and I were both sold after that.
The barn now has insulation! And 'walls' are going in as I type. I'll tell you more about that in the next barn update.
The gorgeous awe-inspiring view from the open barn doors. Can we just take a moment and accept the fact that this is not the view I had in mind years ago as I dreamed about our future barn? Sometimes dreams and reality don't match up. But I'd still take this over living in the subdivision sans metal tractor barn. We're getting closer to the dream. Even if it's slightly hideous and majorly overwhelming.
I can't over exaggerate how rough/Sanford & Son/honky tonk it is out here. This will take YEARS of work. Come at your own risk. Keep your expectations low, and your heels lower. I've tripped multiple times trying to look cute in my wedges.
I have to fight daily to not focus on the wires, the car getting the oil change (or whatever family vehicle is currently getting worked on) the falling apart greenhouse that we haven't had time to take down, the overgrown trees we had time to kill but not cut, the trash, the metal, the wires. The mess.
(this photo? that's our pavilion with lights to the World's Worst Barn)
But it's forward. It's better than last year.
And the one thing that keeps us going is the encouragement, hand-holding, accountability, and support from our family and friends that THIS is worth it. Family and friends believe in this place so much that they've helped support this barn renovation financially. I think it's important for you to know that we aren't putting this all on a credit card and neither are we dishing out a bunch of cold hard cash–because we simply don't have it.
Our family and friends have come and encouraged, prayed, worked, moved furniture and helped us believe this truly can happen. This project is too big for us to do alone. I've even had companies email and ask how they can be a part of this barn. Just this past weekend at the Lowe's Style Saturday, two long time Nesting Place readers turned friends shocked me when they said they'd come out and help have a clean up day if we need it.
We aren't doing this alone.
But we are doing this with purpose.
And I'm okay inviting you out under the power lines, with all the imperfections in plain sight, before it's "done" if you are okay coming.
Invitation coming soon.
Until then, I'll take three steps forward.
Two steps back.
Trip over myself.
Look down at my feet and see a feather.
And carry on.