I'm so happy you are here today!
It's been 10 months since we bought our little fixer upper, a 3 bedroom home built in 1987 on 12 acres outside Charlotte, NC. I'm calling it a farm because we have chickens, that counts, right?! We've knocked down walls, we've put things off, we've lived with the undone and the imperfect. We've got little pockets of pretty next to little pockets of 'we'll do that one day when we get more money and time'.
There's some pretty, there's some potential, there's some ugly, and it's only fair that I show you all of it.
Today I'm joining Gina's Summer Tour of Homes where real women gather not to show off their homes, but to share their real spaces as inspiration and encouragement. The tour lasts all week!
Let's start with the pretty stuff shall we?
A $15 yard sale table with a $35 yard sale chair on the end, grouped with chairs from World Market & Ikea.
More about our bedroom here.
Find out more about the family room here.
Here it is when we moved in.
The younger boy's room with the DIY frame wallpaper that isn't really wallpaper.
I have a little office that connects to our barn. Here's the before–it was bad.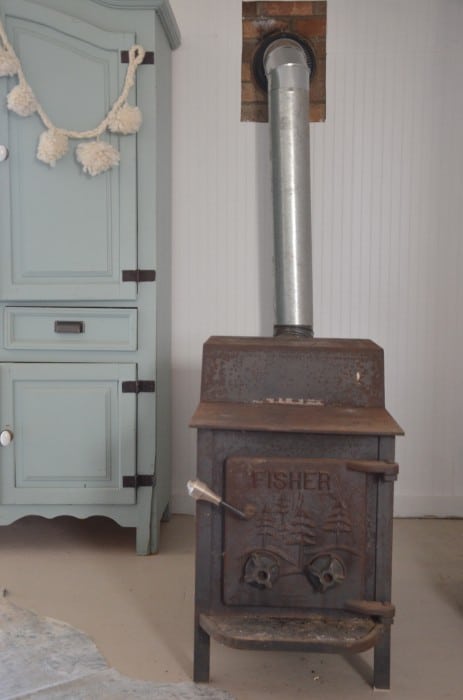 We've done most of the work in the kitchen. Here's the before. We knocked down walls, added Ikea cabinets (love them)
I found the Viking Range on Craigslist for a steal, the whole story is here.
We have half a million other projects so instead of waiting around with an unpainted wall behind the range, I painted it black. I know, most good DIY bloggers get out the wet saw and tile their own backsplash. I'm just not that kind of girl, I'd rather paint it and wait for my husband to do the tile work. I'm entirely too impatient to do a decent job, so black paint and hanging plates will get us through for now.
I thought it would be smart to start painting right at dinner time. At least it got done.
Here are some of the things we've yet to finish — the trim on the floor of the kitchen,
We also have door trim that looks like this.
A neglected basement that looks like this.
And our shower looks like this.
an old metal tractor barn that looks like this on the inside (best it's looked since we bought the place and we are planning to start inviting you out in the fall! YIKES!).
a pool in the back yard that we are still trying to figure out. It's a 25 year old pool. We bought the house in spite of the pool, not because of it.
Our home's been featured in multiple magazines (the rental house we moved out of in August is in this month's issue of Cottages and Bungalows!) and I just wrote a book about living beautifully with imperfection and it's currently the number one best selling design book. But that's not because we have a perfect place that looks great all the time, clearly. It's the exact opposite. It's because we create beauty in spite of the imperfections, and sometimes we do a pretty good job.
***