In October of 2012 I received an email from an Editor at Meredith Publications about possibly shooting our house for the 2013 issue of Better Homes & Gardens Christmas Ideas magazine…. A DREAM!
They also asked me not to show photos on my blog of my Christmas decor before the shoot…. A NIGHTMARE!
So here are all of the photos I was dying to show you last year…
The crew of three, Brie (the same photographer who came the year before for the DIY shoot, her sidekick, Pat, and Nicole a Meredith art director) came on Janurary 15th so we didn't have to keep our Christmas decor up that much longer. But I did switch out our Christmas tree for a fresh, more simple feeling tree.
I really wanted the article to be an encouragement that we can decorate for Christmas simply, naturally, and inexpensively with a lean towards handmade. Even in a rental house.
Mostly I'm going to show photos that I took before during and after so here we go!
Here's how it looked in real life before they came…
Here's how it looked in the magazine, I'm always surprised how the coloring is off, but I'm still thrilled with the feature.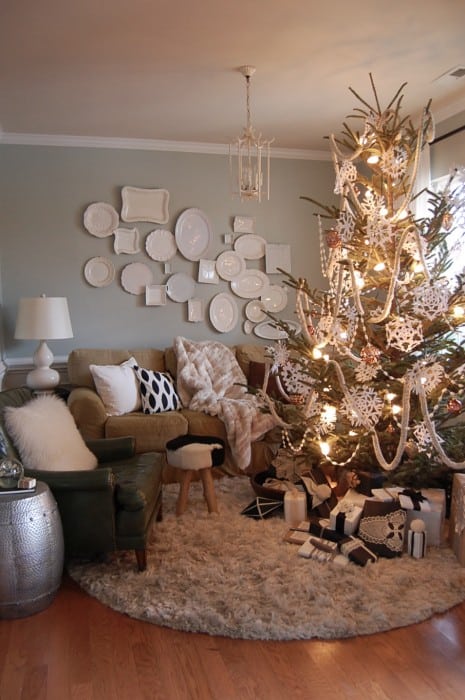 World's most simply decorated tree:
2 strands of C9 lights (that's it TWO strands!!)
2 strands of finger knitted garland (handmade, here's more info)
1 strand of pom pom yarn
about a dozen copper ornaments
a bunch of paper snowflakes I made with my boys over the past few years
The beautiful live tree was gifted to us from some friends, the Hill family who grow old fashioned Christmas trees on their land in Hendersonville, NC. They are trees that aren't severely shaped into a perfect Dr. Seuss triangle. They have natural spaces and are beautifully quirky.
Here's everything that was used on the tree. I think it's less than $50 worth of stuff.
I made it a point, after I removed our decorations, to pile them all on a table and take a picture. This is it. THIS is pretty much all of our decor besides our trees and some greenery that my mom and I cut from a local park.
pom pom garland from West Elm
This is our store bought live tree that our family used before the shoot it's too tight, there are no spaces. Now I'm spoiled and only want an old fashioned tree.
Two EASY and free ways to decorate: cut greenery from a park and put it in containers you already own & use your own winter scarves and wrap them around items in your home that are already on display.
white ceramic boots: Z Gallerie
wreath : Hershey is my Baby
canvas: Lindsay Letters
our bed, before ironing
right before the tree swap
my office, $85 thrifted dresser, $15 yard sale table for a desk, $20 white tree from a yard sale
Here's the amount of decor I used after it was packed up. Four bins (one had my pretend gifts so I could use them again this year & show how I wrapped them here at the blog–coming next week) The bag holds my wreaths.
Sweet little tree.
As the BHG people were walking out the front door the boys and dog were already taking over.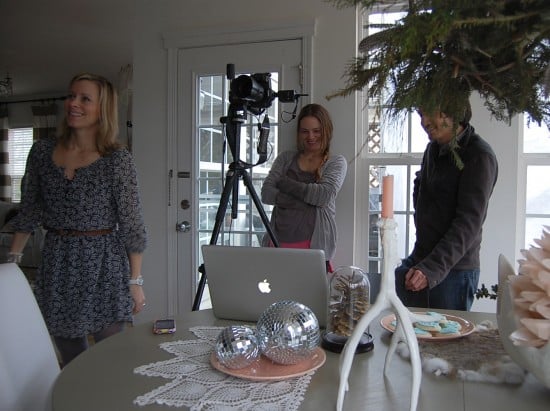 It was SUCH fun getting the house ready and seeing the photos in the magazine. Our tree even made the table of contents!
You can order it here. You can download it immediately here, all of our local stores sold out way back in October.
***
 A little secret to how I make run-of-the-mill gifts feel custom
Closeups & Ideas for Giftwrap from the photo shoot
Our home this year: Our first Christmas in our little farmhouse: Good Enough Decorating for when Life isn't Perfect. Because isn't that Always?
Monday the 16th, its YOUR turn to join in the tour, we'll have a link up here and an instagram hashtag (any ideas?) for the 5th annual Christmas Tour of Homes