I made my first decorative tassel eleven years ago. Shortly after I started selling them locally. Once I started Nesting Place I sold tassels on etsy and my shop was constantly sold out. It was a craft I loved but my blog was growing and I loved blogging more. So I closed up shop and wrote about my house.
In 2009 I wrote an eBook/PDF with 100 pages and over 100 photos all about how to make tassels for your home and how to sell them. Every year around this time sales pick up. People see pretty tassels at craft shows, come home and google how to make them and find the ebook.
I got in a tassel making mood the other day and quickly realized that the new, modern tassels I was creating were a little different than what I used to make and deserved their own tutorials. I created all sorts of different tutorials for all sorts of different tassels,  all right here for you on one 68 page downloadable PDF with over 70 photos packed with encouraging words.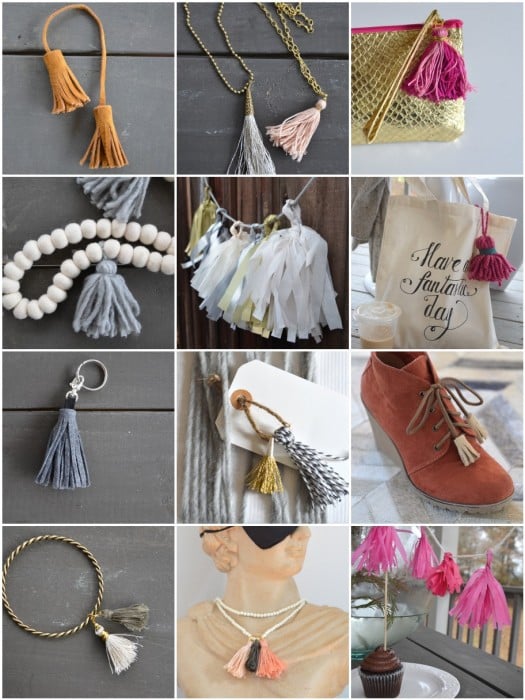 There are instructions for tassels made into jewelry, key rings, shoelaces for your cute boots, bags, on gits and for gifts. You can spend five dollars on materials, watch a movie on TV and make a handful of tassels to top off your gifts with this Christmas. You can be super thrifty, find some thrift store wares and embellish them with tassels for gifts.
Sometimes all it takes is one  little handmade component to take an everyday, inexpensive store bought gift to the next level where it becomes original and thoughtful. The tassel is that one little thing.
Hosting a gathering at your house over the holidays? Make tassels together. Invite the youth group girls over for hot chocolate and crafts and make tassels, teach your MOPS group how to make tassels. Make tassels with your children. It's a skill you'll use over and over.
 (both options might automatically load into your cart, so sorry! be sure to delete the one you don't want!)
We'll start with the two main methods of making tassels and then you'll get ideas on where to use them and how to embellish them. The PDF is $4.99 and if you want to bundle it with the Original Tassel Handbook–the eBook I wrote four years ago about how to make decorative tassels for your home, you can get them both for $10 for four days only.
tutorials for tassels like these are in the Original Tassel Handbook
Both of these PDFs are designed to be read on your computer, the pages are wide and computer sized so you can easily scroll down them. Feel free to zoom out if you want to read it a little smaller.
The Original Tassel Handbook (called Tassel Ebook) focuses on high end tassels with a lot of personality that you use to decorate your home, I sold tassels like this for $24-$45 in my shop. This ebook is $10 and a great companion to the new updated PDF. Click below to add the original Tassel Ebook to your cart.
The New Updated & On Trend Tassels
focuses on embellishing with smaller tassels to create a festive mood in your home and to wear as jewelry or embellish gifts and items you use every day. Click "add to cart" below to add the new Updated Tassel PDF to your cart.