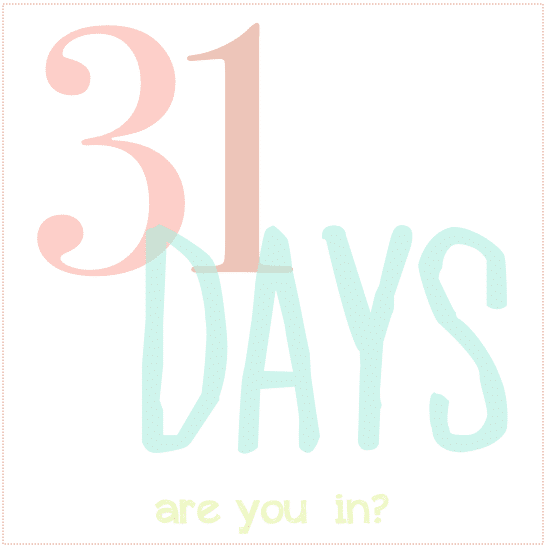 Every year for three years now I've written a 31 day series in the month of October.  Two years ago seven friends wrote for 31 days on their own blogs with me. Last year over 700 friends wrote on their own blog with us.  It's open to anyone who wants to take on the challenge of writing about one topic for 31 days. Wanna join in?
So, start to think about your topic, you want it to be broad enough that you can write 31 posts about it without getting sick of it, but specific enough that it feels like a series.  It's not easy but it's been a fun exercise that I enjoy one month out of the year, and then recover from for the other eleven.  There are no rules, feel free to look at our past posts and see how we each approached 31 days in our own way.
Consider having a really specific title. Take some time to look at last year's topics and buttons.  Feel free to be creative in your button, this is the one you will link up to and people will decide if they want to click on it or not based on the button.  There are no rules you can have a button with the numbers 31 on it or just a photo (#9 #150).
If you are a person who would like to offer your button making services feel free to leave a link (only one link per comment or my blog will think you are spam) and any info in the comments about your price if you want.  If you are a person who doesn't want to make your own button, feel free to check the comments for button making people.
Here are a few blank buttons for your sidebar or blog if you just want to drag them to your desktop, upload them into a program and fill in your topic you can.  Look in the comments if you have questions on how to add words–I use a program called keynote and then take a screen shot (totally dorky and the wrong way to do it but, I haven't taken the time to learn Photoshop and it works fine for me for buttons).  If you are a smart button making person, would you mind adding a comment and telling what program you use to make your own buttons?
31 Days of Change starts October 1st with a link up for anyone participating.  Are you joining in?  Feel free to discuss in the comments!
My past 31 Days Series:
31 Days of Lovely Limitations (my very favorite series of all time, near and dear to my heart)