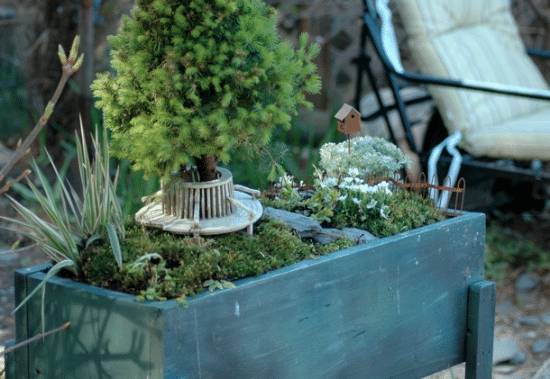 The Wee Garden
Have you seen all the adorable miniature garden ideas?  Containers of some sort (wood boxes, planters, drawers, wheel barrows, bird baths…) hold a little scene full of tiny living plants along with little adornments like garden benches, hardscapes and paths.  They are absolutely enchanting for all ages and how fun to shop the house and find special little things to decorate your tiny garden whether indoors or out.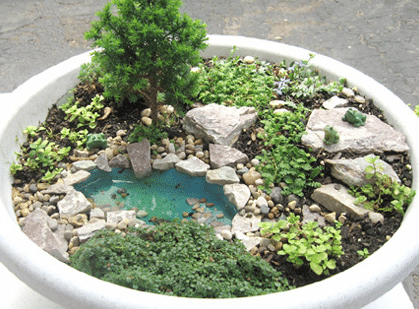 two green thumbs
BHG :: Stop the world!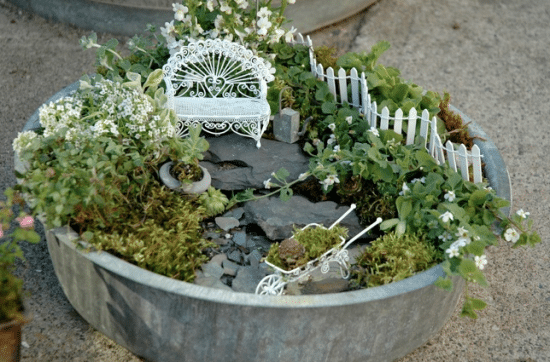 The Wee Garden
My small attempt at a miniature garden happened in the big planter. I bought some plants that started off tiny and crossed my fingers.  Of course, with my luck, the plants grew tremendously.  I knew that the creeping fig would take off but, I figured I could try to make a little tent like topiary to help support it.  After a few months, the plants have taken over and you can't see much of the Foo dogs and their play land.  I guess I could cut them back but who am I kidding, I'm not going to be doing that.
The photo above is from a few months ago….
And today?  You are lucky to find both dogs.  So I needed to research the best plants to use for a Fairy Garden and I thought I'd share what I found–just a few links to some great resources (be sure to click on them to learn more) and just enough photos to make you want to curse me because now you are deciding that it's imperative for you to create a fairy garden immediately.
Midwest Living
Janit @ Two Green Thumbs
Not only can you plant real, live tiny plants in your garden.  Consider little succulent cuttings planted in little baskets, urns and tiny pots. Be still my beating heart!  Check out Janit's etsy shop for more ideas– and if you are really ambitious, you can buy a 20 minute phone session with Janit.
tips::
Plant a Wheelbarrow Fairy Garden
Did you see the announcement? Let's meet back here next Monday for a Planty Linky party.  If you've been inspired to plant something and want to share it, we'd love to see it.  This is only for plants–if you did a great rug DIY where there happens to be a plant in the corner of the photo? That doesn't count.  Feel free to link up an old post as long as it's relevant to plants and my only request is ONE link per person–if you have a few really great plant posts you want to link up, write one post and include links to your other posts and let us choose what we want to read about.
Need more planty inspiration?
Using Planters Indoors and Out
Terrariums :: you know you want one…
(yikes, this board alone already has almost 20,000 followers and is just two weeks old~pure planty eye candy featuring furniture made from moss, outdoor rooms, urny splendor straight from the heavenly realms, more fairy gardens, quirky planters, secret gardens and more decorating with plants )