From time to time here we talk about work–our work as moms, as creatives, as homemakers, as boss ladies, as writers, as so much more. Today I'd like to share a few things I've focused on in 2016 that have helped shape the way I work as a mom, wife, creative, homemaker, boss lady and writer.
Take Real Breaks

When it comes to work, one of the best things you can do to ensure your work stays great, is have real quality time when you are NOT working.
There are two main ways I take breaks from my work.
Find the opposite of your work and do it. If I've been working hard all focused and getting things done, then the best thing I've found to do next is to simply do the opposite of the kind of work I've been doing.
What? Okay, so for example, right now my work involves being on the internet a lot. For me, the opposite of the internet is cooking, my sister has mentioned before that for her sometimes the opposite of the internet is taking a walk or doing yoga. I'm pretty sure this has something to do with the fact that she is tiny and I am not. Anyway, if I've worked hard for hours, I want to be sure I get some opposite type of work in–preferably, that same day.
Whether your work is on the internet, or in a busy office or outside doing landscaping, take some time to consider what the opposite of doing your work feels like for you–I like to think of it of something I'm still doing, but I get to use all the parts of me that I don't get to use in my regular work.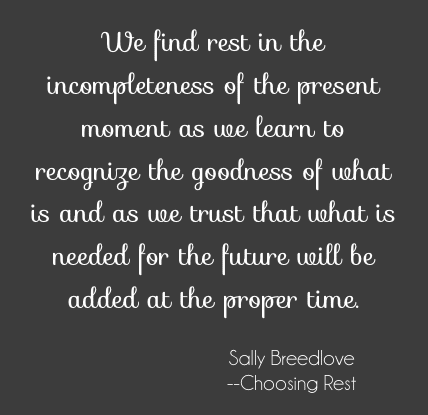 choosing rest
Rest

The secret to resting is allowing yourself to do it before everything is finished. Because guess what, everything will never be finished! So go ahead now and schedule your times of rest. For me, that means Sundays and most of Saturday, I'm offline. It also means that I close my computer before dinner pretty much every day.
Real rest, away from my work, always ends up making me better at my actual work.
Learn from other people who are actively doing the same kind of thing you want to do
This year I'm being proactive in learning from people. Not just random people though–people who are doing the same kind of thing that I am doing or hope to do (in the way I'd like to do it).
Organize an in person meet up
This past March, I hosted a group of four writers/bloggers/smart lady bosses who I admire. Honestly I was  kind of afraid to ask them to get on an actual plane and fly to my actual house (one of the ladies I had never even met) but surprise–they all said yes! We learned so much from each other and we all left encouraged and with great ideas.
That long weekend has shaped the way I've moved forward in my work, it was worth every second.
Join an Online Meetup or Community

I've learned so much from the online community, from membership sites, private facebook pages, online conferences, online courses and summits.
Next week I'm attending a free online summit called Work by Design
I'm really looking forward to some inspiration and applicable tips on how to work smarter, not harder, and of course, the reason I want to join in is because it's full of amazing speakers that I trust, who are doing the kind of thing I hope to do. It's not too late to sign up, you can see the 50+ (yes fifty) speakers here, the agenda and snag your free ticket here.
The Work by Design Summit will cover:
How to Benefit from the Power of Procrastination
Why Rest is Your Secret Weapon
The Power of a Digital Detox to Rewire Your Work Brain
Why Ten Minutes of Planning Can Save You Three Hours of Work
How to Inject Renewed Purpose into Your Work – No Matter What You Do
Why Fewer Work Hours Will Increase Your Profits
When (and Why) You Need to Fire Yourself
Why Being a Control Freak Is Costing You Thousands
The One Action You Can Take Today to Increase Your Income this Year
Those are just a few of the topics that I'm looking forward to. The Summit starts Tuesday May 17th, click here to find out more and grab your free ticket if it sounds like something you'd enjoy.
The Hope*writers Summit
I'm also co-hosting a free summit next week for current writers, aspiring writers, and the maybe-i-could-perhaps-write-something-someday writers: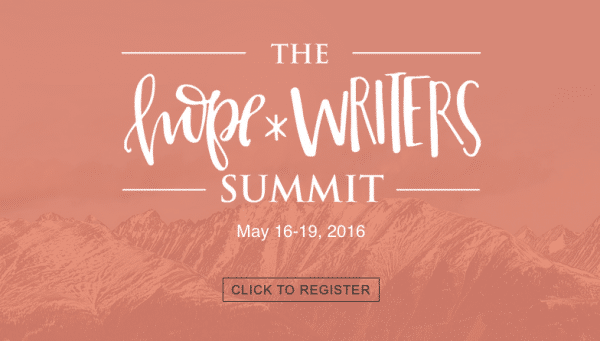 The Hope*writer's summit features 12 authors/speakers/publishers that you know and love…
You will LOVE these speakers and their encouraging conversation all about the writing life, book publishing, blogging, social media and what it means to be a writer.
Sign up today for free and join us starting Monday for the Hope*writers summit!
I love the online world for so many reasons–I've made real life friends, I find mega-inspiration, but more than anything else, I LOVE to learn from others. I'm so grateful for all the new ways we are able to connect with each other in person and online, it truly has changed the way I work.