You've probably noticed our new round dining table.
I've been thinking about getting a round table since we moved in two and a half years ago.
Here are three reasons it worked out well for our space.
1. Circles + Squares = YES
Even though the dining area technically only has two walls (one of which is patio doors) the area is still a square. In our last house I loved a round shaggy rug in a square room we had. Squares and circles play nicely together. Sometimes if a room feels off, it could be because there are all angles an no curves–a well balanced room can benefit from having both.
In a dining room, a circle table is so comfy in a square and you don't have any uneven areas. This doesn't mean a rectangular table is wrong, it just means that a circular table could be extra great! Especially if you are into symmetry!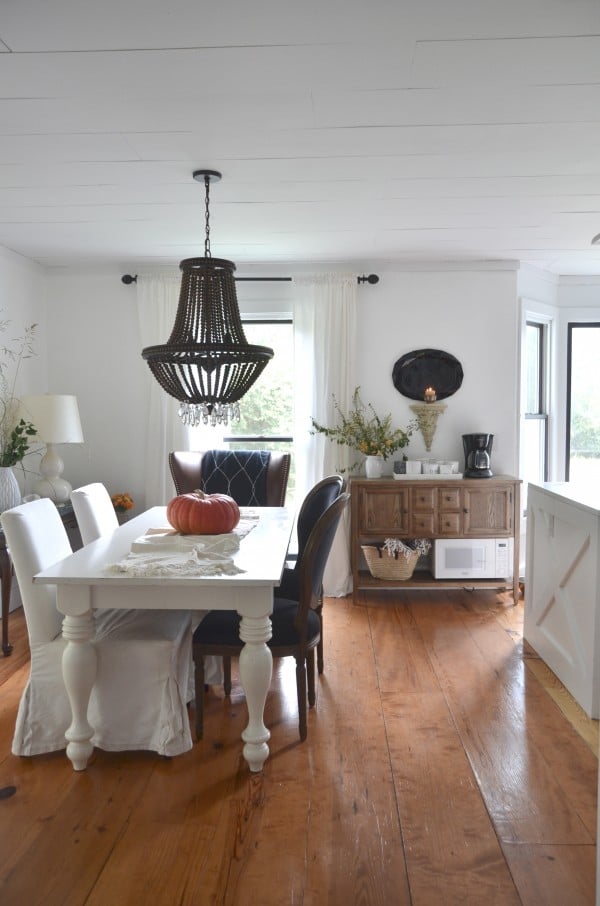 our old table
2. We wanted to be able to squeeze people in.
Here's a photo of the table we were using before. I found it for $15 at a yard sale years ago and I still love it, we use it on the porch now. This table is one of the smallest and most narrow rectangle tables I've seen. It only fits two chairs on the long sides and one chair on each end. Because of the leg placement, there's no hope for squeezing extra people in–so six people was our max.
Here we have five chairs (one's a huge wing back!) and we can easily fit two or three more chairs around the table. There truly is always room for one more person, and conversation just feels nicer around a round table.
Plus, because of the nature of a circle it just feels like it takes up a lot less room in our house. Circles for the win!
3. I was ready for a change.
The table we were using had really out served us and needs some major repairs. So I knew I needed to get a new table and instead of getting another rectangle table like we've always had, I felt like a change would be refreshing! And it is!
And because you all are smart, I asked for your advice on round vs rectangle on instagram click here to read all the helpful comments.
I was 90% sure I wanted a round table, but once I asked your advice, I was sold and ordered my table that afternoon!
Things I wanted in a table:
Must be white. We already have so much wood, and I've had a black table and it sucked all the light out of the room
60 inches wide (this one is 54, I was really hoping for 60 but it was really hard to find a style I liked and as long as I could get 7 chairs around it, it was good enough)
One center pedestal instead of legs –this gives you more room to add in chairs
Something a little modern, we have 12 inch plank pine floors, planked ceilings and live out in the country, so our place can take a lot more modern pieces without feeling like a dude museum. It's all about balance.
Bonus: the finish on the table mimics the finish on the counters (white quartz)
We've had the table for a few months now and LOVE it! I found it at All Modern it's made by Pangea Home and I highly recommend it. It came with a heavy mirror-like metal base that you can put on the bottom, but we opted to leave that part off.