black chairs//chandelier (I added the crystals)
After we fake-planked the ceiling & redid the trim and had the downstairs painted (Clark & Kensington:: Designer White)–it is finished-ish. I thought it would be fun to share what our house looks like just with furniture, a few lamps and three pair of drapes. It's still wonky–we've still got little things to finish and I'm going to change out a few light fixtures, but here's what our house looks like naked–I finally have a house that looks good naked!
table : $15 yard sale find, really needs to be repainted
counter stools
cabinets: ikea // counters: white quartz // stove
chair (similar)
bedside cabinet // bed // throw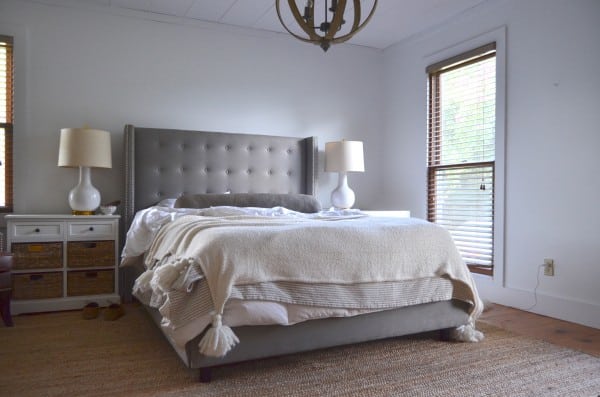 chandelier (similar)
light // table (similar) // settee //rug //lamp
small tables (similar, similar) // sofa
chair
I'm still deciding what color to repaint the fireplace.
It took two years just to get our house to look good naked (walls ceilings, trim, painted windows & doors)–from this…
…to this.
Wondering where all my stuff is?
Well, that's the first floor all naked–on Monday I'll have a fall tour all cozied up (Cozy Minimalist style) to share with you.