yesterday
It first really hit me the morning that the Better Homes and Gardens Do It Yourself Magazine folks were coming.  The Sofa.  The poor sofa was begging for mercy.  We bought this sofa about eight years ago and I still absolutely love it.  It was one of the best purchases we've ever made.  I feel like I've finally learned how to shop for and what to look for in a sofa.  And I learned it all the hard way, you don't have to learn the hard way, you can learn from my mistakes.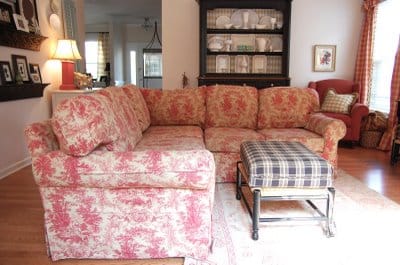 Remember how this sofa used to look? It's toile underneath but after an afternoon with the slipcover whisperer and 10 willing sewers we got this….
This picture's from just a few months ago, there's no denying that a white sofa is so very photogenic.  Show off.
And this is what I did the morning that the BHGDIY ladies were coming, I had to rope it off so no one would sit on it.  And I'm noticing that after a little over two years of being slipcovered there are some parts that are really showing their wear.  And I blame myself. We are the family in the world that is the most hard on their furniture.  I make no apologies.  We eat on it, drink on it, sleep on it, we don't let the dog on it but that's about my only rule.  That sofa serves us, not the other way around.
But two weeks after washing it, the slipcover looks like this again.  I've noticed that in the summer when my boys are home, the slipcover is filthy and needs washing every 2-3 weeks, when they are in school I can go 6-8 weeks.  I've thought about doing a new slipcover–Kristi even offered to come down and I love that idea because I LOVE white slipcovers and always will.  But I HATE washing them. And people, putting a slipcover on a sectional is about three twenty times more trouble than putting one back on a normal sofa.
And then I got an email from La-Z-Boy telling me about a new sofa they had and asking if I'd like to review it.  And I ignored it for over a month because I didn't want to think about getting a new sofa. I LIKE my sofa.
This sofa?  This sofa is the anchor of our home. I feel like everything in our house is somehow connected to this sofa, once I put the white slipcovers on it changed how I felt about the room. It made me love the room.  It kind of made me love our house. The sofa is still SO incredibly comfortable.  After eight years it's held its shape and the cushions are perfect and I still LOVE it.  I didn't want to start over fresh.
And then I remembered that La-Z-Boy owned the company that made our sofa back when we purchased it.  And I knew I had always told myself if I ever DID look for a new sofa, I would start with La-Z-Boy because I trust them and Clayton Marcus belongs to someone else now and because if THIS sofa didn't disintegrate or burst into flames or turn into a puff of smoke after being in our house for 8 years, then we've got something special.
So I finally emailed La-Z-Boy and they are up to the challenge of working with me and submitting themselves to the torture of answering all of my questions and putting up with my indecisiveness and letting their sofa be tested in the crelest most demanding environments that is our house without sofa rules with three boys and a man.  So we can all watch how this next sofa of ours will hold up.
So here's my wisdom, laid bare for you, learn from me young sofa shoppers, don't do what I've done….
What I've Learned About Shopping For A Sofa–Most of it I Learned the Hard Way

1. It's better to be patient than to settle…TRUST ME
We've had two sofas in our 17 years of marriage the first one was leather and we had it for 9 years.  My husband really wanted leather and I really wanted a new sofa and we had a budget and we wanted our sofa YESTERNOW so instead of saving up a few more months and getting the leather I really wanted, I settled and paid a few hundred dollars less and got an orangy leather that I hated for the next 9 years. Did you read that?  I hated a sofa for 9 years because I didn't want to spend a few hundred dollars more to get what I truly wanted.  And the orange leather sofa wasn't cheap, I just didn't want to wait any longer to get what I really wanted.
the orange sofa #hated
Lesson learned.  If we would have waited a few months until we had a little more money and got the beautiful leather that I actually wanted?  I wouldn't have had to despise the sofa for nine years giving it dirty looks only to get rid of a sofa that was still in great condition but that I hated.  Funny, instead of seeing that I was wasting money getting something I didn't really like, at the time I felt like I was saving money in settling.  That works for some things like ordering the fish instead of lobster, but I wouldn't recommend that method with a sofa especially one that you are paying good money for in the first place.  Sofas are the centerpiece of a room and many times are the most used item in the house (well, maybe besides the toilet) it's worth it to save a little more to get the better quality and finishes that you like, even if it means waiting an extra few months.
2. Don't buy the trendy fabric on the sofa, use that for pillows
Yep, I bought a toile sofa. Not only that, it was a sectional. Not only that, it was RED. And yep, five years later, as much as I still loved toile?  The sofa had me in a corner.  There's only so much you can do with a room with a red toile sofa. I wish I would have gone neutral.  Lucky for me I was able to slipcover it.
Kramer's hands, how did I not get a photo of his actual face?
3.The Sales Reps/Design Consultants are there to help
I still remember the name of the sales rep/designer that helped us with our current sofa (did I mention it was eight years ago?) Her name is Helen.  This time we went into the La-Z-Boy store and met Joe Kramer (who promptly told us that everyone calls him Kramer so we are going with that).  Kramer's knowledge of the warranties and fabrics and cushions was incredibly useful in helping us make our decision.  I was shocked at the quality of the warranties–you can purchase a fabric sofa from La-Z-Boy and they offer an optional warranty that covers it for LIFE?  Even if it rips or you spill something on it?  That's incredible.
Plus without knowing I'm a local blogger or anything they offered to come to my house and measure and do a virtual room board showing the sofa I pick out and how it looks in our room.   They have in house designers that will help you as much or as little as you want–for free.
I initially had a sweet spot for La-Z-Boy because of the torture that our current sofa has endured, now I have a sweet spot for them because of their warranties, the fact that they are American made, they stand by their products and they have a great tag line (I'm a sucker for a great tag line)
"Live life comfortably."
being patient also? dreaming about a leather sofa…
So basically, eight years ago, if I would have purchased an actual La-Z-Boy sofa in a neutral fabric I wouldn't be writing this post, because the fabric would be guaranteed FOREVER with the Ultrasheild Lifetime Fabric Warranty.  And La-Z-Boy is an 85 year-old company, I don't think they are going anywhere.
So this time, while I'm picking out the best sofa for us, I don't have to do secret calculations in my head about staying away from certain fabrics because I assume that our family will destroy them.  It really puts the fun back into sofa shopping.
they have over 900 fabrics and 100 leathers to choose from, oh my!
Lesson learned, if you can get a timeless fabric or leather from a reputable dealer that stands by their product you will actually save money in the long run.
…to be continued
Have you made a really good or really poor decision with a sofa?  I'd love to commiserate.
*There's some discussion in the comments about La-Z-Boy being American Made, click here to find out what La-Z-Boy has to say for themselves.