Hi friends and welcome to our fixer-upper all cozied up for fall!
I'm joining Lindsay from The White Buffalo Styling Co. and her fall tour this week…
If you were here last week, you might have seen our naked house–with furniture–but without anything else–so here's the cozy version right in time for fall. Now that our ceilings and walls are finished, we have FINALLY turned a corner in this house we've been fixing up for two years, it feels like a loved-on, lived-in, imperfectly beautiful home and that is such a great feeling…
We switched out the chandelier over the table this past weekend. I've been feeling like the old chandy was too small for the space, and I knew I could compensate for it by filling up the room with more stuff–but I decided to be an adult about it and in true Cozy Minimalist style, I purchased the size chandelier I wanted so that I could have the least amount of things in this space but have it still represent my style and have big personality.
*I have heard it said that 'there's no such thing as a chandelier that's too big'. Of course, I'm sure I could find a chandy that actually is too big for this space, but the truth is, most of us end up trying to stay on the safe side and use chandeliers that are too small for the space. Clearly, even though I know this universal truth, I still have to learn the hard way.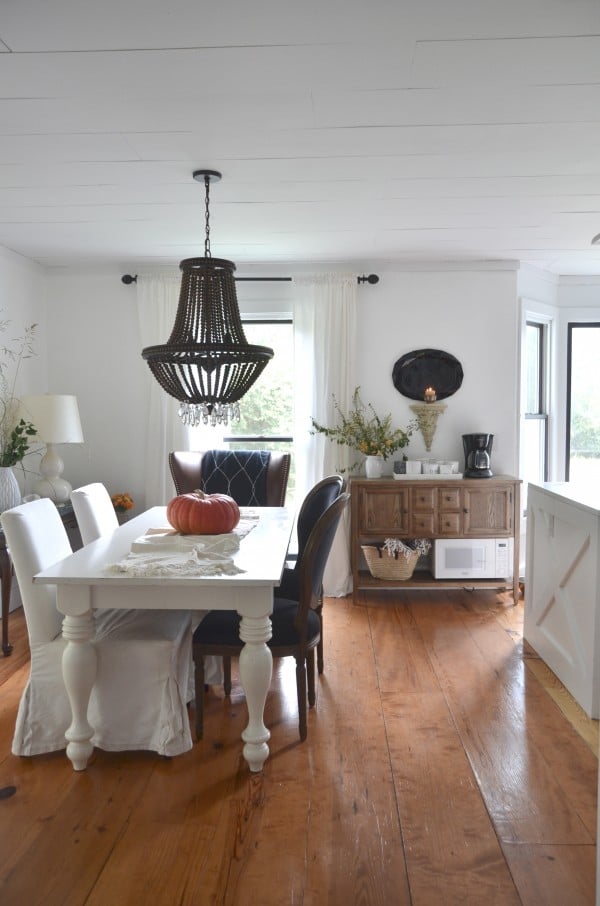 I added just a kiss of fall in the barn, some cut grass from the front field, and a green pumpkin…
Thanks for stopping by our place today! If you are looking for sources, some are here. xo!
Head on over to Anissa from House Seven Blog for more fall inspiration!
***