lovely bedroom & dresser:: thistlewood farm
Dressers are one of the hardest working pieces of furniture that you can own. Plus, they come in a million different styles, are easy to paint and can be found super inexpensively second-hand. If you wanted to, you could work a dresser into every room of your house…
Add some sinks and use a dresser in the bathroom via the pretty blog
Emily Henderson's Ikea Hacked Dresser for the Kitchen
Joanna used this dresser in the living room of the 80's Rancher Fixer-Upper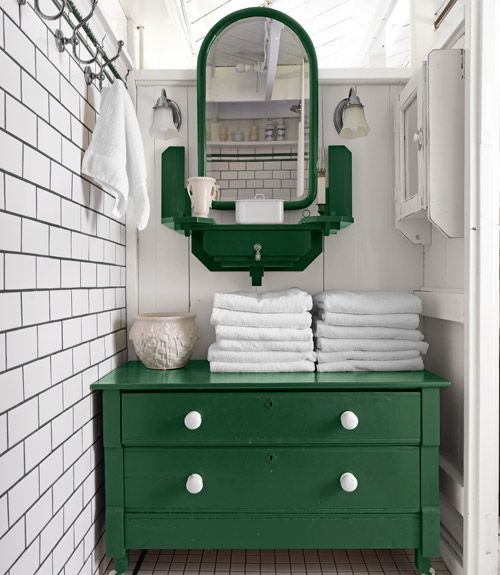 A dresser used for storage in a bathroom via Country Living
Use a dresser type of piece in between two chairs via Garden & Gun
I bought this dresser for $18 at a yard sale five years ago. I just painted it white.
Today our TV sits on the same dresser.
I found this dresser at a thrift store for $60ish
It was perfectly distressed. I put all different knobs on it and it's both a surface and storage in the barn.
Here's the same dresser in the guest room of our last house.
I found this dresser at a thrift store for around $80. I painted it blue and used it in my office in our last house…
…and it's in my office in this house. I think I'm going to paint it a new color though.
And this piece isn't a dresser, it's the bottom of my hutch sitting on our back porch/laundry room. But the point is, it COULD be a dresser. A dresser would work really well here.
Yard sale season is starting and if you are out and see an inexpensive dresser but you don't know right that second where in the world you would put it, but you have lots of empty walls in your house–my advice is to buy that dresser and figure out where you'll put it later.
How many dressers do you have?