Just passing along a great deal.  I was at Hobby Lobby the other day and happened by a glorious wall of pillow covers. They were priced $4.99-7.99 and they had a TON!  I bought four.  Don't forget to download their app so you can use a 40% off coupon!  The sequins one up there was a 16 x 16 and my feather inserts (read about the great feather insert debate here) are a little big for that but I made it work for now.  I'm on the lookout for a little smaller insert so this pillow can have some breathing room, poor thing it looks like it just got out of surgery where it opted for a cup size too large.  I feel like I should ice the pillow or something….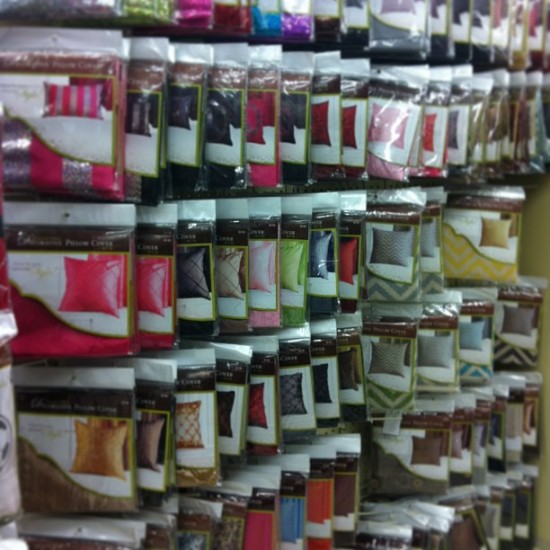 For your viewing pleasure I took this photo of the wall of pillow covers. Be sure to follow me on instagram for more life changing photos like this.  Online I only see 16 x 16 but I bought 3 18 x 18s in the store.
They even had a pretend leather pillow cover. Not amazing, but it could have been much worse.
What about you?  Do you have a fun source for pillow covers?
PS, if you got a spam warning when you came here, would you take a second and in the comments let me know what browser you are on (ex: firefox, safari…) and or how you got here to Nesting Place (ex: google, link from such and such blog…)  A few of you are getting a warning but we can't find the source. So sorry!