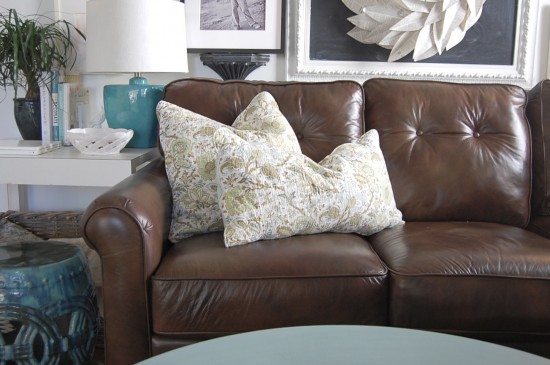 It's hard to keep your pillows nice and fluffy in a world that just wants to smash and flatten pillows.  My family is the chief family of pillow abusers.  And I wouldn't have it any other way.  I think decorative throw pillows are much happier being used that being protected as if they are an endangered species.  Even though we call them decorative throw pillows the truth is, they are there to serve us, not just look pretty.
I've been meaning to tell you this well-known secret.  And then I got a reminder in the form of a comment on this post about Tracy's home::
Crystal, there is a secret.  You know how I show you all my yard sale and thrift store items but then I also talk about investment pieces?  Like how I think a rug is really worth paying good money for?  Same goes for a bed–you spend a big percentage of your life on a bed, get a good one.  And an upholstered pieces, especially the family sofa should be the best you can afford.
I feel the same way about pillows, or at least, what goes inside a pillow.  But, the best thing about pillows is that good ones don't necessarily cost more. I grew up with a mom who was conscious about the shape of pillows, I'm guessing she didn't know the secret so she had to be all "Gary, don't lay on those pillows on the sofa they'll get flat, you are ruining them". Because of my upbringing, I  had flat pillow worry syndrome. Maybe you have this condition as well?  I have a little love of pillows and I certainly didn't and don't want them to get flat or lumpy!
Restoration Hardware
The cure? Feather inserts. You know how you have a pretty fabric on the outside of the pillow but the outside isn't the only part of the pillow.  There is something inside too. Sometimes I'm in a thrift store and I hopefully pick up a pillow and it's all weirdly lumpy and eerily close to only being two-dimensional.  Oftentimes it's a homemade pillow that someone stuffed with batting.  Batting is okay for stuffed toys or a decorative tooth fairy pillow for your daughter's bed.  But batting won't hold up to men laying their heads and other such things on them day after day.  And batting certainly won't fluff.
My guess is there is some type of synthetic alternative out there that people love, but I haven't found it yet.  My favorite, most fluffable, abuse-taking pillows have always been feather filled. The kind where every now and then, you'll feel a sharp end of a feather poking through the insert into a fleshy part of your body.  That's the stuff.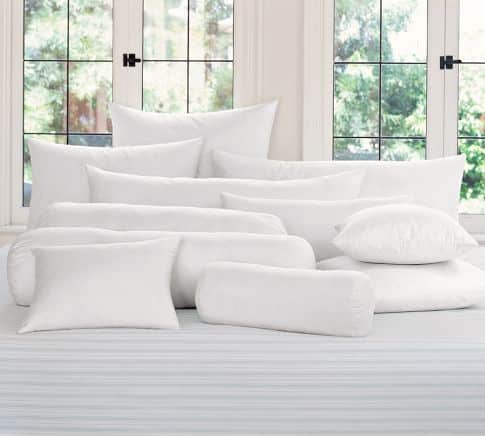 Pottery Barn Synthetic Pillow Inserts…hmmmm
Feather pillows will take all of your (and your husband's) abuse and then obediently fluff back up every time.  For years. I've washed my inserts in the washer and dried them in the dryer. You can be fancy and order feather inserts from a store or do what I do and next time you are at Home Goods buy a few pillows you like but make sure they are feather pillows with removable covers.  Check for a zipper on the outside pillow cover to make sure you can easily remove the insert once you are sick of the outside fabric.  That way you get a pretty, non-losing-its-shape pillow now, and a great insert for years and years.
I'll still buy a pillow if it doesn't have a zipper because I know one day I can cut off the cover and still have the feather insert.  If I LOVE a pillow but the insert is cheap and not feather I may still consider purchasing it IF the cover is removable. But, I almost always refuse to waste my money on a new pillow if it's not a feather pillow and if the cover can't be removed so I can put a feather insert in it when I get home.
*Disclaimer, I've been known to purchase non-feather filled, beautiful pillows from Target but they are always second string, protected and maybe put on our bed–not my first line of defense.  I wouldn't fill our sofa with 5 non-feather Target pillows and expect good results.  But ONE non-feather pillow among feather pillows will survive because naturally, your husband will reach for the cushy feather pillow over the non-feather one.  The gray and jute pillow on our bed is from Target (polyester filled *cringes*) but since it's purely for looks, it's getting along just fine.
It's just a waste for me to use a pillow that I can't have with feathers.  Because it will go flat and ugly in a week here at my house.
So that's the secret.  It's not about how you abuse your pillow, it's about putting the right thing inside them so you can abuse them. Use feather inserts. I even look for them now when I'm thrifting.  Sometimes you'll find an ugly $1 pillow but inside is a lovely feather pillow insert.  I'll buy that right up and get home and throw away the ugly cover and wash the insert in super hot water and dry it and it's as good as new.
More Good Reads
How to simply and quickly make your own pillow covers@Love Some (I HATE to sew, but I'd even do this one, and then put a feather insert in it, of course!)
Have you had a great experience with non-down/feather pillow inserts?  What about for people allergic to down?  We'd love to hear your thoughts in the comments…