Our guest room is still progressing. Isn't every room, always? But it's much cozier now.

Remember, it started out like this?
Then my sister was coming so I quickly turned it into this? But that chair was driving me crazy.
So then I moved this chair in. I also was stealing from Peter to give to Paul while annoying Mary by temporarily grabbing this rug from my son's room. I love the bold graphic but, the rug belongs in his room. We have a few bold, graphic rugs in our home and I appreciate how their pattern fills a room. We don't have any carpet in our house so we need a rug in every room. Which is really fun. I think all rooms could benefit from a rug, even if they do have carpet.
I really want the guest room to feel like a quiet escape from the rest of the house. I was shocked at how quiet a solid color rug makes the room feel. Even though I want the guest room to be a nice retreat for guests, our family uses it when guests aren't around, which is most of the time. Plus this rug is super soft.
This room is upstairs on the front of the house. We have a covered porch on the front of our house. This room has a window. I have boys. Need I say more? We are doing our part to keep the neighborhood classy so naturally, my boys like to go out on the roof. I think I heard them convincing the dog that he would like the roof too.
They don't go on the roof purely for entertainment, but to set up their sound system (refer back to the classiness of us) so they set up their speakers and phone in a way that they can announce the street hockey game to the neighborhood with the help of two apps: Goal Horn and PA Arena. As a mom of older boys our play times have moved past Thomas and Playmobile and into other things that are just as creative and messy but more mature. Like walking onto the roof then stepping onto the guest bed and then stepping onto the rug to the awaiting dog.
I really wanted a solid color, light, cozy rug for the room but I was afraid the boys and our dog would ruin it in a week. I also didn't want to tell them that the room was off-limits. You know I don't do that, the thought of having an entire room sealed off, perfectly waiting for the occasional overnight guest goes against everything I believe in.
Enter the SmartStrand line from Mohawk Flooring. They make magic carpets. They have a lifetime stain and soil resistance built into the carpet, not sprayed on as an afterthought. Warm water and a little mild detergent and you are good. So now I can have my light, pretty rug and they can be boys and no one has to nag. Life is for living and I for one do not have time to fret over my carpets. Sometimes the best thing you can do as a mom is give them room to just be.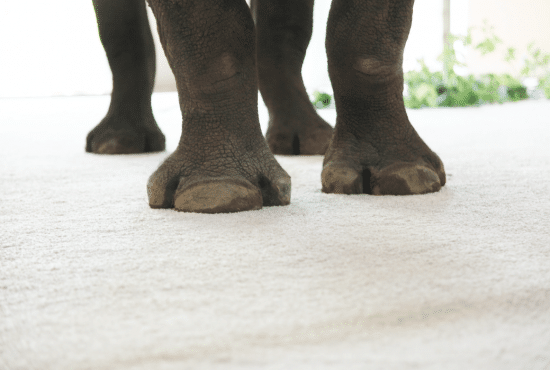 Mohawk supplied the rug for our guest room and sponsored this post and they were all "feel free to spill anything on it and test the stain resistance".  Once I watched this video I was totally convinced. They let elephants and a rhino live on the carpet for three weeks at a zoo and then cleaned the carpet with hot water and it came out great. I'm pretty sure we aren't that hard on our carpet.
Mohawk is giving away a 6 x 9 SmartStrand bound rug in the Global Vision Style, the color is Sequoyah Dusk (updated, so sorry I thought you could pick your own style, still a great rug!) to a  Nesting Place reader:
click here to enter and check out all the styles and colors.
This carpet makes me wish I had a house with carpet to replace. I've been searching for something like this all my life.
Don't leave a comment here to enter but simply click here to enter to win your own SmartStrand bound rug, you can put in your guest room, or apparently, a zoo, or any other room in your home. Contest closes April 8th. Special thanks to Mohawk Flooring for being smart enough to finally come up with carpet that moms don't need to fret over and for sponsoring this post. Winner will be randomly chosen by Mohawk and will be announced mid-April.
Pin It