Today we have a special guest, an expert on small houses and plants.  Read on and you'll discover one of her secrets.

Hi Nesters! This is Jessica from My House Party here to share a little how-to on making a terrarium for your home, or the home of someone you love. Terrariums are a great way to bring the outdoors in and fairly simple to assemble and easy to maintain. Let's get started!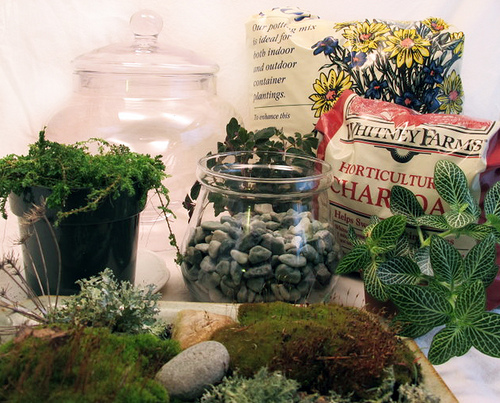 WHAT YOU WILL NEED:
apothecary jar / where to find it: thrift stores, garden boutiques, craft stores
 rocks / where to find it: your driveway, craft /dollar stores
charcoal / where to find it: garden centers, aquarium shops
potting soil / where to find it: any garden center
AND LIVE PLANTS::

small low-light plants / where to find it: garden centers
moss / where to find it: your backyard, garden centers

LET"S LAYER! Find a good spot inside or out to assemble your terrarium. Make sure your jar is squeaky clean so once finished you can see all the wonderful things growing inside. Now, grab a handful of your rocks and carefully drop them into your jar at least 1" deep. The rocks ensure proper drainage. Next, add the charcoal. Charcoal is messy so I recommend pouring straight from the bag or getting something to scoop with. You just need to cover the rocks a ½" or so. The charcoal will filter the water and prevent stagnation. Now it's time to add your potting soil. If we were just adding moss we would only use about 1″ of soil. However, since we're going to be using some nice little moisture loving foliage we will need enough soil for proper root growth, so about 2"- 3".

Here's what your layers should look like. And don't worry if a little soil gets into the rocks. No one's going to be looking at that once we're done.

NOW FOR SOME PLANTING! We will add our rooted low-light plants first. These will give some height to our terrarium as well as the possibility of color/shade variation. Make sure you purchase small plants that are meant to stay small. Mini ferns are a popular choice, and if you have a large enough jar you can even add in some flowering begonias. After considering your plant placement (groups of three are always nice) use your hand to scoop a small pocket in the soil you just laid down. Then removed your first plant from its pot and loosen up the roots a bit. Try to spread the roots out to grow more horizontally if you have a shallow jar. Place your plant in the pocket you dug and cover its roots and base with soil and pack down firmly. Repeat process with any additional plants.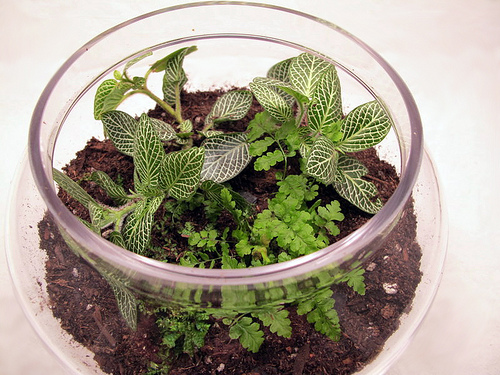 LOVELY! At this point, you can either be done with the planting piece and simply add some more rocks to cover the dirt and be finished or…we can keep adding green. I am all about a little variety so let's move on.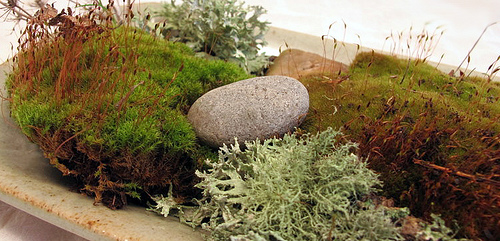 FORAGING. Take your pieces of mossy clumps and tear them to fit the shapes you need to cover up the bare soil left in your terrarium. Then nestle them snugly in. Add found stones and/or other accessories to add some wonder to your terrarium. (We like to add tiny houses!) Pour in a shot glass or two of water, put the lid on and you're done!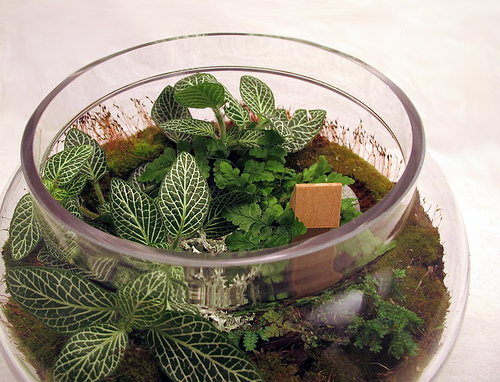 TIME TO ADMIRE. Place your new green-glassed beauty in a spot in your home where it will receive indirect light. Check the moisture level every week or so and give a good spritz or shot of water if it seems a little dry. A little condensation is ideal but be careful not to over water.

EXPLORE: Now that you are a terrarium master you can explore all kinds of glass enclosed options. Try some open top jars for a 'dry terrarium' filled with succulents, or an 'air terrarium' with some stones /sand and air plant or two. Oh, the possibilities.
Thanks so much Jessica for taking the time to teach us how to make a beautiful terrarium out of one of those apothecary jars that most of us already have around our home.  I love this project and so do my boys, they've been known to stick a few plastic dinosaurs into our terrarium.  If you are looking for one of those mysterious air plants, you need to visit the My House Party Etsy Shop, or their  Big Cartel Shop for even more choices and those charming tiny houses.  I mean, really, does it get any easier than AIR?  Even if you have no thumb you should be able to grow those. No more excuses!