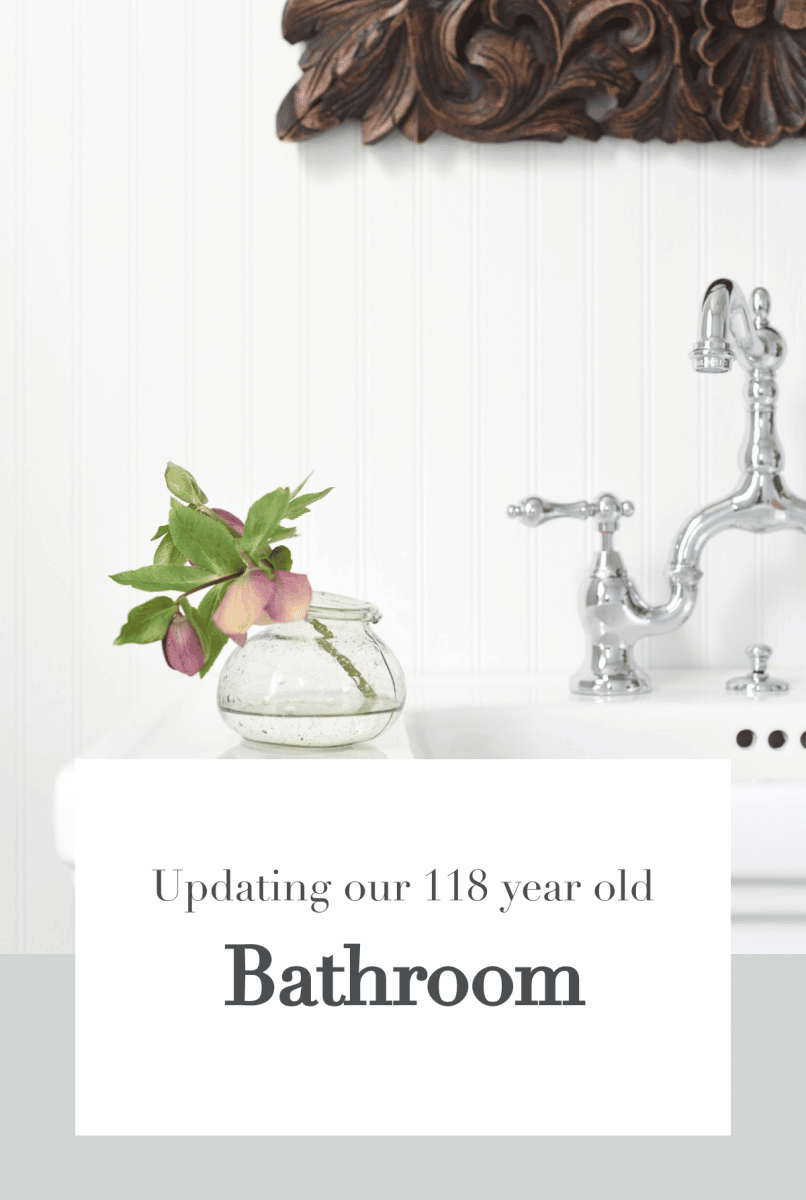 We have one bathroom on the first level of our home and it's an en suite to my office which is technically a bedroom.
The original layout worked great, we only have one guest ever stay in my office since we have four bedrooms and three baths upstairs, the tub is rarely used.
I loved the shutters, clawfoot tub, texture added with the bead-board, floors and the fact that it was sconce ready.
What needed attention? The plaster walls were damaged, the bead-board was in bad shape and it needed just a little cosmetic update.
Bead-board shows up a few places in this house so we decided to remove the old and cover the entire wall with bead-board. Most of the house has 10 foot ceilings but the bathroom has nine which meant with the right floor moulding, we were able to use 8 foot sheets of bead-board and bulk up the bottom and top moulding to fill in the gaps.
I loved the idea of a pedestal sink, and since we don't need storage, we opted for one that felt like it worked with the age of the house. I kept my same mirror I brought from our last house, and since we were covering the entire walls anyway, we had the electrical things lowered a few inches for the sconces.
I painted the outside of the tub with black chalk paint, it could use another coat. We had the walls painted the same as my office and the rest of the house (SW Extra White) and the trim also painted the same as everywhere else: SW Gossamer Veil. The painters also removed the shutters in the bathroom and my office and sprayed them with the new trim color.
I decided to not replace the shower ring and curtain for the tub and instead purchased the exact same handheld shower that I use upstairs with my tub. We do have a separate shower upstairs in our bathroom but as a connoisseur of baths, I'm happy to report I've never stepped foot in the shower and never plan to. To wash my hair I just use the handheld shower while I'm in the bath and it's fantastic. Since we have three showers available upstairs, I decided that a handheld was enough down here.
The dark floors get along great with the mirror, I love the chrome and black finishes and the old-timey yet modern feeling of it all. I just added in a tiny splash of low commitment pattern with the zebra cowhide rug and it feels done enough for now.
sconces
toilet
sink bridge faucet
tub and shower faucet
overhead light
mirror
sink
zebra style rug
tub caddy
Our colonial shutters and brass towel bars are original, here are some similar:
shutters
 bar
Plant table is vintage
similar:
McGee & Co.
1-800-LIGHTING
Ribbon Art:
Angela Chursciaki Blehm