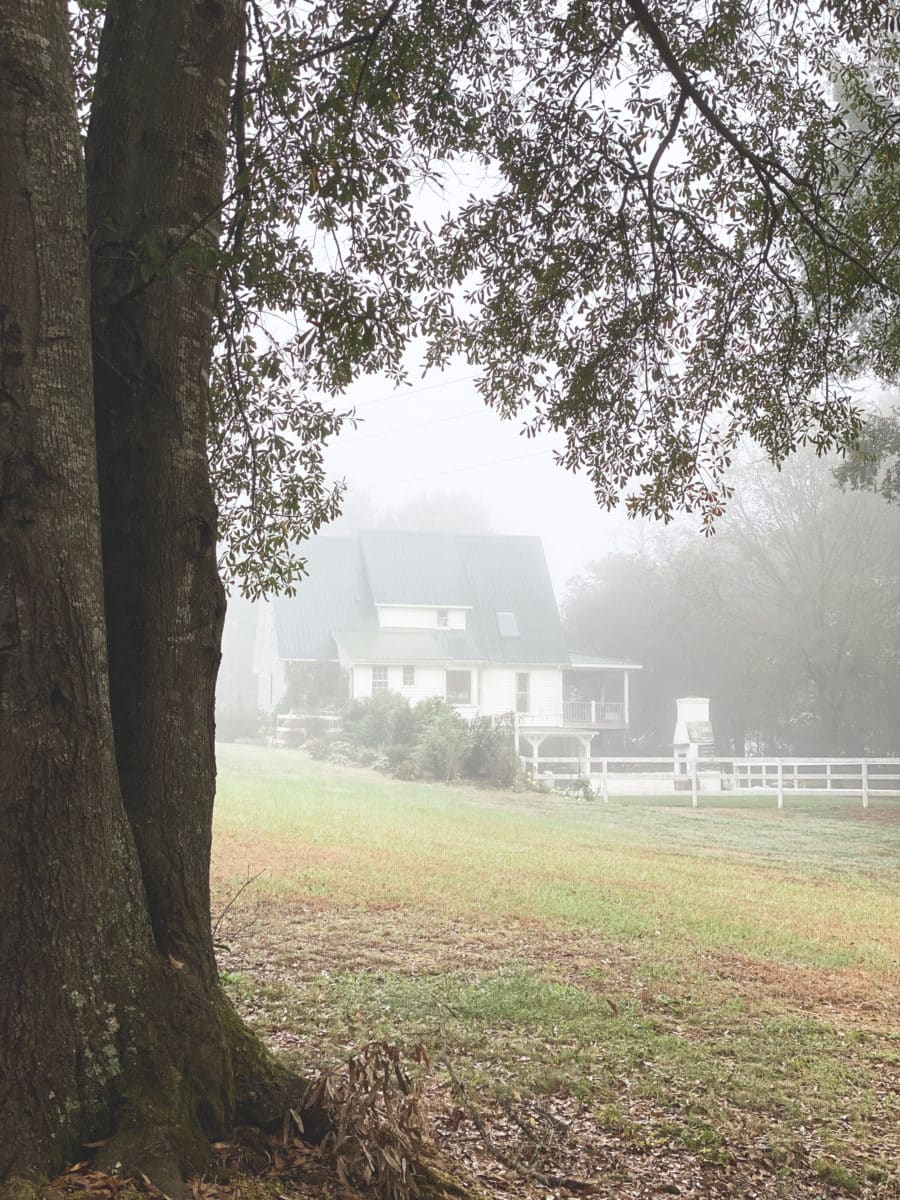 This year, we're hosting Thanksgiving in our backyard.  
And this year, we've used our backyard more than ever. It took a pandemic to make that happen, but I'm so grateful we decided to see our backyard as an extension of our house years ago–it has certainly paid off. 
We learned what we wanted in our backyard/outdoor room by hosting with what we had in thirteen different types of backyards including rentals, condos and a few other houses we owned. Every yard had some pros and a bunch of cons, and we learned from each one what we wanted and truly needed in an outdoor space. 
You don't need to makeover your backyard or get all new outdoor furniture.
You don't even need an actual yard, you can apply these steps to the pavilion at the local park. 
The goal is to host memorable, meaningful outdoor gatherings, there are really only FOUR simple things that you need, and you probably already have most of them.
1. Seating
From stumps, to quilts to plastic adirondack chairs, to fold up camping chairs to high end outdoor furniture with cushions, it doesn't matter how much you paid for your seating, only that you provide it. You'll want to have enough seating for all your guests, don't have enough? Most people have a few fold up camp chairs and are happy to bring their own.  
My chairs are from At Home and our sofas on the under porch (shown a few pics below) are from Target years ago. The benches came with the table. And we thought ahead and added some built in seating that serves as the fireplace hearth.
2. Surfaces
Every good gathering involves some type of food so you'll want to be sure to provide some type of surface to set a drink or a plate on for your guests. This can be in the form our outdoor tables, a basic picnic table, a piece of furniture you move outside temporarily, or if you've wanted outdoor furniture, now is a great time to still find some deals online or second hand on facebook marketplace. Our big table and benches are from Neighbor's Table. 
Years ago Chad scoured Craigslist for some picnic tables for bigger events we have–he found 10 tables for $100! They needed a little TLC but it effort was worth it for the money we saved.
3. Climate Control 
In the summer that means shade, cool drinks and maybe some type of water to play in, and in the colder climates that means providing some type of heat. 
We use our raised fireplace when we're on the back patio, but we also have a bonfire pit we dug and surrounded with rocks over by the barn, I love this portable fire pit, Chad is all about this for super portable heat and camping, and we also have a portable propane heater that we move around the property. We'll probably be using it on our covered side porch for Thanksgiving (and we use it just for our family too if it's chilly on the porch.) 
If you are going to purchase something to add warmth, my advice is to purchase the thing that you are most likely to use even if you don't have people over, that way you'll get the most out of what you buy. 
You can also just provide a few blankets and quilts and snugly cats to keep everyone warm and toasty.
When we redid our pool, we decided it was worth the extra money and effort to add in a hot tub. It allows us to have a seasonal water opportunity all year around and is a major kid magnet for our boys and their friends which is priceless. The truth is, our backyard is the biggest and best room of our house and we want to be able to use it year round.
4. Lighting 
It's getting darker earlier so if you're hosting in the evening you'll want to think about the lighting–my favorite part of outdoor hosting!
If you have some sort of fire, it doubles as lighting which is helpful. 
We love these heavy duty outdoor string lights for permanent lighting–or you could temporarily use a few strings of Christmas lights.  
I also use regular candles and I love battery powered candles as well. On Halloween, the boys went to bed after we did and I forgot to tell them to turn off the battery powered candles here on the steps and it poured rain all night. The next morning the candles were still on, working perfectly and I just turned them off and will use them again!
Simply add some food, drinks, music and people and that's all you need! 
Because we've been spending so much time outside, I also like to make sure there's something to do for people of all ages. 
For Halloween (when I took most of these photos) our boys set up a twin sheet on the fence and we found our old projector and we had a movie playing. 
For Thanksgiving we'll set up the disc golf baskets that the boys were gifted years ago, just for something active to do for anyone who wants to play.
Hosting outdoor events after rain, leaves, pecans and acorns are falling everywhere means some extra cleaning. Let's be honest, keeping outdoor areas looking great isn't for the faint of heart and I like to share what other corners of our backyard areas look like right now. Not photogenic but worth the work. 
We've junked up our underporch because we've been cleaning out our basement but this year I won't be focusing as much inside the house, so it's a trade off and I'll get to finally clean out some areas that have been neglected.  Related links:
Our Backyard Makeover and Pool
Backyard Progress on Instagram  
Here's to Home and Outdoor Hosting!
PS, If you have the Welcome Home book, there's almost an entire chapter dedicated to outdoor hosting–permission to skip ahead to chapter eight about Summer Celebrations.