Just this weekend I realized that we've updated much of our lighting over the past year and it's made a huge visual difference.
Lighting is a great way to fully show off your personal style, keep your home feeling current, and you have to have light to see so it's super functional.
In the past year we changed out some overhead lights in our bedroom and porch, added some new lamps and updated lamp shades, hung a pair of unexpected statement sconces in the living room, and since we fished the upstairs at the end of last year, I had a chance to add a new chandelier to my office and lighting in the halls.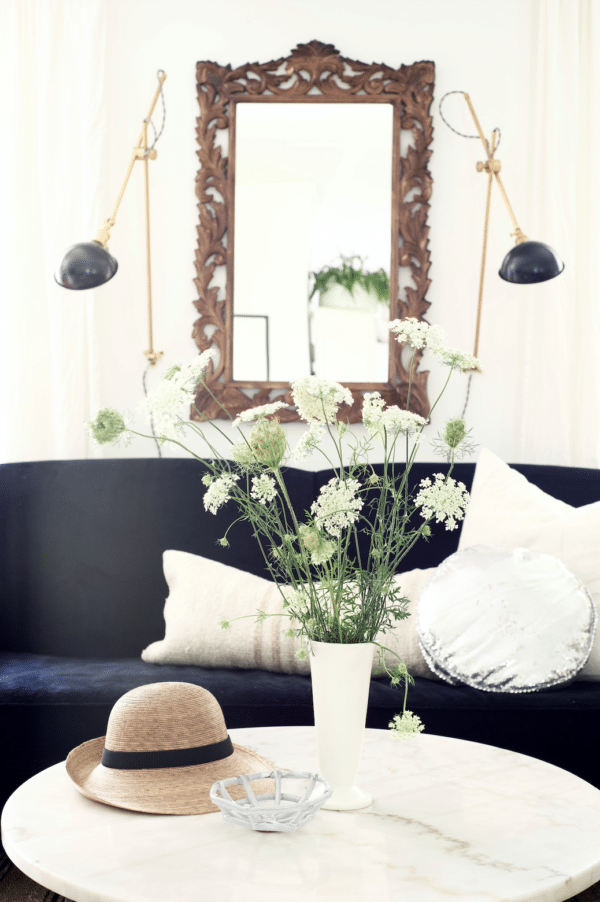 I love updating lighting because you can make a big style change for a relatively small investment.
Plus, ceiling lighting and wall sconces are considered an upgrade to your home because they're attached to the house. Double win!
Such an easy way to add value to your home and make a huge visual change.
We've had a wood bead chandelier in our dining area for years.
I still really like the light, but I felt like the strong style was really bossing the room.
Plus, it felt a little dark and heavy and I wanted a fresh, more airy light that still had lots of visual presence.
I'm really happy with the Sawyer Chandelier and how it opens up the room.
It's a fantastic price, available lots of places here, here, there's a six light version here, and has lots of style and presence without being too chunky.
There's even a two tier version if you have higher ceilings.
And if you're wondering, I'll sell the old light at The Nest Fest or on facebook marketplace.
Changing out overhead lighting isn't just for homeowners, in our last house, a rental, we switched out a few overhead lights in the main rooms and then switched them back to the builder grade lights before we moved out.
It was SO worth the little bit of trouble. I wrapped the original lights in trash bags, labeled them and stored them in the attic until we moved out.
Plus, the light over the bed in the photo above was a $15 second-hand find from a thrift store, you don't have to buy new to make a big change.
Want more lighting inspiration? You might enjoy the Lamps + Lighting For the Cozy Minimalist board on Pinterest.
Instagram photos I can't stop thinking about:
Food & Drink I made this week that was easy and delish:
Corn Ravioli (I used store bought ravioli)
Bourbon Slush (Caroline introduced this to us years ago and it's a crowd pleaser and keeps in the freezer all summer)
Thai Basil Sesame Cashew Chicken (I'm growing Thai basil in the garden and it's perfection, also, don't skip the cashews)
Gifts I bought for my future self:
I recently preordered these three books–it's so fun to preorder because books usually arrive in your mailbox the VERY day they release and if you order through Amazon you're guaranteed the lowest price.
The Lazy Genius Way: Embrace What Matters, Ditch What Doesn't and Get Stuff Done. Such great preorder bonuses here. I love everything that Kendra creates and want her to boss me into Lazy Genius-ing my entire life.
Home Stories: Design Ideas for Making a House a Home. I loved Kim's first book and cannot wait to get my hands on this new one–I know it will be full of beautiful inspiration.
Welcome Home: A Cozy Minimalist Guide to Decorating and Hosting All Year Round. Yep, I preordered my own book because I want to experience getting it in the mail on release day
.
PS, don't forget, when you preorder ANY version of Welcome Home from ANY retailer ANY time before September 15th, you'll qualify to receive the free, new course: WELCOME HOME PREP SCHOOL that releases August 4th. I'll email you all the reminders
.
Click below to preorder from your favorite retailer:
Target / BAM / Indiebound /
Barnes and Noble / Christianbook.com / Amazon