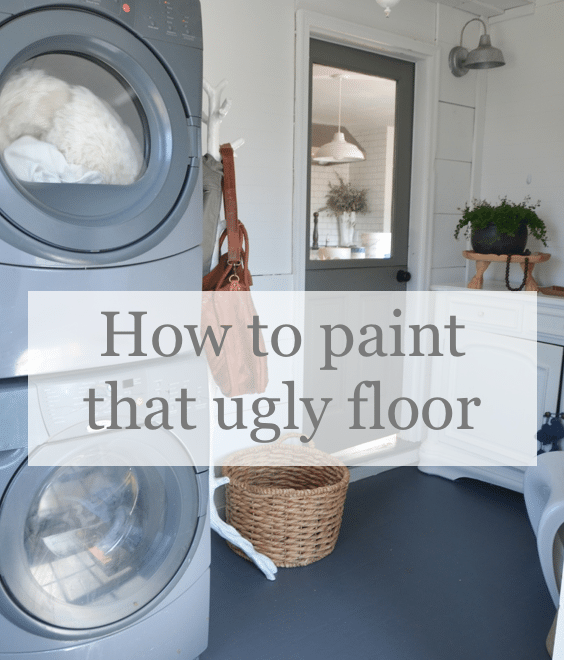 It's time.
You know the room, that wall, that floor, that space that would be so much better if you just had the budget for it and if only your husband was a contractor? That is all of my rooms.
Let's stop waiting. Let's do something about it now so that we can start enjoying the space even before it's perfect. Who knows, maybe Good Enough will be good enough.
Here's how it happened for me….
A few months ago we painted the walls of this, the back porch/laundry room/most often used entrance to our house. We have three different types of walls in here (cedar siding above the washer and dryer–this used to be the exterior of the house, pine panels and beadboard). To make it all work together we primed it all with a coat of primer and then covered that with a coat of white paint (just run-of-the-mill white paint out of the can). This post has more details about the walls and such, for now, let's talk floors.
Chad used the sprayer to paint and prime the walls and ceiling and we ended up with some white paint on the floor. But we didn't really care because we hated the floor anyway.
Don't be afraid to ruin something you already hate.
A few months later, the over spray paint from the walls was still holding strong on the floor and I knew that meant it would probably hold paint in the color of my choice.
So I mopped and swept the floors as good as I could.
You are going to ask me if these floors are linoleum or vinyl and I don't know. I just know I didn't like them and they are one big sheet of flooring.
I taped off the walls at the floor (so I wouldn't get the grey floor paint on the baseboard) and I started off with a coat of white Kilz primer. First I used a brush and cut in all around the edges of the floor (including the bathroom there on the left, that has the same flooring).
Y'all, I didn't even paint under the bottom of the hutch. It's here for now, I painted around it. Same with the washer and dryer, just painted around it. #That'llDoForNow #FamousLastWords
This project is about getting it done, not about getting it perfect–this room needs a ton more work that I'll tell you about later. The truth is we need a new floor, but 'for now' this'll do. Amen. I trust no one is going to come and arrest me for doing it all wrong and ending up with a much prettier space.
Painting (& priming) floors is the funnest!
You just pour the paint right onto the floor and use a roller on an extension. It's like magical mopping–my favorite kind!
Once the primer was dry (an hour or two) then I grabbed the floor paint–I used an off the shelf pre-mixed color because I am the most impatient person in the world and didn't even want to wait an extra eight minutes to have someone mix a color for me and all I cared about was that it was gray. I happened to use Valspar Porch and Floor Paint in "Dark Gray". Any porch and floor paint should do and most of them can be mixed into a custom color.
I used one coat of primer and one coat of paint.
This is a major walkway for our house and like any solid color floor, dirt is gonna show, so I'm in the market for a good rug. I broke all the rules. We walked on the floor later that night. Our animals all use the back porch and the dog door. We didn't have the luxury of waiting around for something to cure (did it even need it? I have no idea).
It could look horrible in six months. But did you see the before? It already looked horrible–I was taking ZERO risks! I don't mind scratches or rubbing off–I actually like that look, but if it peels that will drive me crazy.
What's the worst that can happen? I have to get a new floor before I really want to? That's a pretty great worst case scenario. Can I get a high-five?
So many of us simply live with an ugly floor that we hate. Instead we could be taking a risk where it's quite possible that we could end up with a floor we really like and where the worst case scenario would be that we have to once again live with an ugly floor we hate.
You can't ruin what you already hate.
Do you get what I am saying? It's almost risk free! BE  HAPPY about your ugly floor because the ugliness gives you permission to risk ruining it!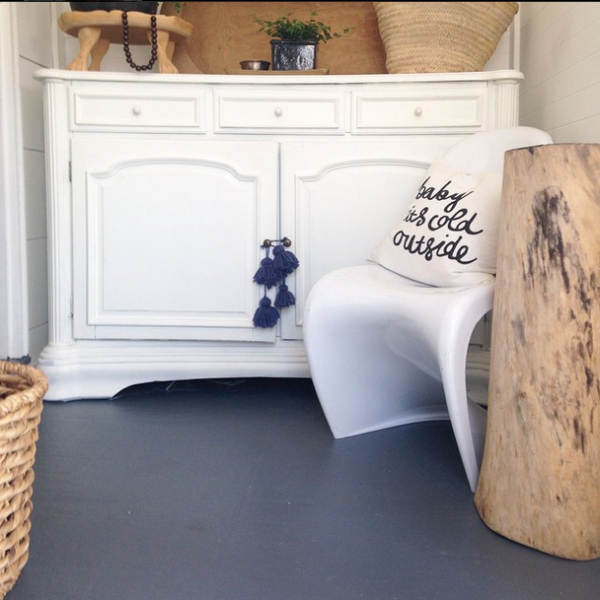 And don't you dare feel bad about your currently lived in laundry room because you think that my laundry room is sitting all cutely and cleanish like this….laundry rooms are hard working rooms…
Naturally, four minutes after I took that last photo our dryer broke and it's been sitting like this and will continue showing us it's wire-y insides until the part gets delivered.
May you go forth and risk ruining something you already hate.
Related Posts:
Progress of Redemption: Why We Painted over "Good Wood"
$175 Laundry Room Makeover in our rental house
Because You've Always Secretly Hoped that Perfect Wasn't the Goal