When we bought this house in August we didn't plan on redoing the kitchen right away. But once we spent a few hours in the house and realized we could build a kitchen in phases paying cash as we go, we started knocking down walls. Here's what we started with. 
I've never planned a kitchen before and it shows. Lucky for me I'm an imperfectionist. My three majors for the kitchen were natural light and white spaces, a big surface and a place to sit and gather. When it came to detailed design choices, I had to make that up as I went, I've learned that those things usually work themselves out.
My dream kitchen island would have a waterfall edge. Meaning that the counters would take a turn down the edges of both ends of the island and stop at the floor. Like this…
K. Marshall Designs
But when it came time to pay for that, I wasn't sure I wanted to pay almost twice as much for our counters. We have white quartz and it's not too expensive but it wasn't cheap. And since I was doing white on white anyway, I wondered if the expensive counter would even be appreciated if I used it for the edges. So when it came time to measure for the counter top, I had them leave enough overhang that if I wanted to add the waterfall edge later made from the same quartz, it would fit seamlessly. So my overhang on the is the same thickness as the counters. That made perfect sense in my head.
We lived with it like this for a month or so as I tried to decide a way to fake a waterfall on the edge of the cabinets.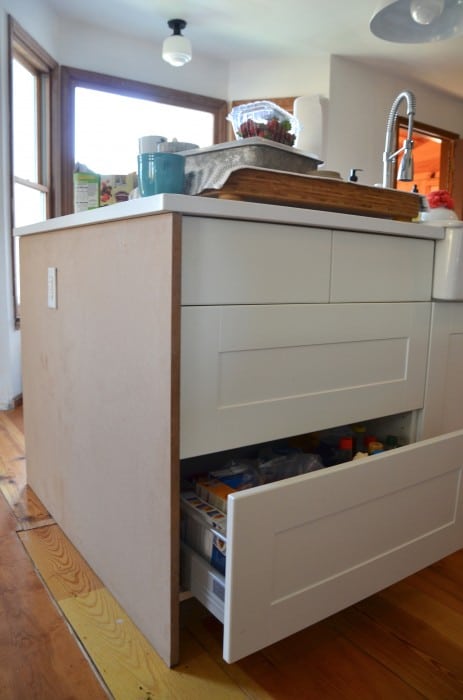 Finally we just grabbed some 3/4 inch MDF, measured and cut to fit, and nailed it up and painted it. It wasn't the perfect solution and I could have bulked up the thickness by adding another sheet to line it up perfectly with the corner edge of the counter, but first I just wanted "to see" "for now" if we would even like it.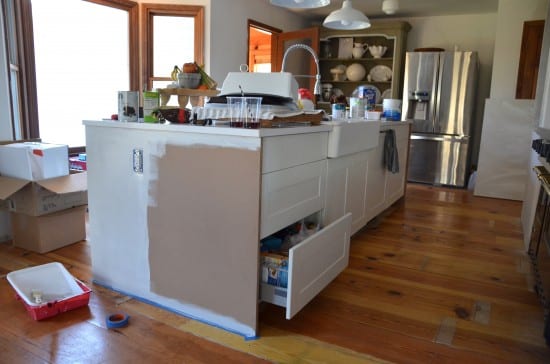 I primed and painted it.
And painted the inside edge.
And here it stands.
We saved almost $1000  by not purchasing and extra 24 square feet of counter top. I can deal with the rustic imperfection of it all for that kind of money. Besides, I think our Viking Range back there is the showstopper of the kitchen, no one's focusing on my island edges anyway, they are too busy being dazzled by the brass dials on our range. Since all the arrows are pointing to the range, the island edges just disappear.
Decorating is like placing arrows around. "Look here. And now here." And anything you don't want to see you either don't put an arrow pointing to it, or you simply put an arrow in front of it. And anything you want to accentuate, you make sure it has a big arrow.    —good enough Christmas decorating

Viking, still on a dolly, don't ask. Dots made possible by the disco ball.
We still have lots of work to do in the kitchen: finish the ceiling, paint the wood windows (Chad won that decision) put a final coat of black in the niche and add shelves, tile the inset behind the range and hood, refinish the floors, replace the molding. And then there's phase two of the kitchen, adding more cabinets on the refrigerator wall. But for now, this kitchen is already more user friendly than it was when we moved in.
PS, here's my kitchen pinboard with lots of ideas for a modern rustic kitchen.
More on our kitchen with some sources
Here's our floorplan-ish it's not exact but you get the idea.