I'm not a fair weather chalkboard fan.  I use chalkboards in different ways in my house and I thought I'd do a post here to round them all up all nice and neat in one place.
1. Buy a Premade Chalkboard
I found this thinly framed chalkboard at a yard sale for $1.  It's a standard size so when I saw what I think was an old poster frame on clearance, I painted it white and painted the small wood chalkboard boarder white and hot glued them together.  A match made in heaven. I've seen similar chalk boards at Target and such for $8.

2. Use Chalkboard Paint
Chalkboard paint made a huge impact in our $175 Renter's Laundry Room Makeover.  I LOVE painting with chalkboard paint, it feels SO soft when you paint it.  And I haven't tried colors but these look really fun.

3. Chalkboard Contact Paper
I LOVE our chalkboard fireplace surround.  Since we are renting I wanted something non permanent.  The peel off paper was the perfect choice.  I got mine from Wall Candy Arts and I used the Chalkboard panels and you get enough to do the fireplace and I even added the leftovers to the inside of a few cabinets to write notes on.  And it peels right off when you are done.  I've seen the peel off paper at other places but haven't used any other brands yet. We've had the fireplace surround up for 3 years–we use the fireplace without the glass in place all winter and have had no problems with the surround buckling or anything.
I like chalkboard so much–it's even my home page on my phone.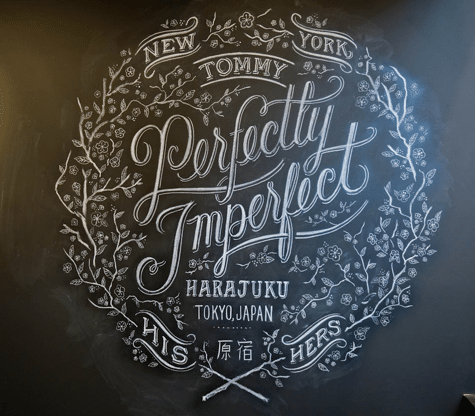 dana tanamachi
desire to inspire
I'm not saying those are chalkboards or slate, but you totally could get a similar look with a bunch of wood painted in chalk paint.
Angela Luckey-Sanchez
What have you done with chalk lately?