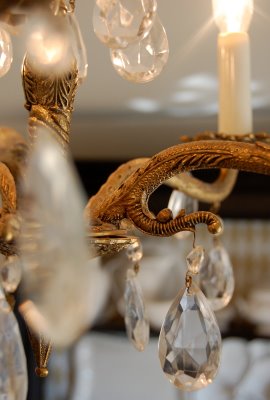 I am passionate about chandeliers. Love them. Want one in every room, even my closet.

And when I have a chandelier, I like to be able to switch it up a bit with clip on shades. Found that set of 5 hand painted shades while thrifting. I paid less than $5 for the 5 of them.

You can also use clip on shades to liven up a thin buffet lamp. I switched out a plain white shade for this 80 cent thrift find. And I've got two more to spare. I'm now on the lookout for a three arm small chandelier to go with my shades. It that backwards thinking?

Clip on shades. Keep your eyes open for them while you are out. When added to a chandelier they bring instant warmth and character to a room. You might be surprised how simple shades can soften up a dining room. My advice, grab your fabric file and jot down how many lights your chandelier has. Nothing is worse than getting a great deal on 5 shades only to come home and realize your chandy has 6 arms.