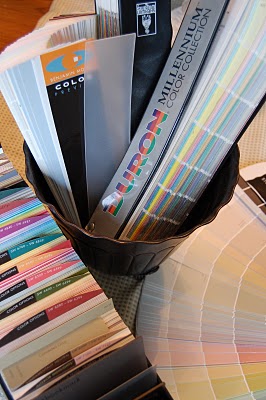 My favorite go to color in the entire universe is…
It's a discontinued color from DURON but, they can still mix it for you. I even called to make sure because I didn't want of riot of Tobacco Road deprived cute moms in high heals with paint brushes showing up at my door. The paint color/number is 8214. I considered using that number for all of my PINs and secret codes in the world but, I was afraid that someone would figure it out.
I thought I would sprinkle in some photos of rooms with Tobacco Road that I found on the internet. I completely stole them so, if one is yours and you want it off, let me know and your wish is my command.

In the boy's room at the old nest…
Tobacco Road is a great choice because it is rich enough to feel substantial but is still a neutral. It leans a little green as opposed to pink but, I even hesitate to say that because you might get the wrong idea. This is great color if you think there is any chance you will sell your house in the future.
Here it is in a stranger's great room, see how nice it looks with white trim?

Ahh, Tobacco Road in some stranger's kitchen…


Here it is in someones lovely dining room. See how much lighter it looks? It all depends on the time of day and how many windows you have….LOVE !

Here it is right now in my messy, neglected family room only on two walls, all my other walls are 400 feet high and I'm not painting them, but if I did, they would be TR…
Going to the Duron store is the best way to get the color. If you don't have one or are too cheap, here's a photo of my can from Lowes home improvement. It's not exact but pretty close. This is a great color because it goes with just about anything. Black furniture and white furniture look especially wonderful against it.
The only thing I don't like it with is wood that has pinky undertones like the 'maple' in my kitchen. I had to use a dark chocolate brown to offset that wood and warm it up. I just had it color matched to some sample that I had.


If anyone cares what this color is just click on that picture down there. That's the Lowe's recipe. But, that color's not gonna change your life like Tobacco Road will.

Another nice color that I am currently in love with is Svelte Sage. It's a Sherwin Williams color #6164. Also not my PIN. This Svelte color is so lovely. I used it in my living room after falling in love with my sister's color: Oyster Bay #6206–not her PIN. Hers is much more true to the robin's egg blue that we all know and love. If that's what you are after, you will love her delicious color.

I know that for me, as much as I love that blue, I need to be surrounded by warm colors. Or else. Or else I will feel cold. And have to paint over the wall 47 times until the room is half it's original size and I finally figure out that I am only happy with warm. So, if you are like me and need warmth, just mosey on over a few pages in the color wheel and get the same feeling only warmer. Here's a comparison, look at the middle two colors: emily, and me…


emily's color: Oyster Bay

my color: Svelte Sage

I combined TR and SS in my dining room and painted that little piece of wall on our tray ceiling SS too. It looks good enough for me. Just so you know, if this were my house I would do some fun big ol' stripes or a pattern or something but, I feel like I need to keep that to a minimum. You know, just so you don't think that I 'm boring or not daring or anything.
So, there you have it. Tobacco Road. It goes with everything. I am even gonna use it as my backdrop as I combine my reds and robin's egg blues/svelte sages this summer. It's like the embassy or whatever that is that's political that helps everyone get along and play nice. Yes, Tobacco Road, the great…diplomat?
PS, if you go to the DURON site they have a coupon for a new paint that I know nothing about.
For more info about getting Tobacco Road mixed see Tobacco Road Block.
To read about other people's favorite color see 320 Sycamore.