green chairs: local antique store $75 each
No matter how big or small your house or budget are, you need to have some seating and most homes could use a few more places to sit–especially secondary seating (download my free furniture guide here if you don't know what I'm talking about).
One of my goals at each of my houses is seeing how much seating I can sneak into a room, because it's important to us to invite people in, we want to make sure we have a comfy-ish place for people to sit.
But have you noticed how some chairs these days are almost the price of a sofa!?
Here's how I beat the system: second-hand chair shopping.
Below I'll share the place and price of each of some of our chairs–most we use out in our barn/gathering space and some we use in the house, at the end I'll share a few tips.
pink chair: antique store $50
velvet chair or the right: salvation army $35 –I've had it for 7 years! (see before here)
black cane chairs: Goodwill $2 each
peacock chair: salvation army $35
green velvet Ethan Allen chair: local thrift store $29
drop dead gorgeous handmade blanket thing–I know it's not a chair but this is worth sharing: local thrift store $8!! I think it would be $550 at Anthropologie…
I use it to cover my old sofa that has a weird greenish tint compared to the rug.
my favorite chair, broken leg and all: thrift store $12 slipcovered...
…and ended up on the cover of my book because sharing the imperfect with the right people is always worth the risk.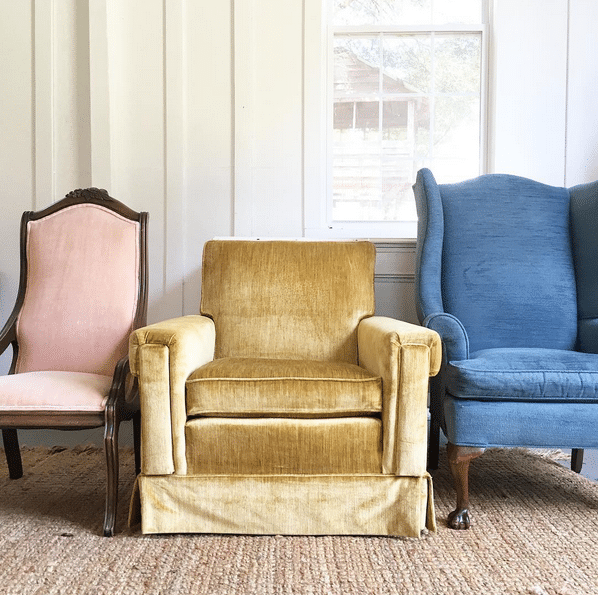 pink chair: value village $12 // yellow chair local thrift $10 // blue chair: goodwill $20
this chair went with my dining room set but I didn't need it, so I painted it white and put it in our bedroom–wood armchairs are crazy adaptable to almost any room
the copper twins: salvation army $40 each
I'm always on the lookout for chairs when I'm thrifting or shopping yard sales. A few rules I follow:
Only buy chairs in impeccable condition. Almost every second-hand upholstered chair I buy looks like it's never been sat in. Otherwise I pass it by. Be sure to inspect all sides and under the cushion.
Don't purchase a chair so you can recover it unless you KNOW you want to do this. Normally, I want to be able to use a chair it as is. Velvet is easy to clean and is my favorite because it's so timeless.
Look for colors that go with your existing decor, for me that's neutrals or happy greens, pinks yellows or blues for in the barn.
Consider interesting styles in solid colors–chairs can add a lot of personality to a room.
These days I'm only buying chairs for our barn–so they are basically outside in a glorified porch. If you are looking for chairs for your house and worried about bedbugs and other things, do your own research, it's not something I worry about when buying for the barn.
Save
Save
Save
Save
Save