We've all seen the lovely pumpkin centerpieces around pinterest. I wanted to see what I could create just with grocery store pumpkins and flowers and what I could find around the yard.
I picked up these pumpkins from the grocery store.
And I grabbed all these lovely flowers from the 3 for $12 bin. I did go to two different stores to find the selection I wanted but that was so worth it. Plus I bought some collard greens from the veggie department, see them back there…
Here's what they look like individually–these make all the difference in your centerpiece so be sure to grab something like this.
I cut a hole in the pumpkins I wanted to use and put in a cup to hold water.
And then, without taking photos, I layered in the collard leaves and cut all the flower stems at least down to half, just placing them inside the pumpkin….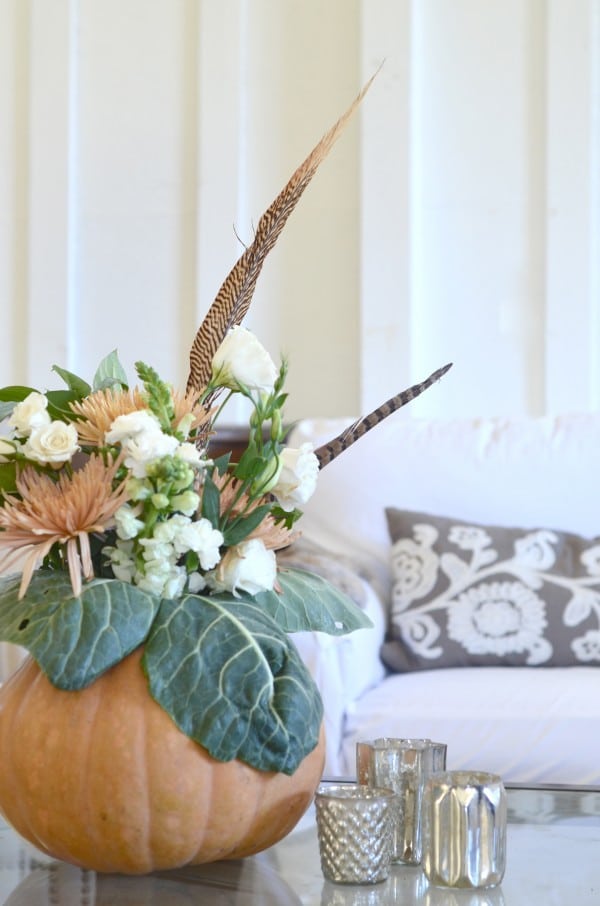 And of course I stuck in a few flowers. The goal is to use the collard green leaves as a bridge between the round pumpkin and the organically shaped flower arrangement.
without leaves// not as pretty
This is what happens when you don't use the leaves, the pumpkin looks all forlorn wondering why there are flowers coming out of his top.–don't pin this, just wait until the magical collard greens are put back in…
Now the pumpkin and flowers all get along great!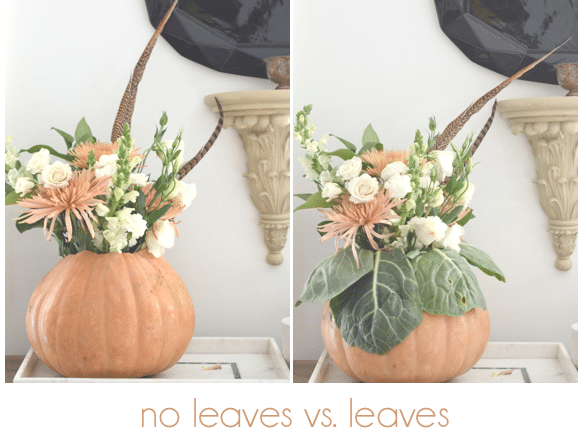 For this bright pumpkin I used some large collard greens and some morning-glory vine from the yard to help break up the transition from pumpkin to flowers.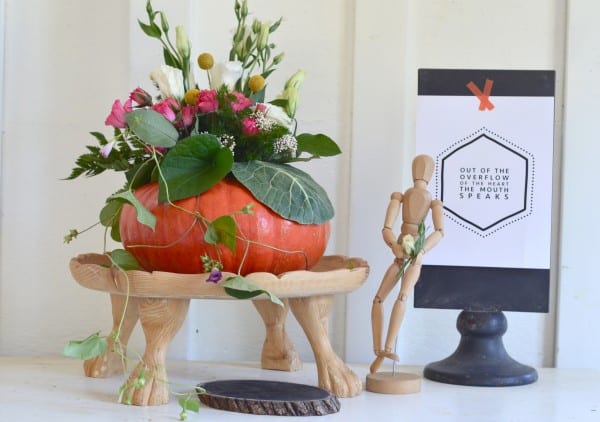 You don't need expensive flowers to get a pretty arrangement.
The trick to a pretty pumpkin centerpiece is to have leaves or vines or flowers that cross the border between pumpkin and flower arrangement.
Don't be afraid to make it look messy and play around with branches, trailing vines or even to bend large leaves to get the shape you are looking for.