I've been hanging plates on our walls for years.
And the number one question I get asked about house stuff in real life and online is "how do you hang your plates on the wall?". I've answered it before but I tried something new that I wanted to share.
Plate hanging isn't reserved for the kitchen, you can hang plates in any room of your house. I once heard someone say that every gallery wall needed a circular shape, so a plate is an easy addition to any gallery wall.
Plus, plates are such an inexpensive way to give a wall a lot of personality.
I love the look of a random white plate wall hung against a colored wall like in our old front room: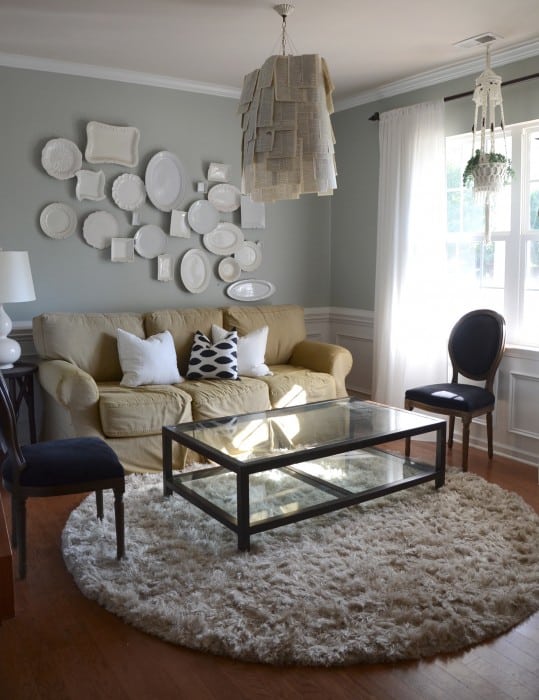 In the breakfast area I hung different colored plates. The layered look is easy as long as you have a few long nails for the plates that you want to hang on top of the others. Then you just make the holes for the nails so close for the plates that they have no choice but to stack up on top of each other. No special tools or glue needed, it's all in the spacing of your nail holes for the plate hangers (which we'll talk about two pictures down).
Here's the the white plate wall in our current house…
At first it was just a temporary fix because I wasn't crazy about hanging white plates on a white wall, but now I really like it.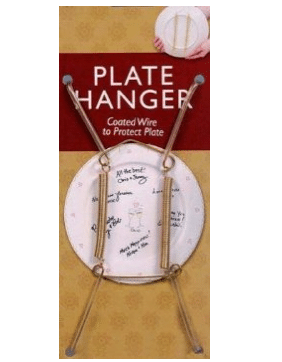 My two favorite plate hangers are these wire plate hangers (see in the top photo, you can see the little grips on the edges of the plates?). Be sure to get the right sizes for your plates, they sell them in all different sizes. I keep a box of all sorts of plate hanger sizes around just so I can have them when I need them.
here's what the back of a plate looks like with a metal plate hanger, it's like headgear, for plates. see that little pointy part at the top? that's what hangs on the nail in your wall
You can get these plate hangers at hardware stores, amazon, and craft stores.
They come in different sizes for different sized plates::
this one is for 10 – 14 inches and holds up to 30 pounds.
ONE TIME in my 19 years of plate hanging, I had a favorite dish fall off the wall with these wire hangers. It was pure user error. Ages ago freshly married and armed with my grandmother's blue willow china I tried to use these metal plate hangers to hang 2-3 inch deep trays. So I bent the metal and stretched the spring wire to accommodate my odd shaped china. It stuck out far from the wall and one day I brushed up against it and it fell and broke. Into smithereens.
I wish I would have known about these Disc hangers:
I just started using these stick on disc hangers. They are great for an odd shaped item or a plate with a rim too thick for the metal plate hangers to attach to–or if seeing the metal hooks on the edges of a plate held up with a metal hanger really bugs you (I actually kind of like seeing the metal things because I'm old-fashioned). You put a little water on the back of them and stir it around to activate the super sticky glue, wait a few minutes then stick it onto your plate (or tray or awkward shaped thing you want to hang on your wall). Let it dry overnight before you hang it. (And also, read the directions on the back).
If you ever need to remove the disc hanger, you just soak the whole thing in water. I've found that the disc hanger is so flat that if you hang a platter on the wall with it, you can easily take it down and use it to serve food and not even remove the disc hanger on the back–BIG WIN!
If you have something you want to hang on the wall and it's super special and you don't live in an earthquake zone, I recommend doubling up and using both a wire hanger AND a disc hanger. You'll have to make two separate nail holes in your wall but I think your plate/china/tray will be really safe.
PS, every now and then I find a super cute tiny lightweight plate (like 2 -3 inches wide) and I'll just hot glue a pushpin on the back and push it straight in the wall. It's worked great so far! Just don't trust it for anything priceless or heavy.