While we were in Uganda we stopped to buy coffee and the store put our coffee in the CUTEST newspaper bags. I was so excited on the inside because I just knew this newspaper bag would be the BEST craft ever for me to make and share with you. Pinterest would go wild with Newspaper bags plus, recycling! No more haters from my 'wasteful' plastic spoon laurel wreath. I'll redeem myself with this bag.
So I came home, took some glamor shots of the Ugandan bag then slowly deconstructed it. Which is craft speak for I tore it apart.
I scoured the house for newspaper. We don't subscribe to any but I remembered seeing some in the barn. And buying a newspaper for this craft just didn't seem respectable. Finally I found the one newspaper we actually had. I lined up about 3 sheets and..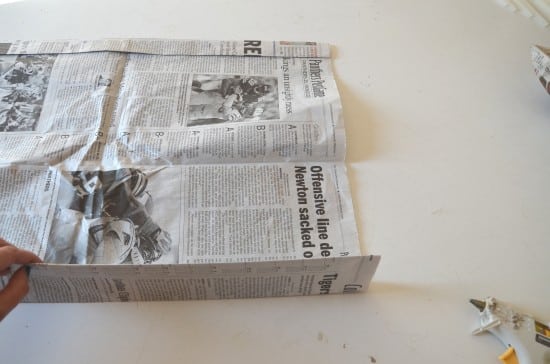 I took photos along the way and realized it was getting more and more difficult to make. How would I explain things like making weird folds that I didn't measure with actual words?
I honestly don't even know the words to explain how this happened. It just got made. I'm debating whether or not it was worth the 10 minutes it took me to figure it out. But if you are ever in an emergency situation where you need to make a bag out of newspaper, maybe you can recall these not so simple steps that I don't have words for…

If you want to make one good luck learning from me. The most impatient crafter ever.
Somehow I never checked to make sure I wasn't making a bag out of football players's hineys and NASCAR smoke.
I thought this newspaper bag was a huge fail but my dad and boys thought it was kind of cool. Makes a great dude gift bag I guess.
Might I suggest you use the home & garden section if you want a less masculine bag?
DIYers who've done this 1000 times better than me:
How to Make Gift Bags from Newspapers @ How About Orange
Paper Gift Bag (just with washi tape & paper!) @ Hello Sandwich
Pretty Patterned Gift Bags @ Next to Nicx
Have you ever made something that turned out less spectacular than you expected?