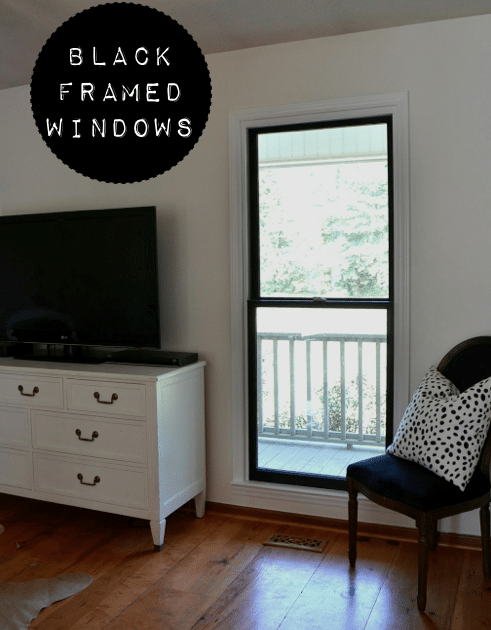 Weeks before we closed on our little house I had already planned my first act as a new homeowner. It was something I could never dare do as a renter. I wanted some black framed windows.  Pinterest helped me find my muse and after looking at photos online I knew what I needed to do with my own windows to get the look. If you are like me and starting off with wood windows then it's a two step process. If you already have windows with white casings, then you are so lucky and can do this quick little update in one easy step!
First I inspected my windows and decided to paint only the innermost frames black. Then I gathered my supplies:
Black paint, White paint (not tinted, just from the can) a paint brush Painter's Tape and a strong Iced Coffee
Not photographed: Kilz primer (only needed if you have raw wood like me or if you are painting over a really dark color)
I used BEHR interior enamel paint plus primer in an eggshell finish for the black frames. I asked the paint man for the blackiest black paint he had and he mixed this up for me. I used the paint plus primer just in case since I was painting over wood but I really don't think it made a difference. And I usually lean to the flatest paint I can without using actual flat paint. I've found it sticks better the flatter it is. But, I wanted a little sheen so for the black I used eggshell.
STEP ONE (Casing)
This is a really easy project with HUGE results. The most difficult part is deciding that you want to actually do it and on what windows.
If you are like me and starting with raw windows or windows that need a fresh coat of paint on the casing then tape the surrounding parts off first with your painter's tape.
If you are painting over raw wood or a dark color first paint a coat or two of primer.
Don't be like me and not think and remove your tape before you paint all of your coats. Here's what it looks like primed. Kind of splotchy but it doesn't matter because your paint will hide all of that. And, be sure to leave your tape on until you paint all of the coats you need primer (if needed) and a coat or two of paint (if your window casing isn't already the color you want). I left my tape on for days and just to make sure everything released after three or four coats of primer and paint I used a razor to quickly cut along the edges where the paint met the casing.

This photo is before the last coat of paint.
STEP TWO (Black Frames)
Once your casing is the color you want then you need to make sure it's had a day to dry and go back and tape off so you can paint your black frames.
Now you want to protect your pretty white casing and your glass from getting black paint on them. So tape away. Next, paint the inner frames black. This part goes really fast and I only used one coat of paint. If I ever decide that I hate the black part, it will be easy to paint back over that part with primer and white paint.
Now for the best part…peeling off the tape! This is the fun part and your husband and children will offer to do this part for you because it is so rewarding and easy. Do not, under any circumstances let them do this, you've earned this, YOU get to remove the tape! Also, once I painted the casing white I noticed some gaps so I just used some white, paintable wood filler to fill in the gaps. Up there was a spot I didn't see until after I did the last coat of paint and it dried, I was so happy to find that if I was careful with the wood filler stuff, I didn't even need to touch it up with paint!
Oh. Yeah. Didn't even have to scrape the windows.
It is close to impossible to get a closeup of dark window frames in the daylight. But I promise they make a huge difference. The black frames almost act as a picture frame and our yard has become like art on our walls. I feel like we can see outside so much better now. (Bonus, don't forget to remove your screens for an even brighter view!). This is a great little project for just one special room in the house like a laundry room or kitchen. Just like there's no rule that says all your window treatments must be exactly alike in every room, there's no rule that says all your trim must be painted alike.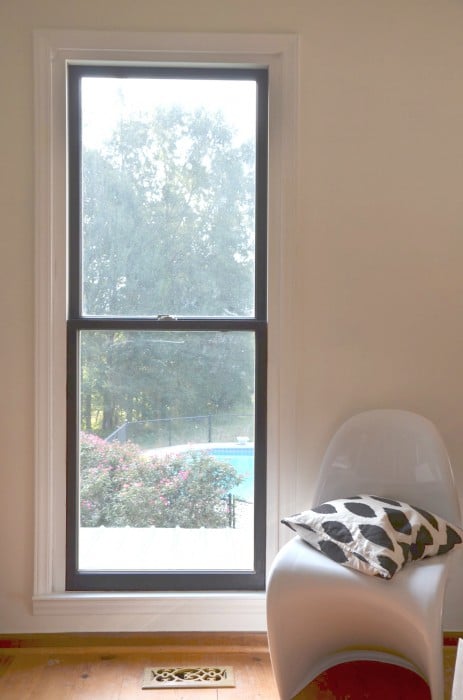 Here's the window in the dining room painted with black frames.
This room now opens up to the kitchen so I'm planning on doing the same treatment to the bay window. The rest of the house has wood windows too but I as of now I think I'm keeping the rest of them wood.