This is the time of year where I realize I have a layer of extra things in our home. 
I think it's natural to have a little stuff build up. Like an animal gearing up for hibernation or the plain truth that most of us are inside our homes more this winter than ever, many of us have extra stuff at our fingertips. 
But our surfaces can bear the burden of holding extra stuff all winter and one way I take back the house is to do a quick simplification of our surfaces.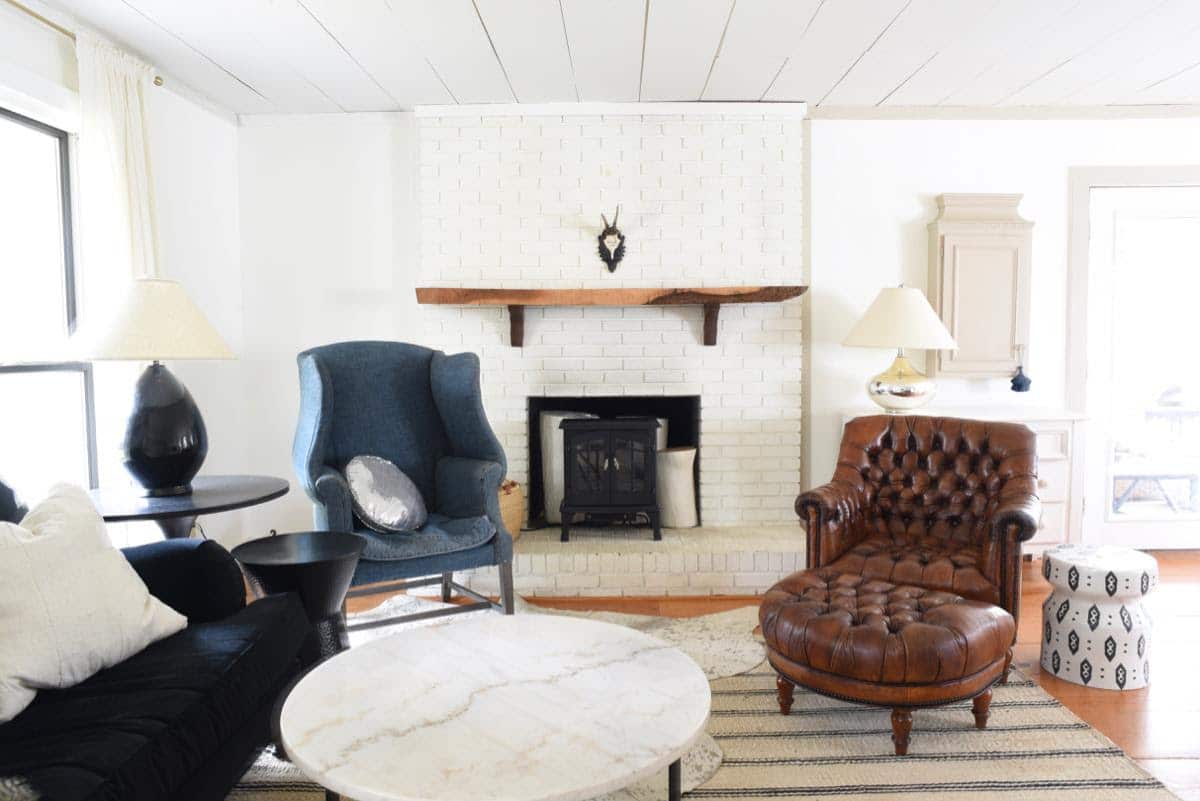 Edit, Gather + Reset
All it takes is thirty minutes to Edit, Gather + Reset. 
First you'll clear off everything decorative from your selected surfaces and gather them all one surface. I always leave the lamps. 
This is the edit and Gather part. Two steps done!
I gathered every single item from all of our downstairs surfaces here on the sideboard.  
Surfaces included in today's reset for me: mantel, coffee table, side tables, nightstands, my dresser, dining room sideboard, Chad's ottoman, dining room table, kitchen island, entry table. 
Not included: stand alone bookshelf, niche, kitchen hutch, Chad's dresser, kitchen home base and utensil holder. 
I'll edit and reset each stand alone shelf individually–I see those more as storage than surfaces and I like to focus one at a time on those.
Bonus points for taking a steamy hot rag and wiping down all your newly naked surfaces.  
 Now it's time to evaluate. 
Before I put things back, I scan the room for any quick and obvious items I no longer need. Today, that meant it was time to remove the electric wood stove from the fireplace and see how the room functions without two extra side tables. I give myself full freedom to move them all back if needed–not only do I want my room to look pretty, it needs to function of course.
Now, go back to your pile of stuff, start with your favorite items that you love having out and style them on your surfaces again. This is how to reset your surfaces making sure every item is still serving a purpose. 
Depending on how often you do this, you may have a small or large pile of leftover items. 
Evaluate if you want to keep them–maybe they are winter supplies and you'll need them again next year. Or maybe they have served their time and you can pass them on. 
This practice can be applied to bookshelves, styling seating with pillows and throws and styling the bed (this is how to avoid ending up with twelve pillows on the bed or sofa).  
The goal is to take on just enough space to finish it fast and see results and also teach yourself to always practice evaluating if your stuff is currently serving you. 
You get to decide your personal stuff threshold. 
I've found that can change based on season, the size of my house, the state of my schedule and work load, even if our boys are all at home or if they're off at college.
We currently have a temporary fix that is holding us over until Chad's new recliner gets delivered. Although the denim chair by the fireplace is a pretty placeholder, it's not super comfy for Chad so he's taken over the loveseat. 
I've noticed piles of books on the floor every morning along with little tables scooted close so he had a few surfaces. (See how part of our job is to simply pay attention? This was my house speaking to me). 
I moved the little ottoman bench in front of the loveseat so he had a wide surface to put his feet up. I added a home base tray so he has a stable place to set his coffee, and I even  put a wooden toolbox on the floor to hold all of the books he's currently reading. 
Once his chair arrives he'll have all this at his fingertips in the corner–I'm sure I'll have to solve some storage issues then, but this is working for now, even though it's visually louder than I'd prefer.
As a Cozy Minimalist, my goal is to get the most amount of stye with the least amount of stuff. We all get to decide on our personal style. 
It's also to have a home that serves our family, which means there are times that I want two precariously stacks of books, an extra table to hold my coffee and chapstick, a dog bed and a basket of toys for the new puppy, an extra table holding starter plants for the garden, and my big fluffy winter throw on the sofa. 
I've learned I'm moving into stuff manager territory when I'm surrounded by a bunch of stuff that isn't serving me, and that I haven't made a conscious choice to have near.
If you're curious, here are our bedroom surfaces (minus Chad's dresser)–I only keep lamps on the bedroom surfaces. But they still attract things so this practice helps me keep them clear. 
(by the way, lots of Qs recently about our drapes, they are these in black 96 length, a great price! other room sources are here) 
Also, not to give a million disclaimers but yes, there are paint samples on different piece of trim in our house, you're not seeing things.
Here's what I didn't end up putting back: two plants–I'm taking them to the sunny window in my office until it's warm enough to put them on the porch, and an extra candle that I switched out for the striped candles on the coffee table. I'll either tuck him into the kitchen home base or store him in the candle drawer.
In other news, our new dining chairs were delivered Saturday, I'll tell you more about them as soon as I have more to say. But I'm very happy with them so far!  
Happy almost spring, I know I'm so ready for it this year!
PS, two deals I don't want you to miss if you are into these things (both have codes)
Tomorrow is the last day to save 50% on the spring class with code: 
WINTERINTOSPRING
(will also work for 50% off the season pass!). 
Click here to read all about the class, click here for a direct link to purchase with the code applied.
It's a fun class to watch with your mom or kids and will motivate you to add simple spring supplies to your home.
Lastly, that wine deal is back! 
Six bottles of wine SHIPPED for $29 with code: SPRINGTOAST
It's a wine club so if you don't want further shipments, just log into your account and cancel or adjust your settings to how often you want shipments. 
Chad and I have used Firstleaf off and on for a few months and love having a little stash of wine for when people stop by.  
Six bottles of wine for $5 each shipped is too good of a deal to pass up and they are mostly award winning wines they match you with after you take a quick quiz. Click here to take the quiz and claim your wine.