There are a few inexpensive items I always have around the house as part of my Cozy Minimalist/Imperfectionist House Person Tool Box and I thought you might like to see what they are. You probably already use some of these items, but maybe you'll be inspired to change things up.
Upholstery Tacks.
Have you ever had something to hang but the way the hanging contraption was created allowed for the ugly nail you were using to hang it to show? Wouldn't it be great if the nail were invisible? Wouldn't it be better if there were a decorative nail to use to up the interest factor of your wall art? THERE IS!
Introducing using upholstery tacks for things other than upholstery!
I keep a box of these small brass tacks around at all times just $4.99 on Amazon and your local hardware store should carry them too.
I also keep a few large brass tacks around for extra oomph–like what I used to hang my dying staghorn fern up there above. If you are beginning your brass tack collection, you might like this variety pack.
It's fun to look through all the options of metal finishes, color and design and they are just a little upgrade from that plastic thumbtack holding up the calendar.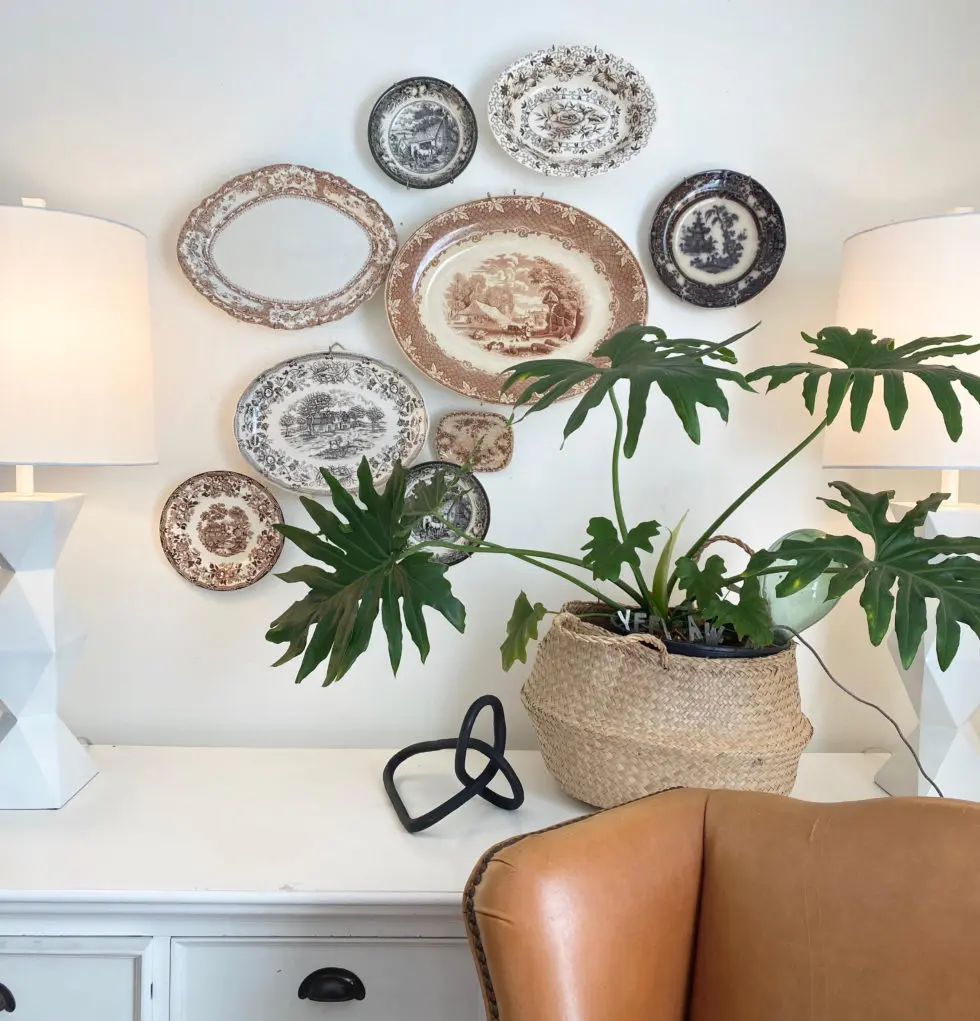 Plate Hangers.
This is the baby stage of my new, random plate wall. I'm currently waiting for some deliveries and mostly using nail holes that were there until I have all my pieces collected.
I LOVE a good random plate wall (here's the one from our rental house) and I usually use a combination of old fashioned metal clamp type plate hangers for my larger or special platters, and I use the adhesive disc hangers for smaller plates. I ALWAYS keep extras around in case I get a hankering to hang extra plates.
One metal plate hanger for beginner plate hangers (for plates 5.5-8″). Or you can get a set here for different sized plates.
One disc hanger (for plates up to 12″) or I usually buy them in sets.
I've never had a metal plate hanger fail, but I have had the adhesive hanger fail (user error, I was impatient and didn't wait the full 24 hours for it to dry). So if you have an heirloom dish, I'd opt for the metal hangers.
Matte Black Spray Paint.
This weekend I spray pained some buffet lamp bases and they wen't from frumpy to well, just kind of invisible but that was a win. A few months ago I spray painted this pair of plastic chairs, a temporary fix at our table until our new chairs are delivered. I love how the black makes such a strong statement. Plus, these chairs were white and outside for a few years so painting them black covered a multitude of grime.
Spray paint is great to have on hand for photo frames, candlesticks, and if you see a small side table where the size and shape are lovely but the color isn't quite right, simply spray paint it.
I almost always use this indoor/outdoor matte finish spray paint because a shine somehow cheapens things, so that's my number one tip: MATTE FINISH and don't try to paint a dining room table with spray paint. Small projects are best.
Cute, Accessible Scissors.
I never realized how many times a day everyone in our family grabs for scissors until I made them extra accessible. I don't like scissors stashed away in the drawer because the lazy part of me feels like it's too much trouble to open a drawer and dig around for them. I delight in having pretty scissors always at the ready, usually hanging on an upholstery tack or a drawer pull.
I found this set above on Amazon. They used to be less than $15 for the set of three but sadly are discontinued. You can find similar at Harbor Freight ($1.99!), Etsy, Amazon (closer to $10) or get fancy and get yourself some Joanna Gaines approved scissors from Magnolia.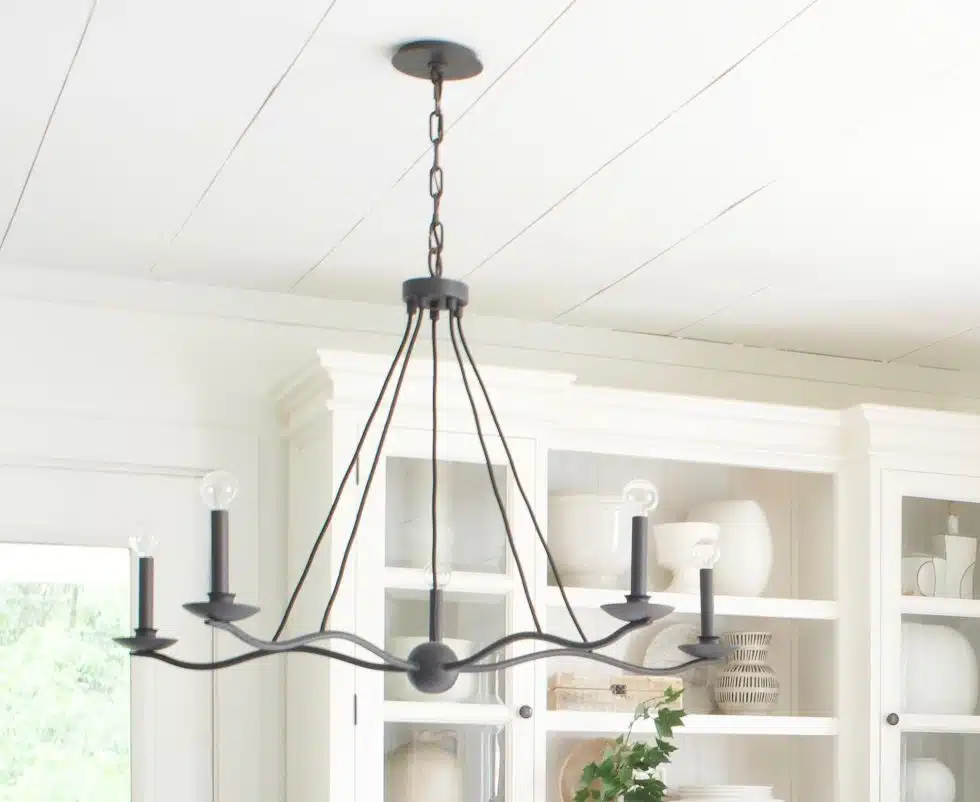 Round Candelabra Bulbs.
One tiny detail that can modernize a chandelier is round bulbs. Yes, they add exactly as much light as the run-of-the-mill pointy candelabra bulbs but I appreciate the subtle quirk that tiny round bulbs add to our light fixtures. I get mine at Walmart but of course amazon carries them too.
Tomorrow I'll share these five items on my Instagram stories and I'll ask if you have a $5 item that you can't live without. So heads up if you are on Instagram, be sure to follow along here.