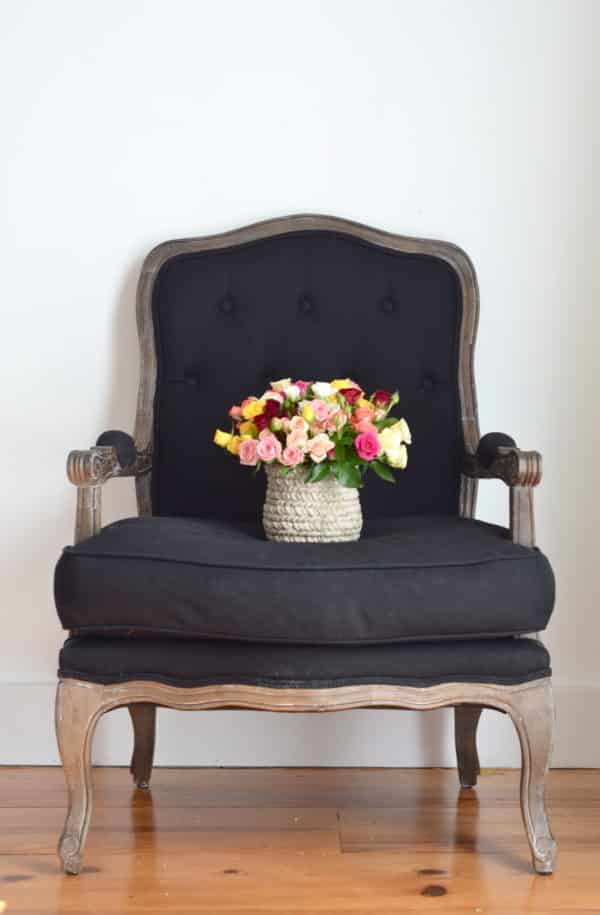 I super pink puffy heart flowers. I think flowers might be my love language.
Today I've got three flowery tips to share with you so that you can learn from all of my floral mistakes. I'll start with a little story…
When I first opened my flower delivery from The Bouqs Company, I did what I always do and unwrapped my flowers and grabbed a vase and since the vase I wanted to use was squatty and short, I cut all the stems in half.
Cutting the stems so short always feels risky to me–what if I ruin all my flowers?
But then I looked at the vase of flowers and they looked like they belonged in a funeral home, so much air between each bloom–are they mad at each other? And the flower to vase ratio is way off, visually it almost feels like the whole thing might topple over.
So I took all the flowers out, all dripping and such and I lopped off a few more inches of every stem. And this time I grabbed a wider mouthed vase….
Ta da! Look at what a difference–now the flowers all look like they love each other.
Tip Number One: don't be afraid to cut the stems of your flowers, when in doubt, cut them again.
I also ordered some protea from The Bouqs Company (these flowers are SO hard to find and impressive and quirky and everything I love!) and I really wanted to use them on my mantle.
But once again, the white vase made everything feel too top-heavy.
Since I didn't have another vase handy that would fit on the mantle, I used another trick (the one we talked about in the pumpkin centerpiece post) which now, thanks to a clever reader, I call "collaring"…
Simply bend down some of the greenery to act as a bridge (or a collar) between the vase and the blooms, now there isn't such a stark contrast between where the vase ends and the flowers begin, they're just all one happy family.
Tip Number Two: use the fine art of collaring to bridge the awkward gap from vase to blooms
Now that you are armed with some flower tips, it's time for you to get some beautiful fresh flowers!

The Bouqs Company is offering a great discount on their already surprisingly low-priced beautiful blooms–there are SO many options!
Use code GETBLOOMS to save 20% thru 12/11/15
And I have an assignment for you.
If you are going to be spending Christmas at someone else's home this year, consider knocking their santa socks off by sending your Christmas host some flowers. It's SO easy, you'll be done in less than 10 minutes and your host will have flowers delivered directly from the farm to their door!
TIP NUMBER THREE: Make someone's day by sending them flowers
Here's the plan:
check out thebouqs.com and find flowers that are a great fit for your Christmas host, here's a special curated selection of seasonal flowers that would all be a great fit
place your order, entering in your hosts address for delivery
pick the delivery date–this is important: if possible, choose the delivery date ONE or TWO days before you'll arrive: your host will be so thrilled and surprised with a delivery to her door, plus it will brighten her day as she frantically works her magic getting her home all ready for you and the rest of the guests.
on the day of your arrival to your Christmas destination, bask in the glory of your host's praise and admiration of your thoughtfulness, you will have forgotten you even ordered her flowers, you'll feel like the queen of the universe and you'll get extra pie. You're welcome.
Don't forget use the code: GETBLOOMS and save 20%
This post is sponsored by The Bouqs Company