And I cannot let you forget where we started. We've come too far.
It was time for a tiny drop of fresh on our mantel so I added in some Blue Willow that I happened to find packed away in the barn. It's got me feeling very Miss Mustard Seedy.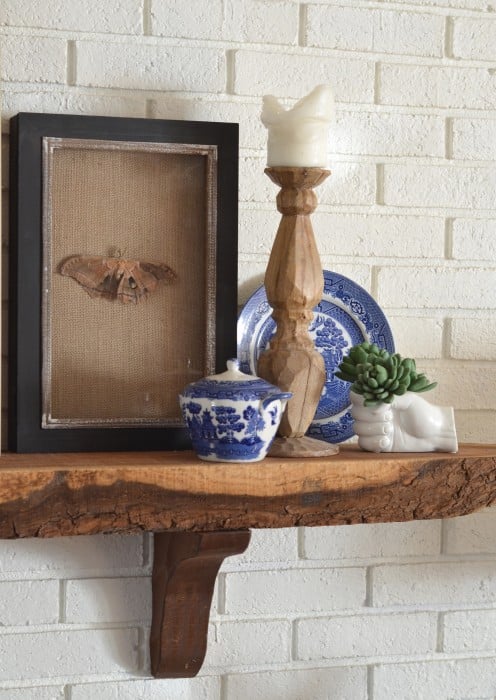 Years ago I had a bigger collection but I used it so much that I broke most of it and because it was my grandmother's I felt sad about it and packed it away so I couldn't break any more. I only have about five pieces left. But when I found it the other day as I was organizing the barn I figured it was time to bring it back inside.
Did you noticed the moth-like creature? I found him already deceased in a box on our porch a few months ago. He was perfectly preserved so I had the 16-year old pin him inside my shadow box so we could display him. He matches our decor so well! I've been looking on etsy for specimens like this for awhile. This was a great find!
I forgot how messy a working winter fireplace can be. I have dripped wax from candles all sooted up, and I've given up trying to put back my precious birch branches (scroll to #3) after every real fire.  My husband loves the wood box that belonged to his grandfather. It doesn't really fit size-wise but we make it work because we are both sentimental fools every now and then.
Also, I love drippy wax. I think drippy wax makes a candle holder feel happy and complete.
The center piece is a chalkboard I found about ten years ago at a yard sale. It cost $1. I bought the sea fan from HomeGoods a few years ago, it started out purple but I spray painted it white and then hot glued it to the chalkboard. It's held on this way for years.
The chalk board used to be in one of the boys rooms. You can still see their writing and I secretly love that and can't bring myself to fully erase their NASCAR standings. It doesn't have to be perfect to be beautiful. It better not be perfect or that means I probably haven't enjoyed it enough.
Sources left to right:
Black faceted oval tray: Target clearance last month
Wood carved candle sticks: Anthropologie clearance last year
Black & White vases : One Kings Lane
Blue Willow: Grandma
Sea Fan Chalkboard: see above
Shadow Box: HomeGoods
Ceramic Hand : HomeGoods clearance a few years ago (it's cracked open on the back but I can hide it from the front)
Mantel: here when we bought the house
White Brick Fireplace: WORTH IT! do it now! Here's more about it..
I've told you before that this house told  me it wants to be neutral. And it does. But one of the first things I noticed when we moved here last summer from our subdivision was how much we were surrounded with blue and green. Green bushy trees and grass and green metal roofs, blue sky, blue pool (sometimes & sometimes the pool is green–see?!). So I had a feeling blue and green would start making a little more of an appearance around these parts. Anytime I have something blue or green sitting around in the house it always catches my eye.
I predict more blue and green in the future of this little house. As for robin's egg blue and pink and other colors…they'll be in my office.