The alternate title for this post is : World's Worst Blogger Doesn't Have Her Tree Yet. It's December 2nd and I've only put ONE thing out for Christmas which would be fine if I were a normal person but, supposedly I'm a home blogger. Apparently we are supposed to be inspiring with our Christmas decor BEFORE everyone else puts their tree up. Not after.
The Weary World Rejoices
The only Christmas item in my home right now is this beautiful canvas from Lindsay Letters. It's my new favorite Christmas decoration and I keep moving it around to cover my naked walls.
I had the pleasure of collaborating on this beautiful canvas with the amazingly talented hand lettering queen. Collaborating with Lindsay basically meant that she had the idea to do a Christmas print together, I told her the phrase I wanted, she did all the work, I fell in love and asked her to marry me, and then she sent me this beautiful framed canvas to put on my wall.
It's the first and only sign of Christmas at my house this year.
In this picture you can see the emptiness that is still our house. The dots (also seen in this post (in silver) and this post) are thrown up just to have SOMETHING on my walls, but if you looked close you'd see drywall screws and mud that needs to be sanded. Also the lovely middle-of-the-wall thermostat is going to be moved around the corner to the left wall above the return, see the wire for it?
I went ahead and erased the thermostat in this picture so we could enjoy the simple, pretty wall art.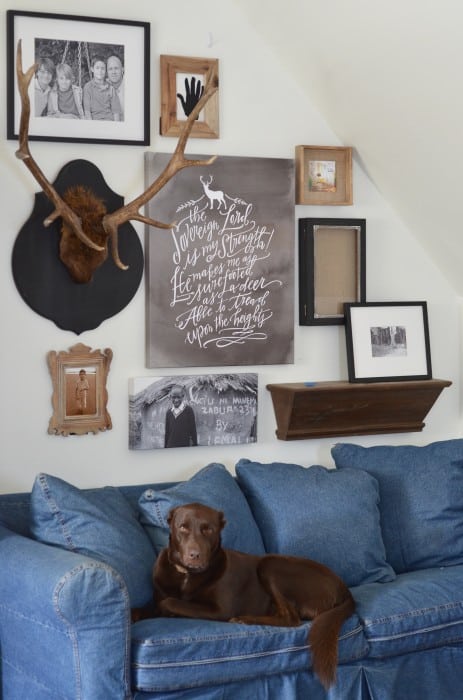 I used Lindsay's Deer Canvas in the bonus room at our old house.
Lindsay and I were both featured in Better Homes & Gardens Christmas Ideas this year, you can order it here. You can download it immediatly here, all of our local stores sold out way back in October.
Our rental house (that we moved out of this summer) has a 10 page spread in this year's issue. I'll tell you more about it later this week including the world's least expensive Christmas decor ever to be featured in a magazine and all my simple gift wrapping ideas.
Here's Nicole, one of the editors tweaking the shot.
Lindsay even hand-lettered the title of my book! It doesn't come out until April so we'll talk more about it later. But, y'all, I LOVE it!
Linsday's having a big store wide sale today, Cyber Monday with 20% off your order, her work is the NUMBER one question I'm emailed about– whenever one of her canvases happens to be in the background of the blog in photos I get emails. So here's your chance to save! The canvases I have in my house are:
Don't forget, two weeks from today is our FIFTH annual Christmas tour of homes! Here's last years!