Summer Watkins over at Grey Likes Weddings via Style Me Pretty
This photo inspires me.  It's about layers and textures and it. is. wonderful.  Who needs fancy paper when you can shop the house and scrounge up scraps of beautiful, add some glitter and bits of string and the cuff of your old sweater with a hole in it and a button or a broken brooch and mercy, you can create something beautiful.  This is creative Christmas wrap at its finest.
Be inspired by these ideas…
Painted flower wrap via Tokketok
dipping confetti via Tokketok
How about book page typography, leave it to a man to make the name cover both form and function via Man Made.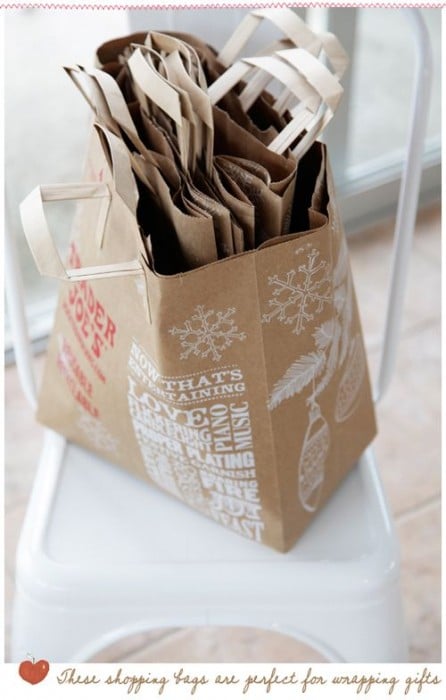 Have you ever noticed Trader Joe's holiday bags?
Leslie from Creative Mint saw those bags and used them as wrapping paper, she has lots of inspiring photos.
Craft Paper with Vintage Photo "vintagification" via Marianne from Songbird. She looks for a winter image and scans it so she's not using the real photo, SMART!
In Haus Press
Paper Crave
One of the tricks I've played on myself to get me to not dread wrapping gifts, is to allow myself to have papers  and embellishments that I love.  It costs the same amount of money (cheaper actually because craft paper is a steal at office supply stores). And I actually look forward to gift wrapping because it becomes an art form.  I get to embellish and use pretty things.  It doesn't mean my gift have to look fancy or not fun, they are very fun and kid enticing, but I do it in a way that everyone can tell that gift was wrapped by me.
Here's my little stand in my office full of bits and pieces.  It actually looks really pretty but it's not just for looks.  That's the stuff I use to wrap gifts.
And my paper is all stacked in my big trencher under my desk.  (Did you notice the big desk is back?  I'll tell you that fiasco later).  Here's the thing, if you are thinking, "yeah, but I can't put my paper out on display because my paper is ugly".  Then stop right there and think about what you just thought.  If you think your paper is ugly then why are you using it?  Shouldn't your paper look like something you like and picked out?  It probably would even look like stuff in your home because news flash, you picked out that stuff too and usually we like what we like.
Now you have an assignment, find a large container of some sort and start collecting your Christmas wrappings.  Think outside the store-bought bow.  Find a smaller container and start collecting things from around the house that can embellish a gift. There's no wrong, if something looks silly, you are wrapping in the privacy of your own home and no one needs to know. Trust me, once you do this you'll start seeing things EVERYWHERE that you can use for wrapping and embellishing gifts.  Kind of like when I made that Pom Pom wreath and now I still see poms all over, I'm telling you, poms are taking over the world.
Once you are on the look out, just like Jerry Seinfeld and his moving boxes, all you will see are embellishments.
And for fun, Jerry's standup bit from "The Boyfriend 2"
When you're moving your whole world becomes boxes. That's all you think about is boxes. Boxes, where are there boxes? You just wander down the street going in and out of stores. Are there boxes here? Have you seen any boxes? I mean it's all you think about. You can't even talk to people because you can't concentrate. Shut up I'm looking for boxes. Just after a while you become like really into it you can smell them. You walk into a store. There's boxes here. Don't tell me you don't have boxes. I can SMELL them. I'm like I'm obsessed. I love the smell of cardboard in the morning. You could be at a funeral. Everyone's mourning crying around, and you're looking at the casket. That's a nice box Does anyone know where that guy got that box? When he's done with it do you think I could get that? it's got some nice handles on it. And that's what death is really. It's the last big move of your life. The hearse is like the van. The pallbearers are your close friends the only ones you could ask to help you with a big move like that. and the casket is that great perfect box you've been waiting for your whole life The only problem is, once you find it you're in it.
Don't forget to get your Christmas Craft ready for Friday's Linkup party!
Looking for even more gifting inspiration?  I've got 124 ideas and counting at the Gifting pin board on Pinterest.