One of the easiest ways to change up your home without spending a bunch of cash is to simply makeover what you already have.  One of the ways I've made over what I have is with paint. Many of you have been painting furniture for years but some of you have yet to try it because you aren't sure where to start and you don't want to ruin what you have.  Or maybe you know how to paint furniture but you want to learn more about finishes and glazes.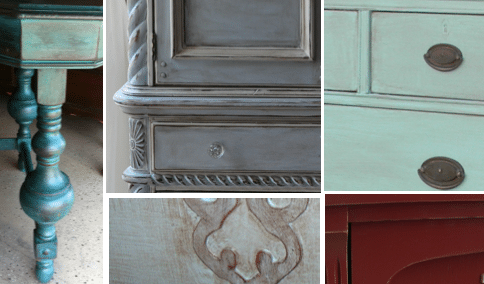 My friend Mandie now has 3 different ebooks about painting furniture.  Did you know that Mandie has been my painting furniture mentor for over two years now?  She's been painting furniture for years, teaches private classes and even has a store where she sells her pieces.
I emailed her in a panic in desperate need of painting help when I painted our main eating table and hutch and she coached me through using the right tools to get the finished results that have held up to our abuse for over two years.
If you've always wanted to paint a piece but didn't know where to start, Mandie can virtually hold your hand to with her ebooks that you can easily download onto your computer.  They are full of photos and easy to understand information.
Click here to visit Altar'd Furniture, see more photos and check out the ebooks
The 3 books available are::
How to Paint Furniture (*Without Going Insane, it's an updated version)
Most Wanted Finishes (*15 of the most highly requested finishing recipes for glazes and other topcoat types of things. Two words: Peacock Tarnished)
Decorative Finishes (*all that extra stuff you always wondered about like chalkboard paint, maps on furniture, stencils and more–enough to keep you busy transforming what you already have)
*my own descriptions
This weekend only, use the code : NESTER at checkout and get 25% off your total purchase of Altar'd ebooks. Get inspired and learn how to paint furniture the right way–you could read the ebooks today and have a painted piece finished and looking pretty by next week!
*I'm an affiliate with Altar'd which means Nesting Place gets a percentage of the sales, have a blog? You can sign up to be an affiliate too!