Alternate Title:: The life and times of an average coffee table
Here's my trusty coffee table.  Technically, it's a little big compared to my sofa but, lucky for me, I'm not very technical.  I've considered getting a new to me table but, this one works so well for our family with its sturdy enough to dance on surface.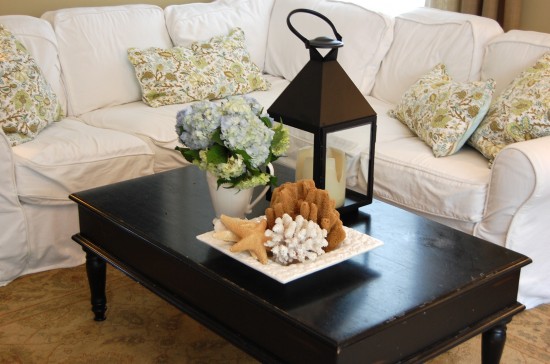 In my 15 years of wifeyness we've always had some kind of coffee table and I've always struggled with how to accessorize it.
I have lots of pretty things that I want to show off. Some are tall, some are wide, some are breakable, most are useless.
Some are fun.
Sometimes it simply flowers and dirty socks.
I have a thing for flat surfaces, I like to use them to show off my pretty things that I love.  All flat surfaces in my home are subject to my daily abuse of trial and error.  Constantly moving things around to see what works best.
The problem was, I always needed to USE the coffee table for actual work.
Or play.
Or my sister's feet and the People magazine's crossword puzzle that my husband can complete in about 12 minutes.  It's a gift.
Or every day, regular life.
And all of those photos are just from the last two months since my white slipcovers.  Just think how many other beautiful, unnecessary objects I've displayed over the years.  I'm confident I should have a world record for something.
So, I've finally figured out the secret to decorating my coffee table.
I leave it empty.
Yep, every morning, I clear it off.  No pretty centerpiece, no bowl of fruit that we prop our cheese nips box on, no tray of prettiness.  I found I was constantly moving whatever was displayed on the coffee table so that we could use it for something else.  And one day, I wondered what would happen if I quieted the coffee table and just kept it that way.  Yes, we still use it for putting anything we want on it, but, I haven't ordained that space for a certain pretty.  We can eat a snack there, fold clothes, work on a paper.  But, when we are done, the table is just empty.  It's been so freeing in a weird way.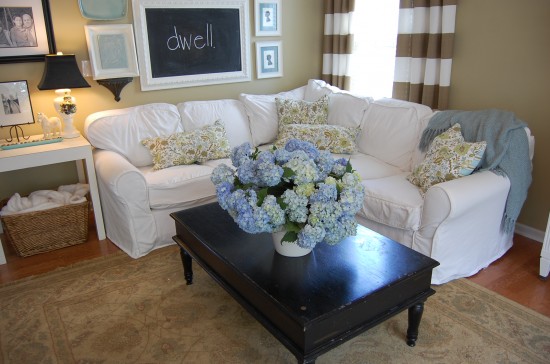 So, I'm not saying that if I get a bucket of hydrangeas again, I won't put them on my coffee table, because they do make a nice photo, but, in my real life, this table will most likely be empty.  Unless it's not.
What's on your coffee table?