Today, I've asked my long time friend Edie to write a guest post. Edie and I met online. We solidified our friendship at conferences, weekend trips and over email. She's been to my home, she knows my husband's name, she coached me on what counter tops to buy in my kitchen, she taught me how to make soup, puffy tacos and fudge. She's my hospitality mentor…
I'm a slow learner but when our we lost our home to a devastating house fire just before Christmas in 2010, the lesson was in flames in front of my eyes—the kind of hospitality that matters has little to do with the four walls we call home.
As we watched the sidewalls of our house crack and fall in December's early morning chill, we knew that nothing would ever be the same. We were safe from the danger of dying but were entering a season of untold grief and loss.
The hospitality of strangers became our lifeline.
People sent food and gift cards and warm coats. They mailed us cards, messages of hope, and money. They shared our grief and we hung on their words like they were everything.
In my mind, I knew that what we had lost was only stuff—but I also knew that it was so much more than that—it was a million tangible reminders that we were cared for and blessed and somehow okay.
Suddenly, the security that comes from having a stove and a washer and a gallon of milk was gone. And it felt like the end of the world.
I began to trace backwards, to the time when I first took notice of the stuff around me.
I was ten years old when giant ornate bar (and a new stepdad) was delivered to our dining room complete with a crystal whiskey decanter and a set of brandy sniffers. I don't think we had ever owned anything quite so nice and I was completely awestruck at the possibilities. And my stepdad looked like Burt Reynolds.
My sister and I bartended for hours on end, with the likes of chocolate milk, apple juice, sweet tea, and some fancy swizzle sticks. Sometimes we would dress up in our snazziest clothes and pretend to be the patrons, holding our pinkies out just so while we sipped on beverages from dainty glasses.
That same year we also got a cowhide rug and a nekkid lady lava lamp with oil that dripped into her nether regions. The way it glowed in the corner of the living room against the backdrop of all the new furniture made me feel like we were rich and living in some kind of movie.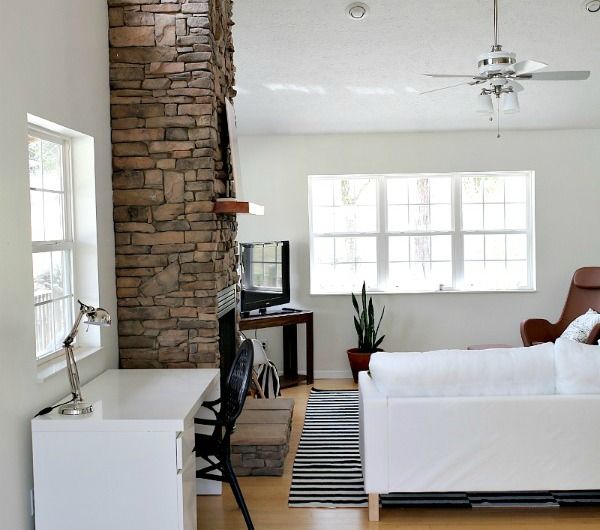 Years later, I spent all my spare time filling my home with all the pretty things that would prop up my belief that blessed people surround themselves with beauty and good moms create home that make people feel welcome and comfortable. I also secretly hoped that mine might make people impressed with me.
Losing everything actually gave me a gift—a way of seeing the world with new eyes, a way of holding space for the grief and suffering of others, instead of trying so hard to hold their admiration and esteem.
It was easy to slip into the wrong kind of hospitality—the kind that is impressive but not life-giving, the kind that is pinnable but not sacrificial, the kind that is for me and not for my neighbor.
My favorite hospitality guru is actually Jesus and He never even owned a home.
His hospitality was always taking the disciples by surprise.
"Why are you feeding people when there's no food? Why are you inviting children and the blind and lame, and worse yet, why are you always in the company of prostitutes and tax collectors and why are you always eating with sinners?"
The Jesus way of hospitality wouldn't get repinned much but it changed the world.
It's a hospitality that looks like being your brother's keeper, forgiving his sins, seeing his need and feeding him. It is a hospitality of the spirit and flesh.
It is a hospitality of inconvenience and ultimately of suffering.
We think hospitality is about our homes, so we wait until everything is just perfect before we invite people in. We forget that what people need is just a little kindness and compassion. They could care less about the fact that our walls need painted and our sofa needs replacing and our soup needs more salt.
What they need is just you and me.
The you that is comfortable enough in her own skin to offer herself to others. The me that is not afraid to be vulnerable. The you that will leave the to-do list undone in order to sit face and face and share your life and your stories. The me that will choose relationship over perfection. The us that will sit in the hard places of life with our sisters and offer some hope.
Hospitality is not a place or a meal; it's a way of living that makes space for the weary, the heartbroken, and the hopeless; it's a way of life that leads us home.
*****
Edie Wadsworth's spiritual memoir, All the Pretty Things, is now available for preorder. It is a story of fatherlessness, of being untethered and unspoken for; the story of how her life burned down around her in a million little ways and how she sometimes set fire to it herself. It's the story of how she finally found redemption among life's ruins in the love of a Father who never lets go. Yes, you want this book in your fall reading stack.

Edie is a speaker, writer, and blogger at lifeingrace. She left her medical practice to raise her family and pursue her love for writing. Her passion is to love her people well and to see women embrace the full measure of their life's passion and purpose. She writes on a variety of topics that center themselves on home—including vocation, hospitality, faith, parenting, cooking, and life in the Appalachian South. She and her husband Steve live in East Tennessee with their kids.
Save