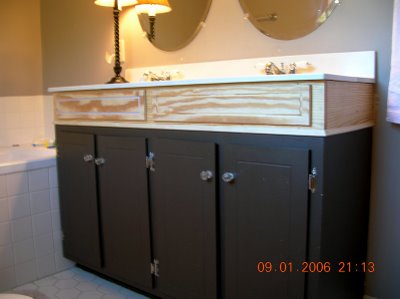 Are your bathroom cabinets low and feeling all bad about themselves compared to the new 42 inch cabs in all the newer houses? This photo is from my old nest and my poor midget cabinets were in need of either a makeover or counseling. I think the counter top reached just above my husbands knees. I don't have a real before photo so the top one is the "in progress" photo. It's obvious where the cabs used to stop.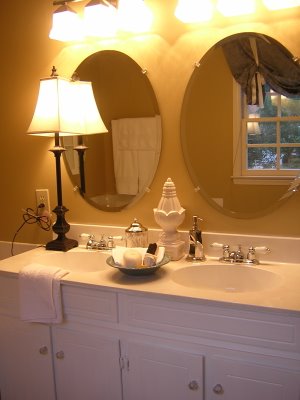 When we got ready to put it on the market I can remember sitting in the bathroom discussing how we could make it appear more up to date with just a little cash. My husband suggested just removing the counter, building up the cabs and then adding fake drawer fronts and slapping that old counter right back where it started, only higher. It worked! Then I painted the entire cabinet white. We replace the old faucet with new hardware that I purchased for $30 each. And don't ask me what is going on with that cord. Really, don't ask.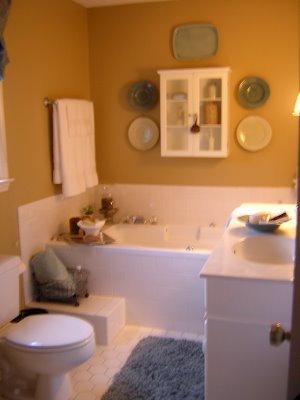 This is another example of when we finished an easy project in order to sell our house and I wanted to kick myself because we didn't do it for us but for whoever would buy our house. Why, oh WHY did I wait? Why wasn't it ok to just update what I had? All those years I guess I was holding out for gutting the bathroom and starting fresh. What a waste. This really was a lesson in the fact that it doesn't have to be perfect to be beautiful.
edited to add: want to see more painted wood? visit life in grace for a wood painted party!