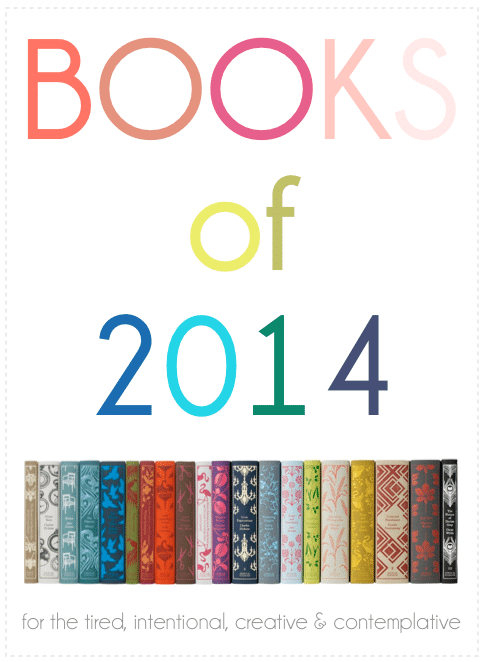 I love books. This year I'm embarrassed to say that I didn't use our local library at all, it's a long story involving moving to property that sits on the county line. Also, I don't own an e-reader, so except for the couple of books I borrowed from my sister, I've purchased all the books on this list in the flesh–preferably the hardback edition. To me, books are an investment and I'm picky about what I buy. However, I spend more money on books than shoes. But I might spend more money on lamps and coffee than books.
I read lots of books this year, some purely for entertainment, some were great, some were fine but some were extra special to me because they came at just the right time.
The following are the books I can't get out of my head. The one's that changed me in some way, not because they were released in 2014, but because I read them in 2014.
Books I read for the First time this year that I imagine reading again and again
(each book has a link in the text, but for computer users, you can find out more in the widget above each section. hover over a book for general info; click on a book to find out more; use the arrow buttons to spin the carousel)
Too Small to Ignore: I didn't know I'd love this book as much as I do, I read it right before I went on a Compassion trip with the author, Wes Stafford (president emeritus of Compassion International) I've highlighted SO MUCH of this book, it was a surprisingly stay-with-you kind of read.
Eight Twenty Eight : A fantastic, true, love story
The Best Yes: My favorite book written by Lysa TerKeurst, one of my favorite topics–saying no. Or if you are an optimist like Lysa: when to say yes.
Breathing Room: Hands down, my favorite book of the year.
Skinny Taste: every recipe has been FANTASTIC!
Interrupted: I read so many parts of this book to Chad — a sign of a book that makes me think
Paper to Petal: This book? Is GORGEOUS and I want to make all of the flowers now
Gift From the Sea: I'm the last person on earth to read this fantastic book
Let Your Life Speak: Oh my gosh, this book is a little gem.
Books I turn to yearly for encouragement in all different areas:
A Million Little Ways: every person should read this book: every person is an artist
Choosing Rest: yes please
One Thousand Gifts: every person who feels like life is speeding by should read this book
Running on Empty: every exhausted person should read this book
An Invitation to Silence and Solitude: every tired person should read this book
Margin: need to be convinced of the power of margin in your life? read this book.
Books that Help Me with My Creative Business
Steal like an Artist: A fun encouraging book when you feel like it's all been done before
Ignore Everybody: YES, this book is a must for creatives, in some ways it's the only way to actually do anything
So Good They Can't Ignore You: a thought-provoking book about work, passions and finding the work that will serve you and others well
Four Hour Work Week: I really only care about 25% of this book, but it's worth reading over and over for the simple, seemingly obvious thoughts on work, I read this for the first time a few years ago and it changed how I approached my work and how I spent my time, it's written a little crudely at times, but I still turn to it for reminders.
The War of Art: For any artist who feels alone and struggles with doing their thing
Let Your Life Speak: What? Didn't I put this one in another list? Yep, the subtitle of this book is Listening for the Voice of Vocation. Makes you think about why you are doing what you do.

Books I'm reading for the first time so I don't have anything to say about them yet:
The Life Changing Magic of Tidying Up